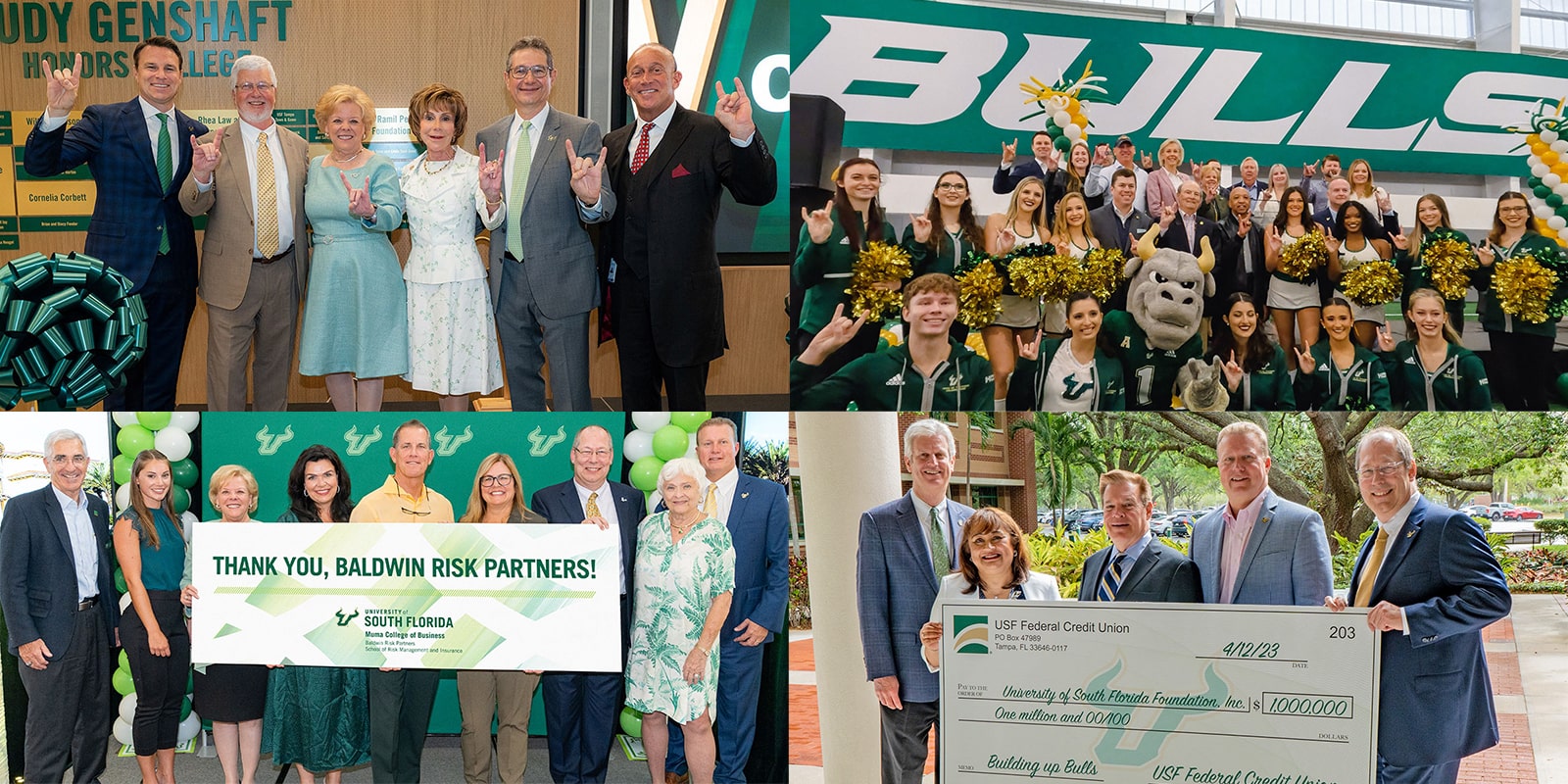 The university also set a record with nearly 12,000 new donors
July 25, 2023
The University of South Florida received more than $157 million in philanthropic commitments last fiscal year from over 37,500 donors, setting records for both financial generosity and the number of supporters who chose to invest. This marks the fifth straight year that annual charitable giving benefitting the university surpassed $100 million and the second straight record-setting year over $150 million.
"To have a record-breaking fundraising year shows that our donors recognize the University of South Florida's upward trajectory and the value in supporting the success of our students, faculty, staff and programs," USF President Rhea Law said. "I express my sincere appreciation to the thousands of donors and alumni whose continued generosity makes a significant impact and helps advance the university's strategic priorities."
The $157.4 million raised over the past year includes gifts from more than 11,800 new donors, also a record. The total amounts are from the fiscal year that ended June 30, 2023.
"Our students are some of the most talented, dedicated scholars in the country," USF Foundation CEO Jay Stroman said. "We are grateful for the enduring and unprecedented support our Bulls community provides to ensure our students can access every available opportunity, our faculty can conduct leading research and our staff can continue to build and grow. USF has incredible momentum across the institution, from business partnerships to our health enterprise to athletics, and I could not be more excited to see what new heights we can reach together bolstered by our generous donors and friends."
Several strategic initiatives for the university were advanced with the help of USF supporters, including:
Donor support also made possible the new Judy Genshaft Honors College building, which was unveiled to the public in May. In 2019, a historic lead gift of $20 million from USF President Emerita and Professor Judy Genshaft and her husband, Steven Greenbaum, set construction of the building in motion. Other donors stepped up to name the many classrooms, learning lofts, and dedicated studio spaces for art, food, culture, music and technology throughout the building. In total, over $46 million of the project was funded by private gifts. In fall 2023, the building will open its doors to its first cohort of students.
Sophomore Alexis Agnew, a Judy Genshaft Honors College student and recipient of the USF Presidential Award scholarship, expressed her excitement for this new chapter.
"It's been an incredible experience working with students from other academic disciplines in the Judy Genshaft Honors College," said Agnew. "I can't wait to set foot inside this new building where I will collaborate, innovate and explore with my fellow honors students, and I am so grateful to all those who made it happen."
"I will never be tired of saying 'this is an exciting year for the University of South Florida,'" said USF Foundation Board of Directors Chair Anthony James '73. "Every year, we do more. From the students who reach higher to our faculty who push the boundaries of intellectual discovery to our donors who give of their time, talent, and treasure, we continue to do more. I am truly grateful for the generosity bestowed upon this great institution. An investment in USF is an investment in the future."
More information on how philanthropic support helps advance the university is available here.