Gift represents the largest donation in USF Sarasota-Manatee history

University will re-name the school as the Baldwin Risk Partners School of Risk Management and Insurance
Aug. 24, 2022
The University of South Florida's Muma College of Business and BRP Group, Inc. (NASDAQ: BRP), a Tampa-based independent insurance distribution firm delivering tailored insurance solutions, today announced a $5.2 million commitment from the company and the Baldwin family to the university's School of Risk Management and Insurance in the Muma College of Business. The gift, which is the largest in USF Sarasota-Manatee history, will support educational programs in the risk and insurance fields and, effective immediately, the university will rename the existing School of Risk Management and Insurance as the "Baldwin Risk Partners School of Risk Management and Insurance."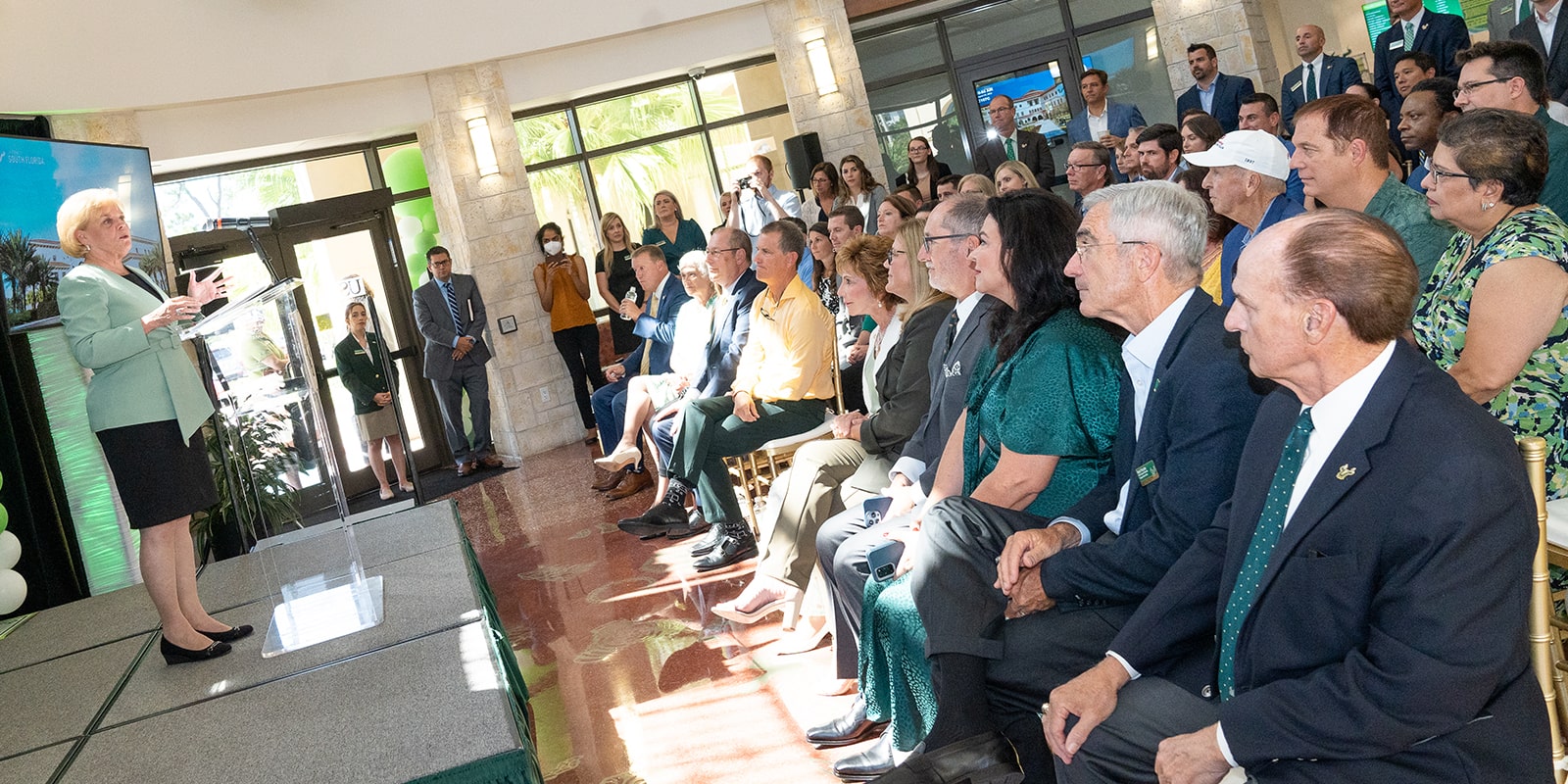 "BRP's milestone investment will allow the University of South Florida to grow the school into a powerhouse in risk management and insurance education and prepare future generations of insurance industry leaders for high-demand roles that are critical to supporting Florida's economy," USF President Rhea Law said.
The insurance industry is facing a talent gap as a result of technological disruption and an aging workforce. The number of insurance employees over the age of 55 has increased by 75 percent in the last 15 years and is nearly 30 percent higher than in other industries. In addition, only about 25 percent of the insurance workforce is under the age of 35, according to a 2019 report from the International Risk Management Institute. There are not enough higher education programs to address this challenge – only one other Florida university offers a full major in the discipline and there are fewer than 10 risk management and insurance programs nationwide, each producing about 50 graduates annually.
"Our firm has a deep commitment to each of our key stakeholders, which include our clients, our colleagues, insurance company partners and our communities," said Lowry Baldwin, chairman and co-founder, BRP Group. "We're proud to support the risk management discipline through this partnership to develop a world-class educational program. This investment will broaden awareness of the diversity of career options available within this field of study and fuel the next generation of industry leaders."
According to U.S. Department of Education data, those majoring in insurance command higher median salaries two years after graduation than students from the same universities who major in other business majors such as management, marketing, finance or accounting. Data from MyFloridaFuture.com shows that starting salaries average $50,000 annually and graduates report earning upwards of $80,400 per year within five years. Economic Research Institute data indicates that, nationwide, the average starting salary is nearly $65,000, 16 percent higher than the average starting salary across all industries. In addition, some positions pay in excess of $100,000 within five years.
"Our local insurance professionals and community partners have helped build the foundation for the School of Risk Management and Insurance," said USF Sarasota-Manatee campus Regional Chancellor Karen A. Holbrook. "We are thrilled to have the support from BRP to expand and elevate the RMI program on our campus and throughout USF."
The school's home is on the Sarasota-Manatee campus but the gift will serve risk management and insurance programs on each of USF's three campuses. The gift will provide scholarships to attract students to the major as well as resources to support their engagement with industry leaders via case competitions. As it grows, the school will hire additional faculty-scholars to teach in the program as well as to conduct scholarly inquiries into emerging opportunities. The gift will also support industry-education outreach.
The Baldwin Risk Partners School of Risk Management and Insurance is the third of the six schools comprising the Muma College of Business to be named. The Kate Tiedemann School of Business and Finance was named in 2014 and the Lynn Pippenger School of Accountancy was named in 2015.
"It is exceptionally gratifying to see community leaders and USF family members make such a significant investment in USF in this way," said USF Muma College of Business Interim Dean GJ de Vreede. "Their gift will address a major industry need, changing both the industry and the lives of students for many years to come."
"We are grateful to BRP for their investment in USF students, faculty and community members pursuing educational and professional opportunities in risk management and insurance," USF Foundation CEO Jay Stroman said. "BRP's generosity, partnership and expertise will benefit our university, the Tampa Bay region and beyond for generations."