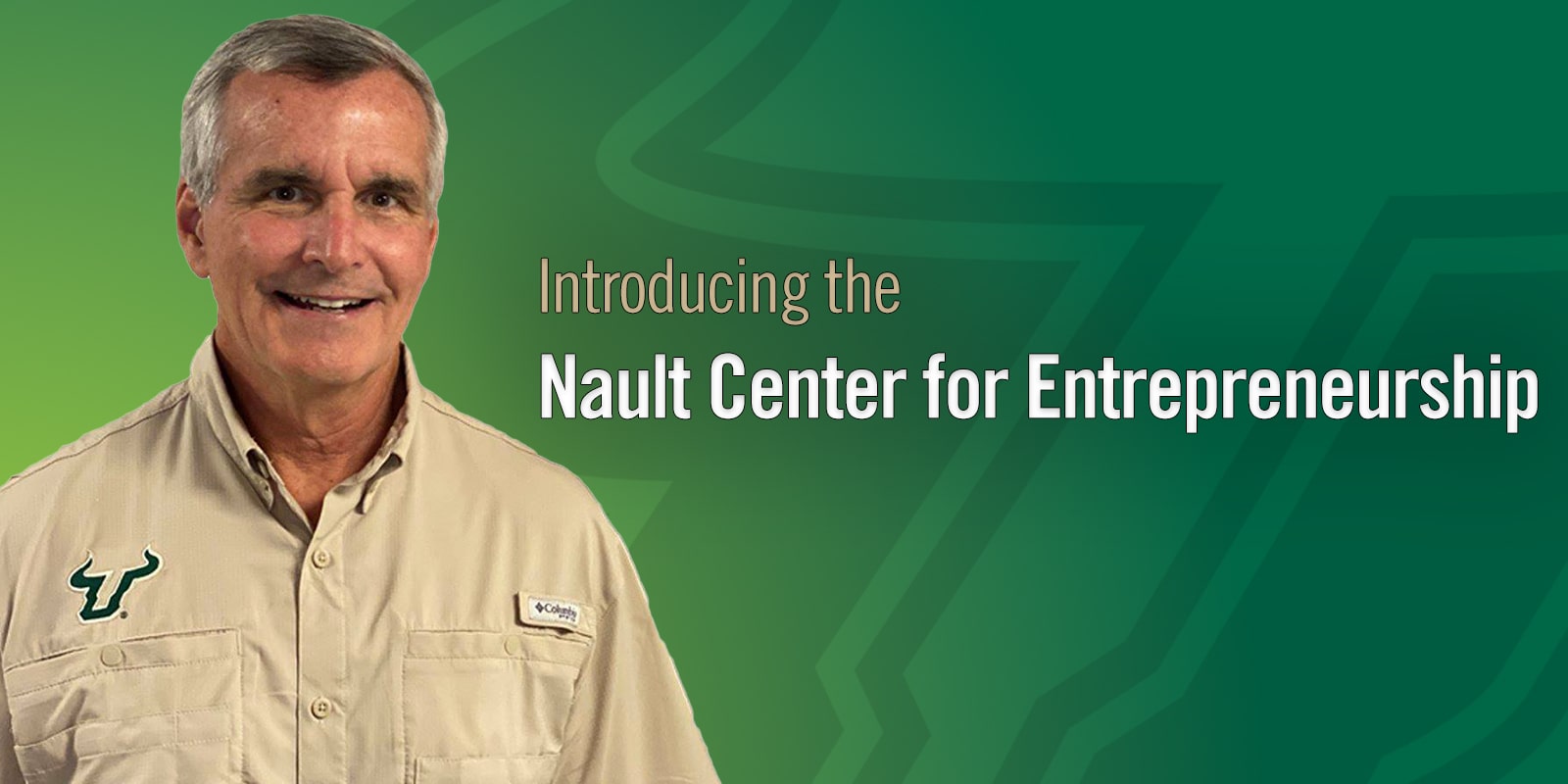 June 9, 2023
James "Jay" Nault, '83 and MBA '84, knows the power of innovation. During the height of the COVID-19 pandemic, he launched the Hometown Restaurant Gift Certificate Challenge, creating a lifeline for struggling small businesses. Today, he makes a transformational investment in the next generation of business builders.
With a generous gift of $10 million, he ensures future business leaders continue to receive a world-class education at the USF Nault Center for Entrepreneurship.
"We are so grateful for Jay's generosity, which will bolster USF's nationally ranked, interdisciplinary entrepreneurship center in the Muma College of Business," says USF President Rhea Law. "USF continues to be a hub of innovation on the world stage, and this gift will have a direct impact on shaping our students to become tomorrow's business leaders."
Founded in 2002, the center's master's degree program is ranked by The Princeton Review as No. 1 in the South and No. 5 nationally for all public universities. More than 1,000 center alumni have opened approximately 300 businesses in just the past decade.
Nault's gift will expand pitch competitions for the center as well as innovative new educational opportunities. These include creating a new living learning community, expanding the center's mentoring program, building more "shark tank"-like competitions, and supporting potential new degree options for executives.
"Jay Nault's remarkable gift is a watershed moment for the USF Center for Entrepreneurship. It paves the way for us to embark on an ambitious path that will provide our students with unparalleled entrepreneurial opportunities and real-world learning experiences," said GJ de Vreede, interim dean of the Muma College of Business. "We will create a vibrant culture of innovation and experimentation that will transform USF's students into successful innovators and entrepreneurs, and benefit the business community in the greater Tampa Bay area and beyond."
Nault is president and owner of Anclote Holding Company, Inc., a privately owned real estate holding company in Jacksonville, Florida. He is also president and owner of Storage Zone Self Storage and Business Centers, with more than 30 storage facilities throughout the southeast.
"My journey as a lifelong entrepreneur started right here at USF," says Nault, who earned a bachelor's in finance and master's in business administration. "I am inspired by the many students in this program and can't wait to see all of the great work done by its alumni."
His longstanding USF philanthropy also includes a scholarship for entrepreneurship students and Life Membership in the USF Alumni Association, among other gifts. This kind of alumni support has helped fuel USF's ascension to the upper echelons of academia. The university recently accepted an invitation to join the Association of American Universities, representing the top 3% of research universities in the U.S. and Canada.
"It's a great day for USF students and our entire community when a business leader like Jay Nault makes such a significant investment to provide resources and opportunities for our motivated scholars," says USF Foundation CEO Jay Stroman. "For one of our alumni to give back so generously is truly inspiring. We simply can't thank him enough."