More than One Billion Reasons to Say Thank You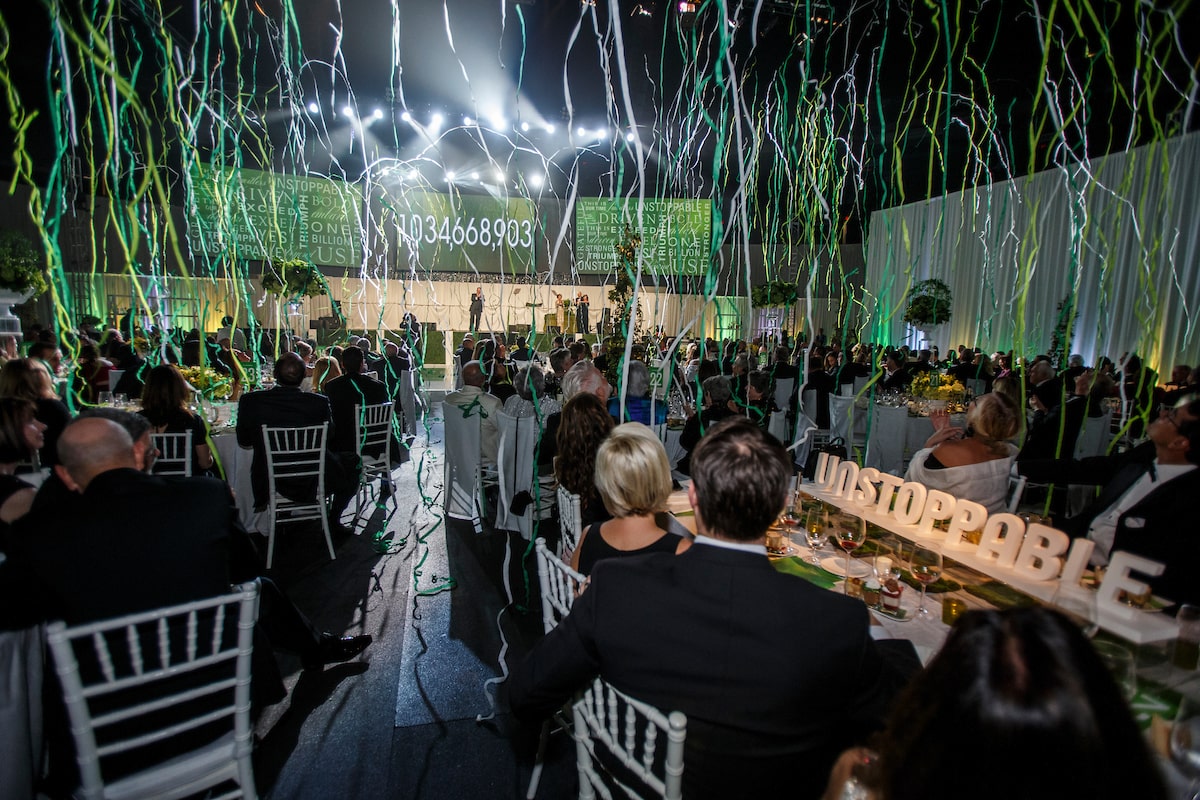 What a decade it has been! We set out to transform lives in every facet – and our USF:Unstoppable campaign has done precisely that and so much more. It begs the question: Is one thank you ever enough when we have more than a billion reasons to express our gratitude? With your support, we have transformed student opportunities at home and abroad. We have transformed our campus, our community and the scope of cutting edge health care in the Tampa Bay region and beyond. Reaching and surpassing our $1 billion fundraising goal was an historic feat – one of only three universities nationwide to do so for institutions founded in or after 1956. Along the way, we achieved every goal we set for ourselves, and no doubt surprised people with our boundless vigor and vision.
We have become one of the country's most respected research universities, ranked in the Top 30 nationally among public universities, in the Top 50 among all universities (public and private) in research expenditures and a Top 10 standing among public universities in generating new U.S. patents for six straight years. USF has received the elite designation as a preeminent state university, joining much-older University of Florida and Florida State University in an honor that brings increased state funding and enhanced prestige.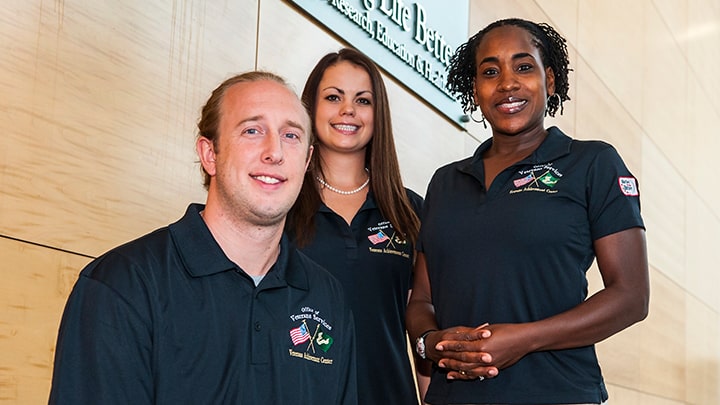 Our Veterans Success program, offering wide-ranging support to student-veterans, is ranked No. 1 in the United States by Military Times magazine. We have exponentially expanded the number of privately funded scholarships available to undergraduate and graduate students. And across the USF spectrum, our talented students and faculty continue to excel in the fields of their dreams, with new laboratories, better equipment, and greater opportunities for learning and research. Meanwhile, our student-athletes are producing team and individual results that rival the very best in the NCAA. Of course, being Unstoppable means never resting on your laurels. And as proud as we are of this accomplishment, we know that we're not done. On the contrary, we remain committed to following the ground-breaking path of the past 10 years – and forever grateful to the generous, ongoing support of our many donors ... nearly 200,000 of you and counting!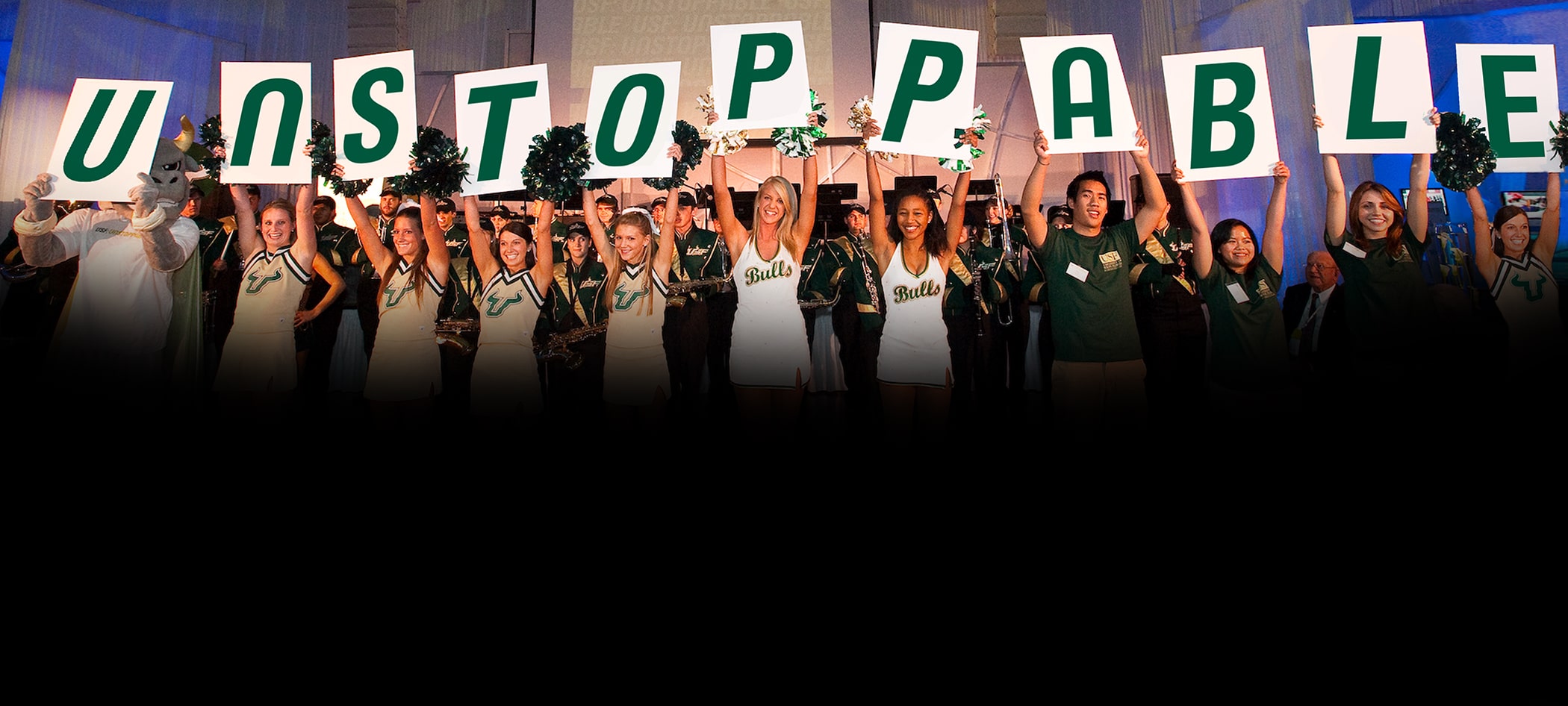 The USF: Unstoppable campaign officially launched on October 20, 2009 in a gala celebration at the Marshall Student Center. The event set what seemed like a lofty goal at the time of $600 million, and President Genshaft set the tone for the campaign by proclaiming: "The best and brightest students being taught by top-flight faculty on the leading edge of scientific research – that's an unstoppable university." During the past decade, USF experienced unprecedented growth in number and quality of students – home to a student body of over 50,000 students from more than 145 countries; cutting edge research across all academic disciplines; and innovations at the forefront of health – highlighted by the state-of-the-art USF Health Morsani College of Medicine and Heart Institute taking shape in downtown Tampa. You are at the heart of this remarkable pace of change. As an alum, or as a friend, you have played an integral role in making USF: Unstoppable. Those who give back to USF with their resources, their time, and their passion are our greatest allies as we continue on our bold ascent into the future, with a spirit and commitment that will remain Unstoppable long after the campaign is history.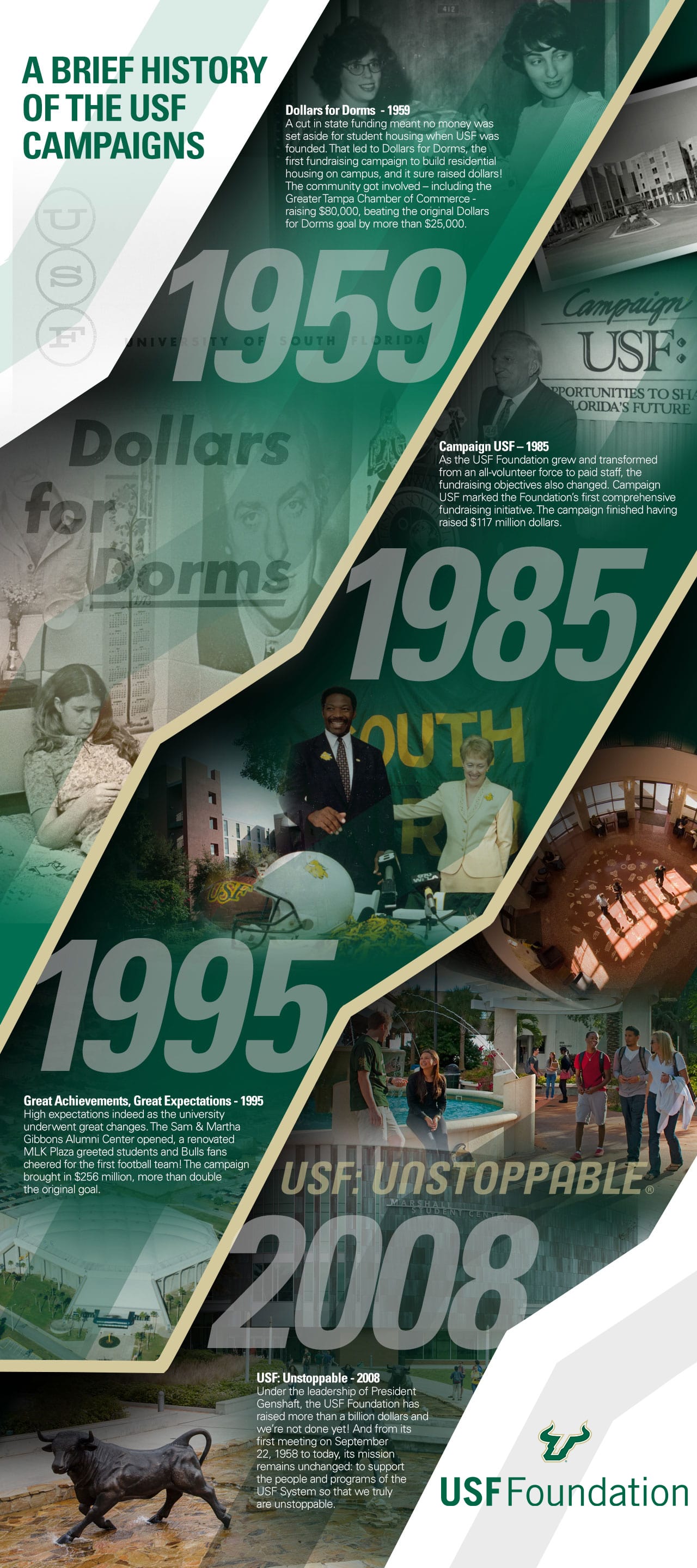 Rhea F. Law, USF President
The growth and success of Tampa Bay is intrinsically linked with the growth and success of USF. There is so much potential, and the future is very bright.
Your Impact