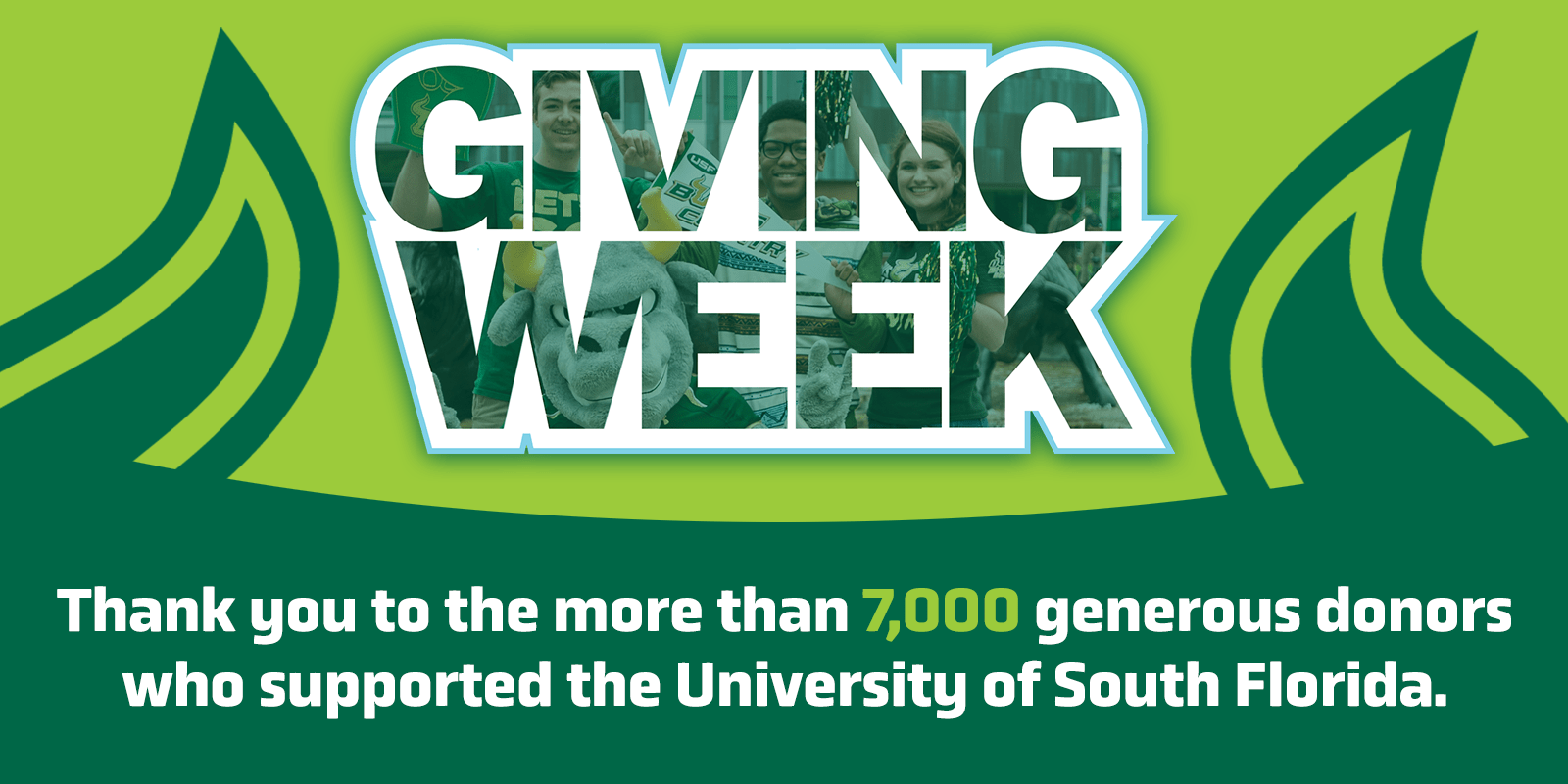 April 24, 2023
More than 7,000 donors — a new record — gave generously to support students on all three University of South Florida campuses during Giving Week 2023.
From April 10–14, alumni and friends came together to champion a wide variety of programs, from student scholarships to community health care initiatives. Of the 7,064 Giving Week donors, 1,152 gave to the university for the first time. In total, the USF Foundation received more than $6.6 million during Giving Week — also a new university record.
"We are extremely grateful for the outpouring of generosity from the University of South Florida community during our annual giving week," said USF President Rhea Law. "Achieving new records for overall donor participation and the total amount of dollars raised reflects our community's strong pride and passion for our university. The support we received will have a significant impact on our students and programs and will help us advance in our pursuit of becoming a top 25 public university."
Many donors chose to support USF HerdFunder projects, crowdfunding initiatives where gifts of all sizes are pooled in order to support specific causes and initiatives in the USF community. Projects offered opportunities to give to all areas of the university, from digitizing library archives to supporting the new women's lacrosse team.
Food pantries on all three campuses met and exceeded their set goals and are now better stocked, thanks to donors to those funds. In addition to monetary gifts, supporters donated hundreds of pantry items to the three campuses' "Stock the Pantry" projects.
"This show of support by our alumni, friends, faculty and staff is truly fantastic," said USF Foundation CEO Jay Stroman. "Our community cares deeply for our students and wants to see them and this university continue to reach new heights. We are so thankful for everyone's generosity and passion in making Giving Week a resounding success."
Several HerdFunder projects included challenge gifts, five of which were realized when the set goals were met. By the end of Giving Week, donors fully funded 14 HerdFunder projects.
R. Anthony Rolle, dean of the College of Education, supported the college's "Bulls United for Education" project with a challenge gift. Rolle made a $500 gift once the project received 15 gifts and an additional $500 after it surpassed 30 gifts. The project ultimately hit 42 gifts, far surpassing its initial goal.
"I am grateful to the community for their support during Giving Week," said Rolle. "Their gifts not only support engaging learning opportunities for our students, but show these future educators and academic leaders how valued they are by the Tampa Bay community."
When the USF St. Petersburg campus' Regional Chancellor's Fund for Excellence hit its goal of 30 donors, a generous $10,000 challenge gift from longtime USF supporters Al and Sandee Steinberg was unlocked. The fund supports everything from student scholarships to faculty research and community partnerships.
"I am so hugely thankful to Al and Sandee Steinberg for their matching gift," said Christian Hardigree, regional chancellor for the St. Petersburg campus. "I'm also grateful to the incredibly generous individuals who donated to our campus. We simply have the best community champions, internally and externally."
Another highlight of the week came on April 12, when USF Federal Credit Union announced a $1 million gift to support scholarships and student and alumni programming across the university, including USF Health, the Sarasota-Manatee campus and Veterans Success. USF Federal Credit Union generously contributed an additional $50,000 to the Office of Veteran Success once the university surpassed its goal of 5,000 gifts during Giving Week.
In total, donors supported 256 causes at the university during Giving Week. Many HerdFunder projects continue to accept donations. Supporters are encouraged to visit our website to learn more about these and many other ways to make an impact.