The Judy Genshaft Honors College
In the News
---
May 22, 2019 - The Announcement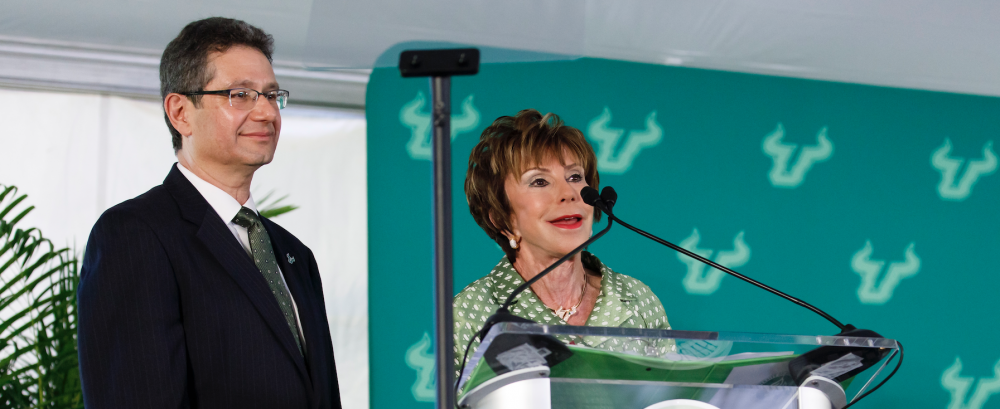 The University of South Florida has flourished under President Judy Genshaft. Now, she continues her transformational leadership – this time through a historic gift.
President Genshaft and her husband, Steven Greenbaum, have donated $20 million to the USF Foundation. This represents one of the largest gifts of its kind ever made by a sitting university president to their institution. The donation will name the Judy Genshaft Honors College and help fund a new five-story building for the College to be built on the USF campus within the next few years. They also announced a $3 million gift to create an endowment for the deanship of the Judy Genshaft Honors College.
"We are so passionate about this university. It has been such an important part of our life and our family over the last 19 years. It's only natural that we would do whatever we can to ensure its continued success," Genshaft said. "Having a world-class Honors College is just one more way USF will distinguish itself as one of the most elite and forward-thinking institutions in the world. The Honors College is special because of its inclusiveness, representing the best and brightest students from all academic units across all of our USF campuses."

"Based on our research, Dr. Judy Genshaft has given more to the university in her 19 years than any sitting university president in the United States," said Joel Momberg, USF Foundation CEO and senior vice president of advancement and alumni relations. "This is indeed a historic moment for USF and American higher education. We are so grateful for all President Genshaft and Steven Greenbaum have done for our university."
The approximately $47 million facility is expected to feature interwoven spaces for classrooms, study areas, faculty and advisor offices, event areas, a music and computer lab, as well as numerous collaborative spaces – expanding the range of academic opportunities for students and giving them a true "home" on campus.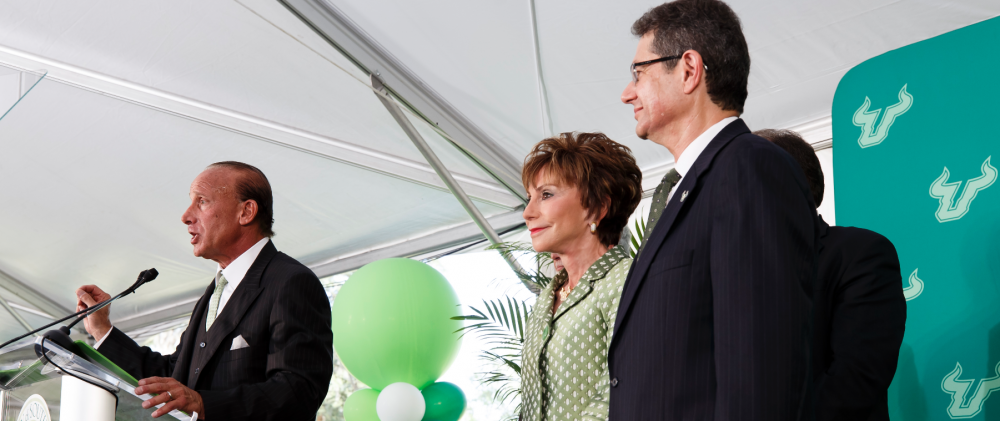 "This transformational gift will bring USF and student success to a new level and ensure that preeminence lives on in the new Judy Genshaft Honors College. It will also provide a lasting legacy for others to emulate," said USF Board of Trustees Chair Jordan Zimmerman.
---
January 23, 2020 - Project Updates
---
---

---

---

---

---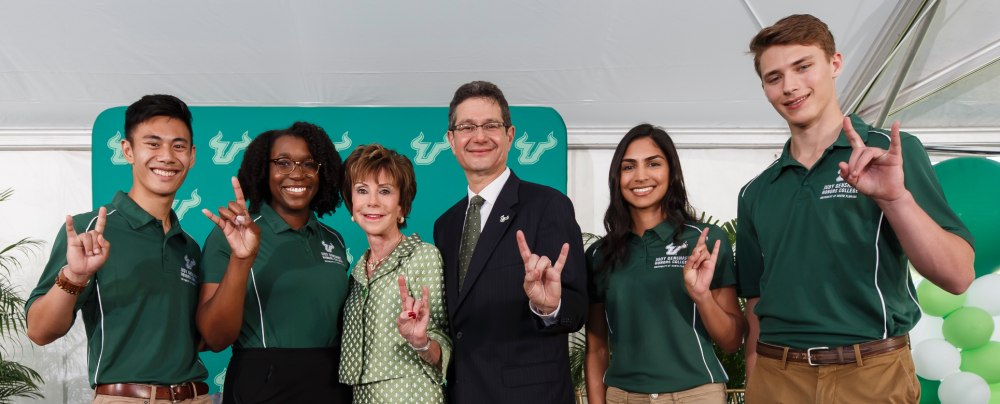 ---
LEARN MORE
A Home for Honors College Students
The Judy Genshaft Honors College is a learning and engagement hub for the brightest scholars at the University of South Florida. Honors College students represent all disciplines on all USF campuses. We invite you to learn more and provide your contact information so you can stay updated as the project progresses. There are many ways you can provide support and we can't wait to share more with you.
Where will the Judy Genshaft Honors College be located?
The new building will be located just north of the Muma College of Business on USF Maple Drive (soon to be renamed "USF Genshaft Drive")
What are the features of the new facility?
There are a number of features currently being planned such as: classrooms, event space, an atrium, collaboration and conference rooms, study areas, computer labs, music and art studios, adviser and faculty offices, an administrative suite and a café. We will share more information as the project develops.
GET INVOLVED
If you would like to provide additional support, please complete the form below or call 813-974-1246 to contact Judy Kane, Director of Development for the Judy Genshaft Honors College. Thank you for your interest in supporting the Judy Genshaft Honors College at the University of South Florida.
Steven Currall, USF President
This university belongs to all of us.
Your Impact