Our Community
The LGBTQ+ Giving team at USF engages allies, students, faculty, staff, alumni, donors, friends and community leaders who are dedicated to supporting LGBTQ+ individuals and initiatives. According to the Postsecondary National Policy Institute, LGBTQ+ students face challenges as early as high school that factor into their college enrollment and experiences. By creating opportunities, access and resources for these students, we can impact generations of LGBTQ+ students.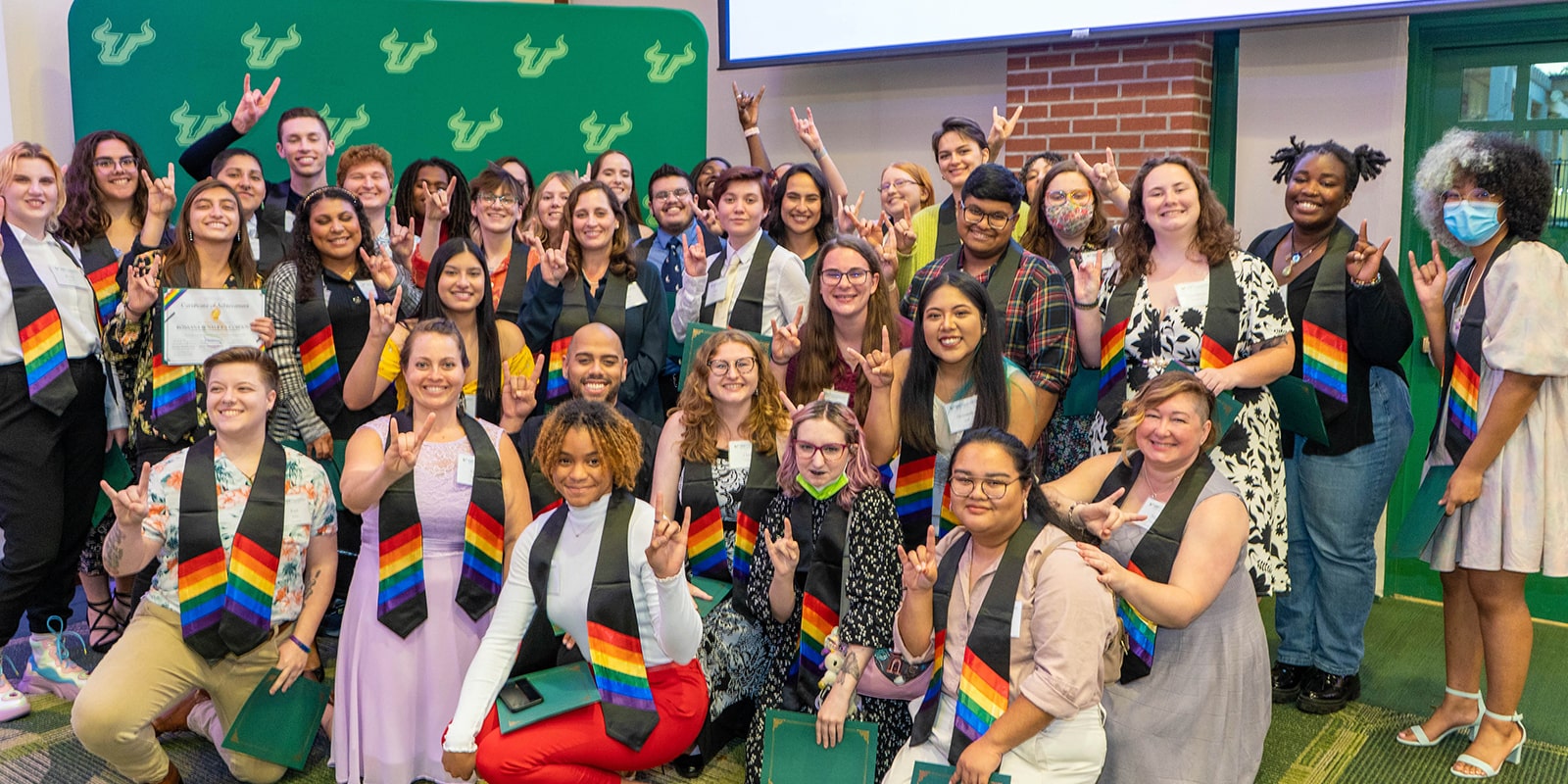 How we Help
Florida has the fourth largest LGBTQ+ community in the country. Through philanthropy, we support a broad array of programs and scholarships that educate and inform the campus community on issues related to equality and acceptance of LGBTQ+ people. This support spans the entire university community. LBGTQ+ students, faculty, staff and allies are empowered to promote equality and acceptance, which enhances campus life for all and enriches the student experience.

How to Get Involved
Our leadership committee comprises donors who give at least $1,500 annually. Those who give less annually are qualified as supporters. Whether you are a member of the leadership committee or a supporter, you will have a voice in how the funds are directed. By pooling our collective resources, the LGBTQ+ Giving Fund can support programs and initiatives on campus, such as the Stonewall Suites, the annual Queer Tour of Tampa for our LGBTQ+ students and allies, the National Coming Out Day Dinner and Lavender Graduation Ceremony, to name a few.
Leadership Committee
These are the champions of LGBTQ+ giving at USF. The committee meets annually to review all funding proposals and recommend top proposals that will be voted on by the supporters. This may include presentations from university departments or units.
Supporters
Sponsors have the collective power of selecting the proposal(s) to fund annually. After the leadership committee identifies the top proposals, the supporters cast their votes making the final decision.

Giving Opportunities
Please click the button below to make a gift.

You may also wish to support other funds that align with your passion.
Rhea F. Law, USF President
The growth and success of Tampa Bay is intrinsically linked with the growth and success of USF. There is so much potential, and the future is very bright.
Your Impact