USF Accessibility Scholarship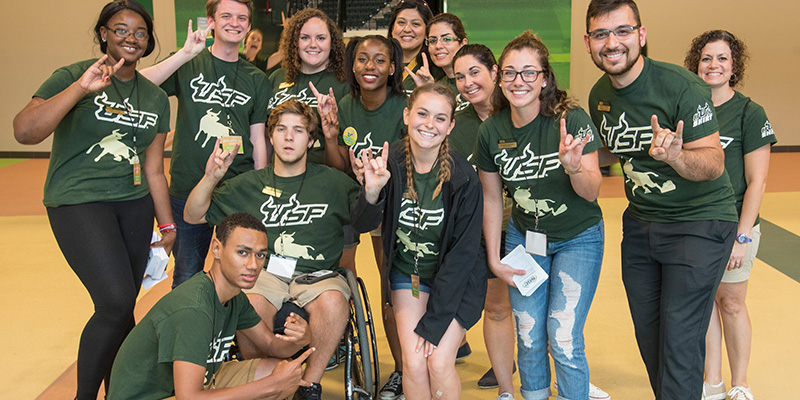 The Accessibility Scholarship at USF
1 in 5 Americans have a disability, and it's likely you know someone with a disability. It may be a relative, a spouse, a co-worker, their child or even your child. You may know someone with an Autism Spectrum Disorder, ADHD or a learning disability. Perhaps someone you know is deaf, has a visual impairment or requires a mobility device. What if, to honor the person you know, you could help a differently abled student achieve their dream of a college education? The Accessibility Scholarship at USF is available to students with visual, hearing, speech, orthopedic, neurological, mental and learning disabilities. Your generous donation will help these exceptional students become future leaders, innovators, and role models.
Your Impact
Differently abled students often have costs other college students do not. The financial burden of doctor's visits, hospitalizations and equipment that makes everyday life accessible can leave students struggling to pay for tuition and books. The USF Accessibility Scholarship helps alleviate this burden. By donating to this scholarship, you will make a significant impact on a student's life. You can help a differently abled student achieve a college degree. A college degree helps others see past disabilities, to a person's true potential. Our scholarship recipients pursue degrees across all majors, including STEM, business, health and education, often advancing to successful careers or graduate degrees.
Other Accessibility Scholarships
Since the early 1990s, the Johnson Scholarship Foundation has funded scholarships for students with disabilities at each campus of Florida's State University System, including the Theodore R. and Vivian M. Johnson Scholarship at USF. Learn more
Rhea F. Law, USF President
USF has incredible forward momentum – rising faster than any university in the nation as one of the country's most respected urban research universities. Generous donors ensure we continue to accomplish great things for our students and our communities.
Your Impact