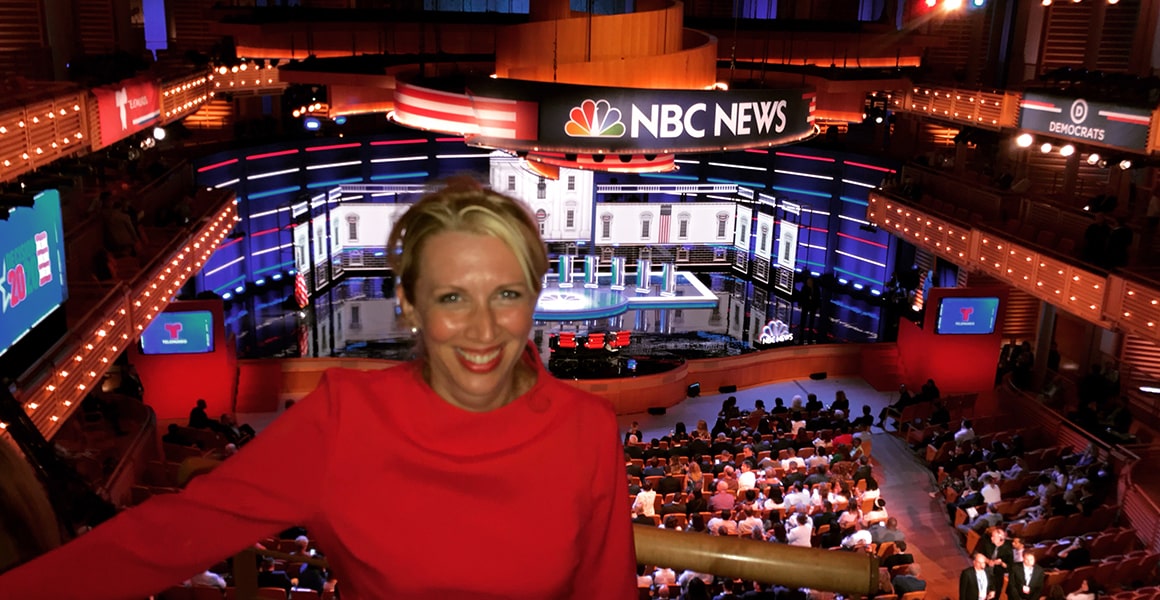 Nov. 11, 2022
For two decades, Evelyn Pérez Verdía has dedicated her life to bridging information gaps between diasporic communities and government in the U.S.
The daughter of a third-generation American father raised in Florida and a Colombian mother who became a U.S. citizen, her childhood exposed her to a blend of cultures and languages that expanded her worldview.
As a student at the University of South Florida, Pérez Verdía majored in international studies, with dreams of becoming a national ambassador and diplomat.
She was introduced to USF's Legislative Internship Program (LIP) by her advisor and mentor, the late Joan Newcomb. For Pérez Verdía, who relied on scholarships, loans and federal aid to pursue her academic goals, LIP offered unique opportunities to get involved in the political process and connect with local leaders and citizens alike.
"The program allowed me to get in touch with communities in the Tampa Bay area and engage with them on a deeper level," she said. "Those experiences shaped my future and opened doors for me to be able to pursue my passion."
Today, Pérez Verdía is founder and CEO of We Are Más, an organization aimed at creating social impact campaigns and combating disinformation in foreign language–speaking communities around the country.
Through a generous gift to LIP, We Are Más aims to promote life-changing opportunities for students who, like Pérez Verdía, come from a low-income household.
Students in the program are thoughtfully matched with elected officials or organizations in the Tampa Bay area according to their interests, enabling them to experience the political process firsthand. They also receive a scholarship from the USF Alumni Association and travel to the state capitol in Tallahassee, Florida.
"Our students are incredibly passionate, and they want to be actively involved in helping to shape our country," said Robin Ersing, director of the School of Public Affairs in the USF College of Arts and Sciences. "By supporting their experience in LIP, businesses like We Are Más are investing in the future of leadership."
Pérez Verdía's parents shaped her belief in the importance of connecting with people from all cultures and backgrounds. As missionaries, they traveled to the Amazon rainforest and the coasts of Colombia searching to assist deaf Native communities and discovered culturally relevant differences in their languages and dialects.
"Those experiences helped me to understand how language and communication can reflect cultural and community values," said Pérez Verdía. "Now, working with diasporic communities, I realize how important those factors are to a community's perception of our government."
Through LIP, she was placed in the office of Bob Henriquez, who served in the Florida House of Representatives at the time. After graduating, she went through several jobs until she was selected for a full-time position with Congressman Jim Davis. Pérez Verdía learned of the position from Robin Jones, former director of the LIP program, and said she will forever be grateful to Jones for informing her of the opportunity.
Pérez Verdía immersed herself in the world of politics, serving first as a campaign manager, then a congressional assistant and case worker.
Inspired by her upbringing, she spent her free time educating Spanish-speaking communities in the Tampa Bay area about public services and civil rights.
"Since my experience as a student in LIP, my passion has always been to teach communities about how government and politics work in this country," said Pérez Verdía. "It's important for people to understand the process so they can become informed, involved citizens."
Her passion for social activism and interacting directly with grassroots individuals and leaders earned her a notable reputation among the region's Hispanic and Latino communities. At 26, she was appointed president of the Hispanic Alliance of Tampa Bay, a network of over 40 different organizations.
Through the combined power of her communication skills and practical experience, she founded We Are Más to protect the values of democracy, working with elections offices, nonprofit organizations, local, state, federal and presidential campaigns to combat disinformation and provide translations with cultural context.
The company currently provides services in English, Spanish and Creole, and aims to magnify its impact by engaging with other diasporic communities in Florida.
Pérez-Verdía says she has accomplished her dream, serving as a cultural ambassador for the communities she empowers. Through her most recent gift, she hopes We Are Más can relieve part of the financial pressure experienced by low-income students, encouraging them to pursue their passions through a deeper understanding of government.
"When I graduated, I thought I would never be able to pay my student loans off," she said. "Now, I have the opportunity to break the barrier and plant a seed of hope for students who are in that same position, and that brings me a lot of pride."