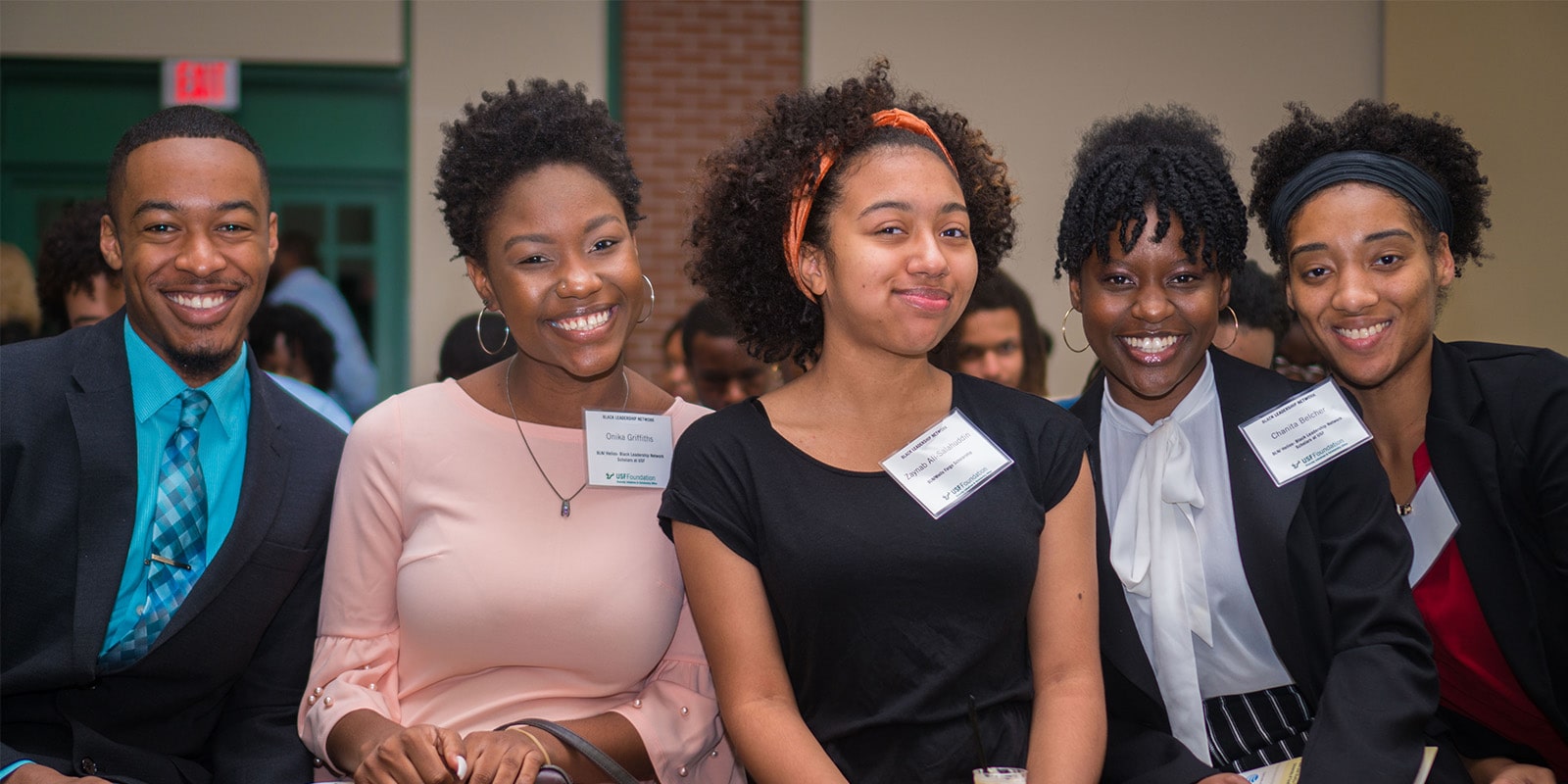 May 13, 2022
Inside the Gibbons Alumni Center's Traditions Hall four years ago, an air of excitement filled the room as members of the fledgling Black Leadership Network gathered with USF and community leaders for a landmark event. It was the ceremonial check presentation from Helios Education Foundation — an investment of $2.1 million — to support the future success of an underrepresented population of USF students. That moment continues to ripple today with broad, life-changing impact.
The Helios gift was transformative in the network's development not only because of the substantial support it provided, but because it served as an important catalyst. It has inspired other donors to create scholarships — some 35 to date — that continue to open doors for Black Leadership Network (BLN) scholars.
One such student is Vladimir Leonard, a USF senior and engineering major who watched eagerly from the crowd in 2018. His story is representative of so many BLN scholarship recipients. "I'll never forget that day," he says now.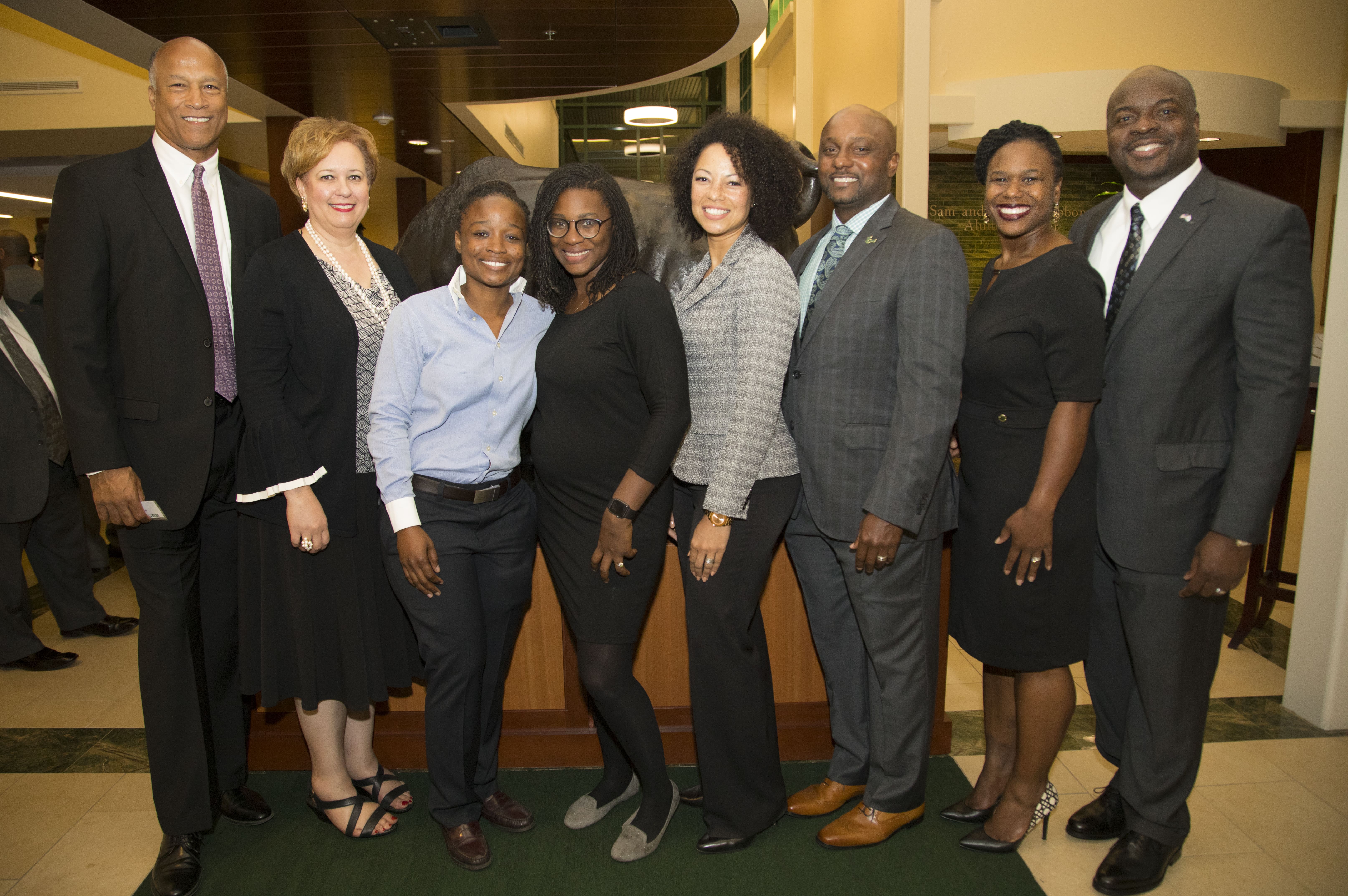 Leonard posed for photos holding a huge replica of the check with BLN founders Jerry Bell, former tight end for the Tampa Bay Buccaneers who later founded his own information technology company; Anddrikk Frazier, '01, who made his name as captain of USF's basketball team in the late 1990s and became an entrepreneur in the energy field; Ashley Butler, '12, who founded Butler Automotive; and Edwin Narain, a former USF student body president who served in Florida's House of Representatives and today is an assistant vice president with AT&T.
Not long after, Leonard attended a Bulls football game at Raymond James Stadium and posed on the field with that group and others, including then-USF President Judy Genshaft — and even mascot Rocky the Bull — all beamed onto the Jumbotron.
But those festive scenes are only part of why the memory of Helios' gift remains embedded in Leonard's mind. The more significant reason is the impact Helios' support has had. "Thanks to Helios, BLN has expanded and provided more resources to serve scholars and enhance our experience," Leonard says.
As a member of the inaugural BLN class in 2017, he knows firsthand the power of giving as the organization celebrates its fifth year.
"I remember applying for a BLN scholarship as a freshman with one of my friends," he recalls. "That spring I received an email that I'd been accepted, even though I really didn't know what it was all about. But pretty soon it became such an eye-opening experience — something that I dreamed of coming into the university, and wanting to be part of a community such as BLN, and the excellence surrounding it from community leaders, entrepreneurs and established professionals."
The Helios gift was divided into two parts, a $2 million scholarship endowment providing support for up to 40 students per year in perpetuity, and $100,000 immediately for scholarships, mentoring and leadership skills programming designed to help students graduate with less debt and needed skills for the job market. In Leonard's case, that support — especially mentoring he received — infused him with confidence and a sense of direction.
"I had the pleasure of being mentored by Mr. Narain, and his knowledge and wisdom definitely helped me out a lot," Leonard says. "It was everything from advice on how to move around campus to what leadership looks like. I could also speak to him just as a young man and he'd provide helpful guidance. His mentorship not only gave me information I needed to succeed, but having someone like him in my corner has also challenged me to always strive to succeed in whatever I do."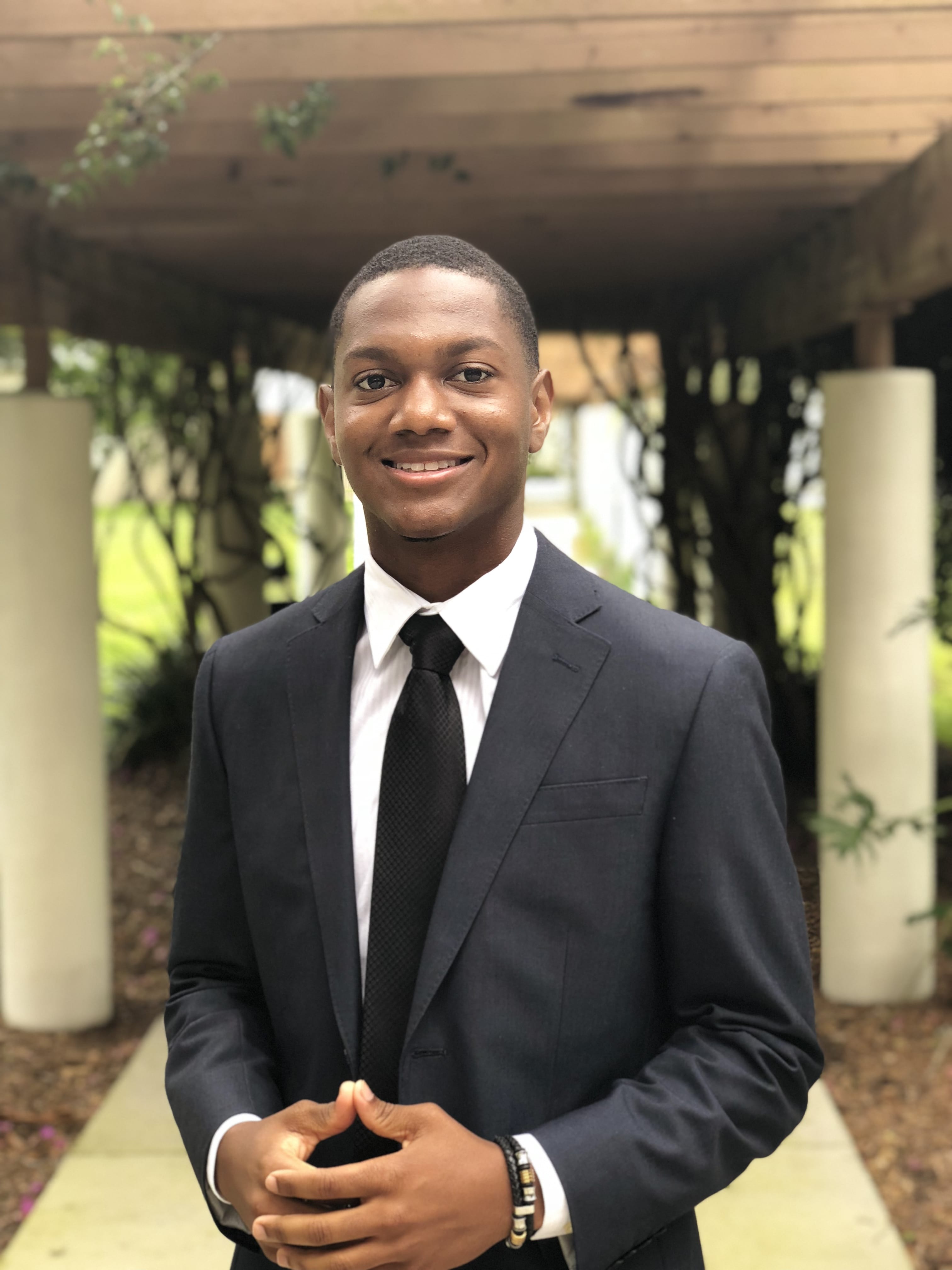 To date, 26 scholars have graduated since the first year, and an additional 15 are slated to graduate this semester. The program has been coordinated since 2019 by Walter Jennings, USF's assistant director of diversity initiatives, serving as BLN program director with a primary focus on mentoring and professional development.
"We've decided to make professional development a collaborative effort, where our BLN scholars are learning once a month along with students supported by USF Women in Leadership & Philanthropy, and scholars from the Latino Scholarship Program," Jennings explains. "We started a few years ago with traditional professional development — how to dress, resumé support, preparing elevator pitches and doing interviews. Now we're doing a series, for last semester, for instance, on financial literacy."
It's worth pointing out that the class is taught by Jorge Soriano, a former Latino Scholarship Program student at USF who became a financial expert and now has established a scholarship in the program to support Latino students at USF. Leonard, like Soriano, sees himself coming back to help BLN students through a scholarship one day — and offering mentoring and outreach as well.
"I know that I and others want to give back to the organization and lend a helping hand to the next group of students coming up," he says. "I want to share what BLN is — community, professionalism and, most of all, family."