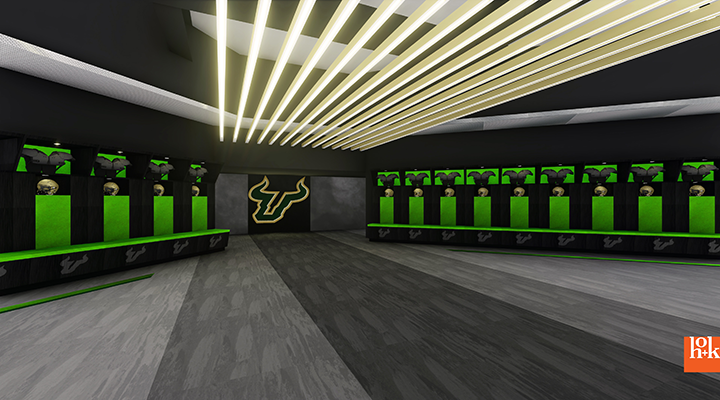 PROJECT DESCRIPTION
The USF Football Center represents a historic and transformational step towards the future of USF Athletics and sustained excellence in football and across all the Bulls' athletics programs. The Football Center and its associated activities will be an integral part of the campus athletic experience as well as a major recruiting tool, helping to bring the best and brightest to USF. Highlights of the facility include:
Over 160,000 square feet dedicated to student-athlete excellence

A full, 100-yard indoor turf training field

A 12,563-square foot, state-of-the art strength & conditioning center

A fuel station hub to enhance dietary intake

Nearly 8,000-square foot sports medicine and rehabilitation facility
IMPACT on USF Football
The addition of this facility will allow USF to attract the top prospective student-athletes in the nation. While we are a nationally ranked football program that has earned respect nationwide, we must continue to make this type of investment to ensure our future competitive success and provide our student-athletes with a world-class experience. The training space will ensure our student-athletes are the most physically fit and prepared to perform at peak levels during competition. The sports medicine facility will allow our doctors and athletic training professionals to work with student-athletes to prevent injuries and provide each student-athlete with the best chance of a full recovery in the event they are injured. The new coaching offices and team-meeting auditorium will improve communication and teaching opportunities for both the student-athletes and the staff, which will translate into better decisions made on game day.
impact on usf athletics
All USF sports programs will benefit from this new facility. The addition of the USF Football Center will allow approximately 30,000 square feet of space in the Lee Roy Selmon Athletics Center to become available for other Bulls' sports programs to enhance the training and recruitment of student-athletes. The indoor practice field space will provide each field sport – baseball, softball, soccer and track programs – a safe place to practice in the event of inclement weather. The increase in sports medicine space will allow USF to enhance the care and rehabilitation of all student-athletes and return them to competition faster following injury.
Spread the word
We are counting on your help! Make an even bigger impact by sharing your support of this campaign by clicking on the social media tools at the top of the page. Thank you for your support of the USF Football Center Project.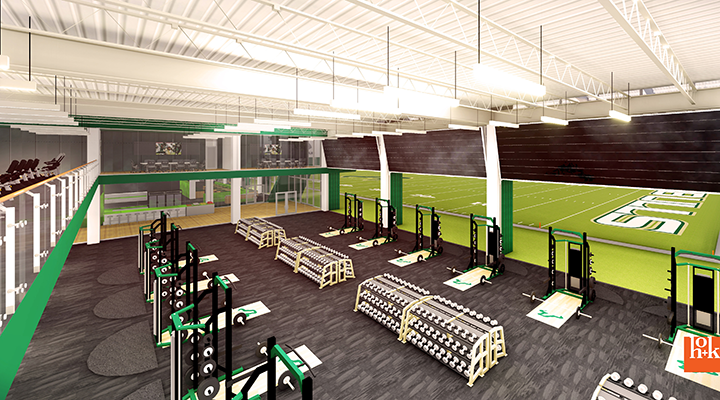 ---
Show your Bull pride. Together we make a difference.
---
Celebrate President Genshaft's 19 years at USF.
---
Help unlock our unlimited potential.
---
Make your impact in USF's New Era.
---
Be a leader with a gift of $100 on Rocky's birthday.
---
Gifts of any size make an impact! Enter your custom gift amount.