Who We Are
The USF Libraries offer access to over 1.3 million books and an extensive selection of print and electronic resources, including over 50,000 e-journal subscriptions, 440,000 e-books, and 800 databases containing articles, media and other materials. The Libraries offer valuable resources and services and give students access to an extensive selection of print and electronic books, maps, journals, databases and much more.
What We Do
The USF Libraries' Digital Collections is digitizing the work of George "Skip" Gandy, a commercial photographer with an eye for capturing the essence of Florida. Beginning in the early 1970s, Skip used an innovative gyroscope-mounted camera in the belly of his plane to take perfectly level aerial photos depicting urban and natural scenes.
With over 80,000 photographic negatives in our collection, Skip's work captures more than 40 years of Tampa Bay history through a period of great transformation and growth. Throughout Skip's prolific career, the population of Tampa alone more than doubled from less than a million residents to nearly 2.5 million.
Visit the exhibit here.
Your Impact
By making the Gandy Collection available online and openly accessible to the public, USF Libraries' Digital Collections will showcase over 100 years of Tampa Bay history.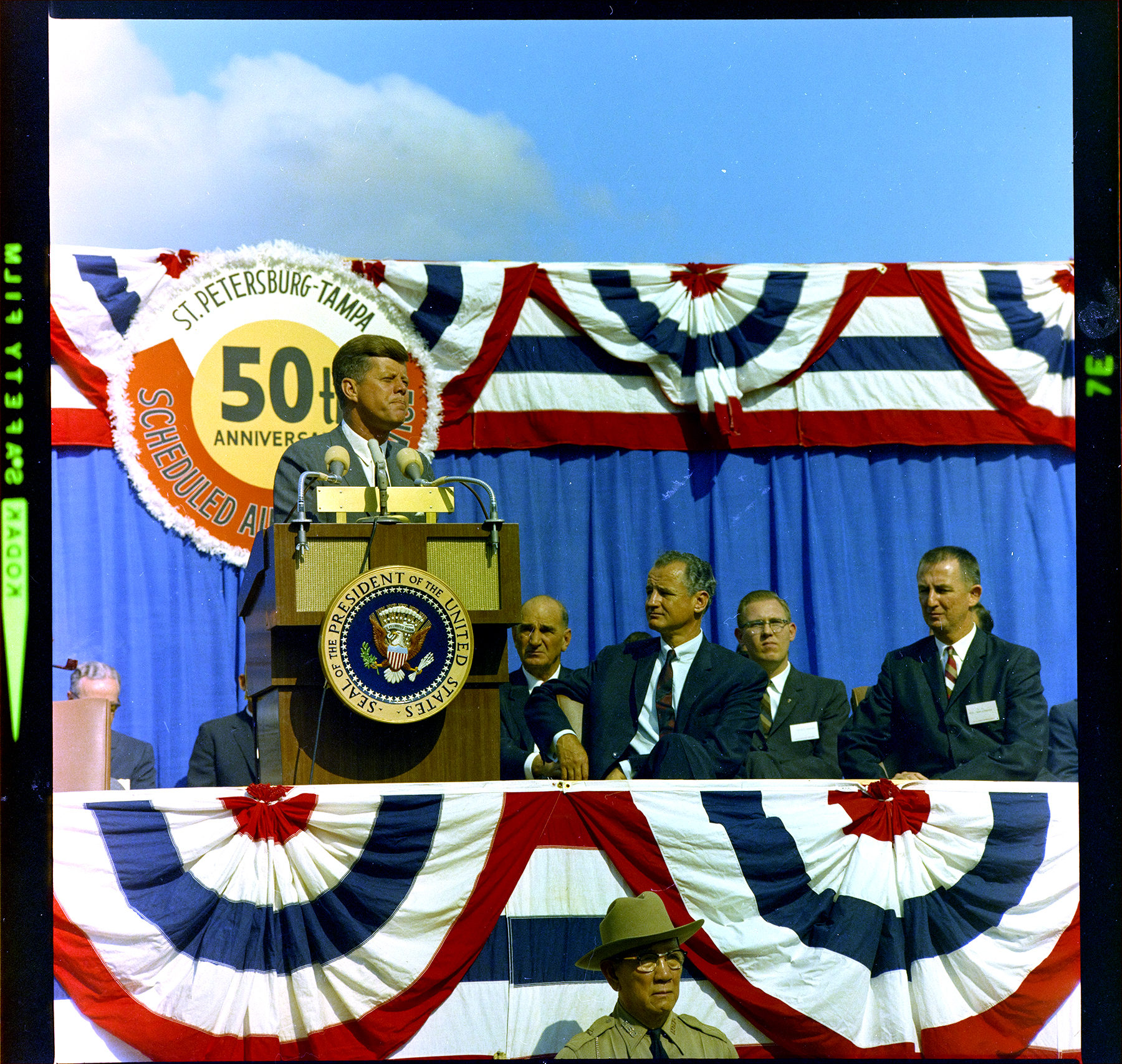 To support the campaign, local photographer and photojournalist Chip Weiner generously committed to providing up to $20,000 toward the total $41,300 goal. These funds, matched with a $10,000 commitment from the USF Libraries' will join your gift to support this exciting new collection.
USF Faculty and Staff: You can give online through this site, or complete this payroll deduction form (fund #370036, Digitize the George "Skip" Gandy Collection) and email it to fscampaign(at)usf.edu.
What Your Generosity Will Do
Your gifts will help USF Libraries complete the digitization of Skip Gandy's body of work and provide a unique look at how our region has grown and changed.
Spread the Word
We are counting on your help! Make an even bigger impact by sharing your support of this campaign using the social media tools at the top of the page.
Need help with your post? Try this message:
Join me in support of the USF Library Digital Collections and help us digitize over 80,000 photos by Skip Gandy depicting Tampa Bay's history. Go Bulls! usf.to/libraries
---
Show support for the cause.
---
Gifts of any size make an impact! Enter your custom gift amount.