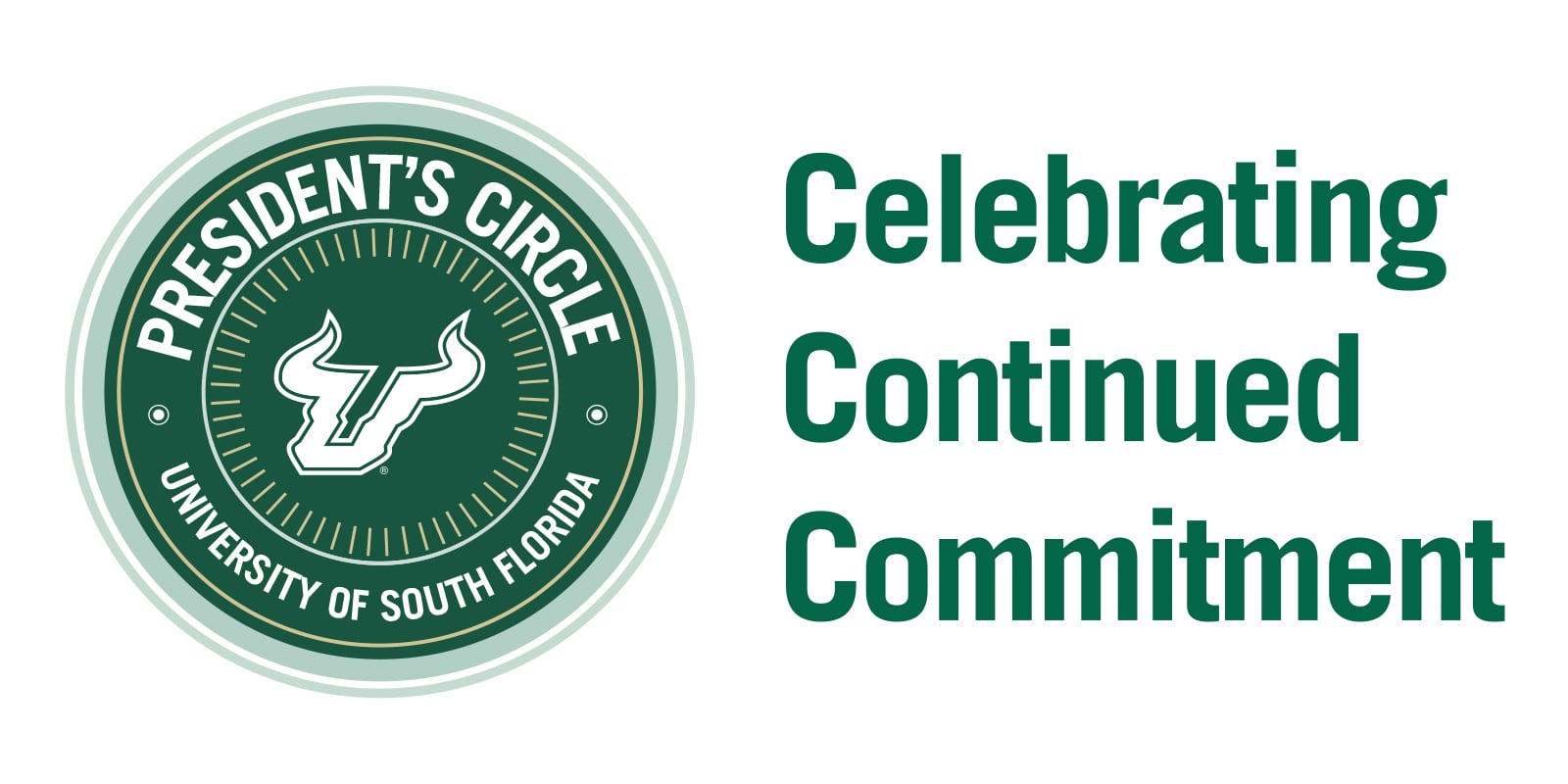 The University of South Florida President's Circle recognizes alumni, faculty, staff, parents and friends of our great university who make annual contributions within a fiscal year to any USF program on the Tampa, St. Petersburg and/or Sarasota-Manatee campuses.
By supporting our students, faculty, research and exceptional programs year after year, this community of generous givers is helping to raise the standard and catapult the trajectory for the University of South Florida.
Qualifying Gifts
• Recognition status in President's Circle is achieved for individuals who make an outright gift or cumulative charitable contributions totaling $1,500 or more throughout the fiscal year (July 1 - June 30).
• President's Circle membership is based on cash gifts and pledge payments. Commitments and open pledge balances do not qualify.
• Gifts which benefit WUSF Public Media, USF Botanical Gardens, USF Athletics and the USF Alumni Association are counted towards qualifying President's Circle recognition, minus the amount of any goods or services received.
• Corporations and foundations are included in our recognition program when they reach a cumulative giving threshold of $1 million or more.
• Once outright gifts or cumulative giving has reached $100,000 or more, donors will be celebrated in our recognition societies as well.
---
For questions regarding President's Circle and recognition within this program, please contact Carly Plate, director of Donor Relations & Stewardship, at cplate(at)usf.edu or 813-974-8059.
Rhea F. Law, USF President
The growth and success of Tampa Bay is intrinsically linked with the growth and success of USF. There is so much potential, and the future is very bright.
Your Impact