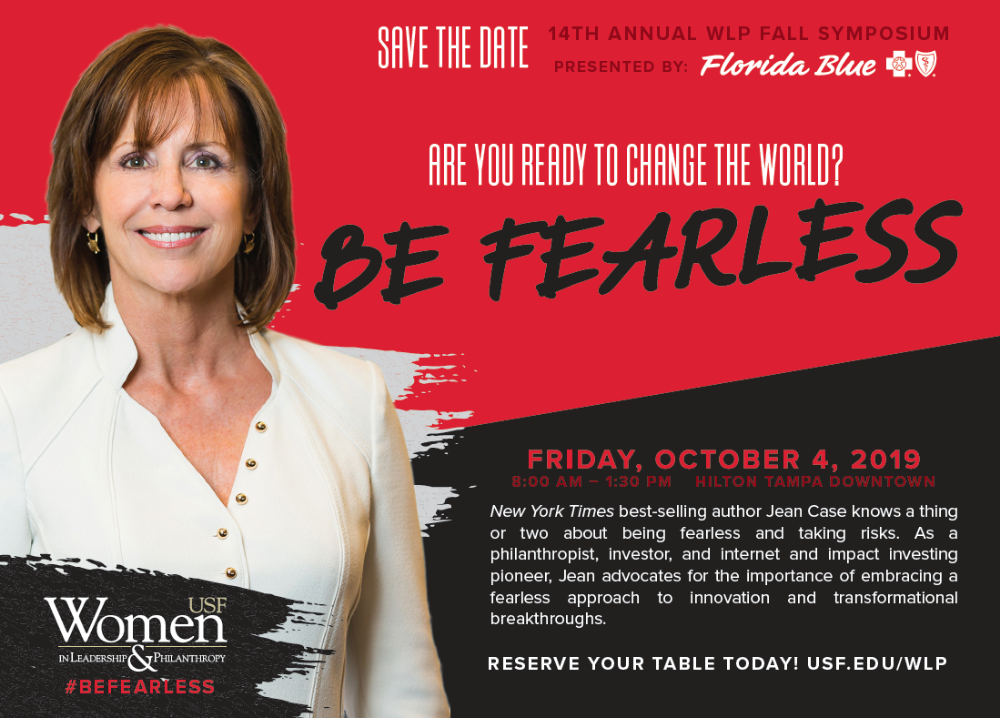 The 14th Annual Women in Leadership & Philanthropy Fall Symposium will celebrate women who are transformational leaders through their volunteer, professional and philanthropic contributions. This half-day event (which has sold out since 2013) features a networking breakfast, concurrent sessions and a dynamic lunchtime keynote address by Jean Case, chairman of the National Geographic Society and CEO of the Case Foundation, as well as a philanthropist, investor and technology pioneer. Her new book, Be Fearless: 5 Principles for a Life of Breakthroughs and Purpose, is described as "a call to action for those seeking to live extraordinary lives and bring about transformational change."
Date: Oct. 4, 2019
Theme: "Be Fearless"
Anticipated Attendance: 950+
Location: Hilton Tampa Downtown
Audience: WLP members, university benefactors, community and business leaders, faculty, staff and students
Agenda Time
7:30 a.m.
8–8:45 a.m.
9–10 a.m.
10:30–11:30 a.m.
Noon–1:30 p.m.
1:45–2:15 p.m.
2:15–3:30 p.m.
Agenda Event
Doors Open and Registration Begins
Networking Breakfast
Concurrent Sessions I, II, III
Concurrent Sessions IV, V, VI
Luncheon Program, Award Presentation and Keynote
VIP Reception (invitation only)
Student Reception (invitation only)
presentation of the community leadership award
This award honors visionary leaders and philanthropists throughout the community who are doing extraordinary things to make Tampa Bay a better place for women to live and work. With the Community Leadership Award, we showcase individual excellence in leadership as demonstrated by outstanding initiative, impact of work, and inspiration to others. Learn more about our 2019 recipients.
Use social media: Do you post on Facebook or tweet on Twitter? Be sure to let your circle of influence know that you are participating! #wlpsymp
Sponsorship Opportunities: Limited opportunities are available for sponsorship. For detailed sponsorship packages and benefits, please download this form.
Steven Currall, President USF System
This university belongs to all of us.
Your Impact