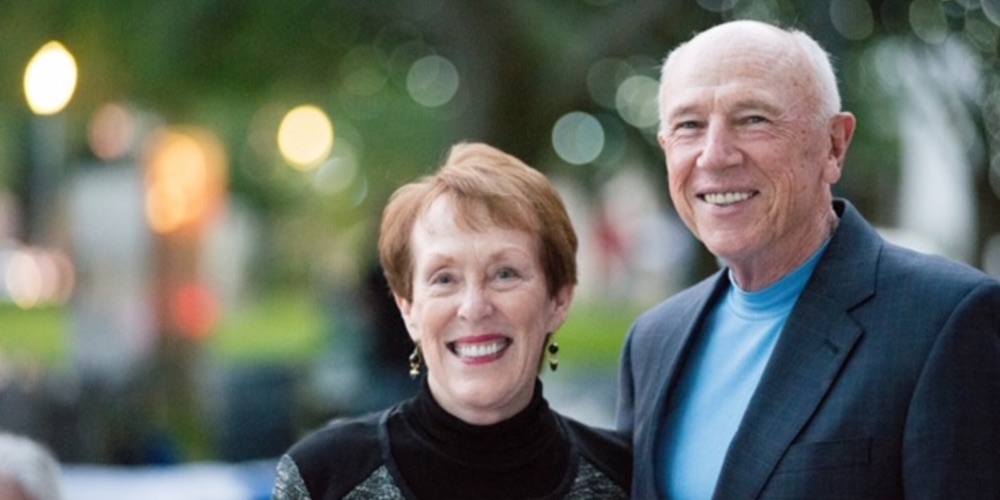 Jan. 10, 2020
Betty Castor and Sam Bell are Green and Gold legends. Most Bulls fondly recall Castor as the University's first female president (January 1994 through December 1999) and later when she was recruited to take the USF Patel Center for Global Solutions to a new level (2007-2009). Those timelines are the tip of the proverbial iceberg. Castor and Bell have nonstop decades of commitment and continue to invest their time as well as their treasure in the university they love.

"USF is a big part of our life. It helps define us," said Castor.

This well-known power couple has structured their philanthropy by combining their passions with a common sense approach to funding.

Most recently, they made the University of South Florida the owner and beneficiary of a life insurance policy worth a substantial amount, which will impact multiple areas of the university.

"We've been fortunate because we've been able to plan ahead and invest in our families' futures. So these particular assets aren't as critical as we thought they might be when we set them up. We both wanted to put them to use in a meaningful way and discovered that it's actually pretty easy to do so. We simply turned the policy over and agreed to divide the assets among our various existing endowments and create a couple of new ones, too," explained Castor.

"While this was a fitting way for us to do it," she elaborated, "the good news for others is that the professionals at USF Development are ready to assist members of the Bulls Family with the approach that best suits their respective situations."

Enhancing Current Castor-Bell Programs

The largest portion of the Castor-Bell gift will be directed to the Sam Bell Endowed Scholarship, which provides support for graduate students in the College of Public Health. Bell, who represented Volusia County in the Florida House of Representatives from 1974 to 1988, is known as "Father of the USF College of Public Health," an entity he created in statute. Over these many years Bell has served as the first and only chair of the dean's advisory board. He has watched the college grow from his words on a page to an internationally respected entity.
"Sam spends more time on and at USF than I do," added Castor.

"One of the reasons I was interested in creating the College of Public Health was the pressing need for a supply of educated, competent public health officials," explained Bell. "USF is meeting that need. Others have followed, but the USF college continues to set the standard." He added that it is especially gratifying when the scholarship funds go to dedicated practitioners already working in the field.

The scholarship is used to send master's-level students to Uganda every year.

"That's really special to us, because I taught school many moons ago in Uganda," interjected Castor, who began her career path as a teacher.

"It's really a life-changing experience for the students," observed Bell, describing how one year, they almost didn't send an applicant, because she didn't seem ready.

"This rather timid woman signed on, and I've never seen such a dramatic change. She came back full of confidence. She had a great experience, which changed her for the better," said Bell. "Now we have people all over the world who were Bell Scholarship students."

As a trailblazer herself — Castor was the first woman elected to the Hillsborough County Commission and the first woman to hold a Cabinet position in Florida as Commissioner of Education — a large portion of this gift will go to support female students at USF through two different endowments.

The first, the Women in Leadership and Philanthropy/Betty Castor Scholarship for Global Initiatives, benefits the USF WLP Scholarship Program.

Castor reported that the fund provides scholarship support for students interested in studying or pursuing a career addressing global issues and initiatives. Several recipients can be funded each year because of the fund's growth.
"Both of my students," as Castor referred to them, "are interested in global health, and the first, who graduated this year, plans to apply for medical school."

The second initiative, the Betty Castor Endowed Scholarship for Women's Athletics, is especially close to Castor's heart.

"We are dedicated women's basketball fans," said Castor, who can be seen with Bell cheering for the Bulls at every home game. "But we support all of the women's sports."

Before and during her time as president, Castor was very involved in implementing Title IX, which opened the door for women athletes at USF and across the country.

"In fact, when we launched football, a linchpin of our implementing strategy was the concurrent creation of women's soccer," recalled Castor. "Title IX requires that you offer as many scholarships for women as you have for men. Hence, women's soccer made the numbers work for football! The rest is history."

"I'm very proud of USF women's soccer and of all of our teams, women and men. They're all hard working, committed scholar-athletes who bring the spotlight to this great university," she added.

Along with starting football, President Castor made sure that we had a marching band to ramp up the spirited atmosphere at USF events.

"Betty is the mother of the Herd of Thunder," chuckled Bell, adding that "it wasn't just because she once was a majorette!"

A portion of that particular gift will support the Betty Castor Band/Music Education Endowment, which underwrites scholarships for undergraduate students pursuing a music education major.

Creating New Castor-Bell Programs

In addition to enhancing these already existing funds, Bell and Castor will establish two new endowments — the Betty Castor/Sam Bell Endowed Education Scholarship, their first in the College of Education; and the Betty Castor/Sam Bell Endowment for Physical Therapy.

In conversation with Bell and Castor it is clear that education at all levels is a particular passion for them.

The funds from the Education Scholarship will support students who want to work in high-needs schools. Bell stressed that they are particularly focused on community partnership schools, such as Mort Elementary, where USF operates a teacher academy for USF education students.

"It's hard to get teachers to go to these schools, but everyone wants to be at Mort because of the USF teacher academy," Bell noted. He went on to add, "Can you believe that there's a waiting list for people trying to get into a high-needs school!"

The Betty Castor/Sam Bell Endowment for Physical Therapy will benefit the Morsani College of Medicine School of Physical Therapy and Rehabilitation Science, which was created during Castor's presidency. More recently, Castor benefited from the services of one the school's graduates, and it reminded her of why she went to the state to create this important program in the first place. The use of the gift will be left up to the discretion of the director of the School of Physical Therapy and Rehabilitation Sciences.

Together, Castor and Bell have been longtime supporters of many USF initiatives and dozens of students have benefitted from their generosity. Their pride is evident when they beam, bragging about "our students" or "our graduates."

"I think our individual and joint contributions are part of a larger effort to really improve life for students, thereby making USF even more competitive," said Castor. "Some people remain stuck in the past and think of us as a regional or commuter school. But that was a long, long time ago. We've come a long way and now are a major player in so many ways on the national and international stage! Philanthropy has been a crucial component of that remarkable success story."

"Endowing scholarships is a very tangible thing. You can see the result of what you do. You can meet the people, the families. It's something that's living. I like the idea of endowed scholarships that keep living, growing, producing," reflected Bell.

"They'll live on after we do. That's nice to know," said Castor.