Veterans Readjust to Life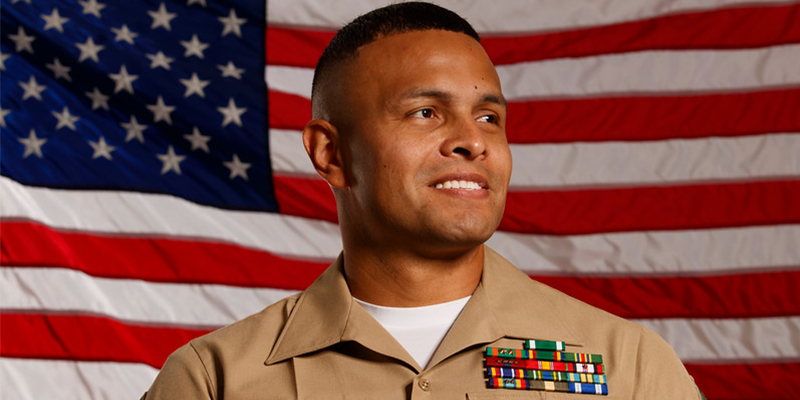 Dec. 1, 2016
It is an unusually quiet weekday morning inside the new Military and Veterans Success Center at the University of South Florida Sarasota-Manatee campus. That means a regular presence in the modern, cozy lounge can snooze a bit longer before welcoming the next wave of visitors. Ghost, a white canine with a customized green Army vest and his very own nametag, gladly takes advantage of the rare downtime, curled up at the feet of his owner, Todd Hughes.
On most days, the Center – a converted computer lab off a long hallway in the rotunda building – is filled with members of the USF Sarasota-Manatee campus's large Veterans population, numbering some 180. They come to enjoy the spirit of camaraderie that bonded them on the battlefield or bases of operation, to explore career opportunities, get job counseling, watch a show on the big-screen TV, or simply to share in the sense of calm and understanding that comes from talking to others who have experienced the horrors and trauma of war.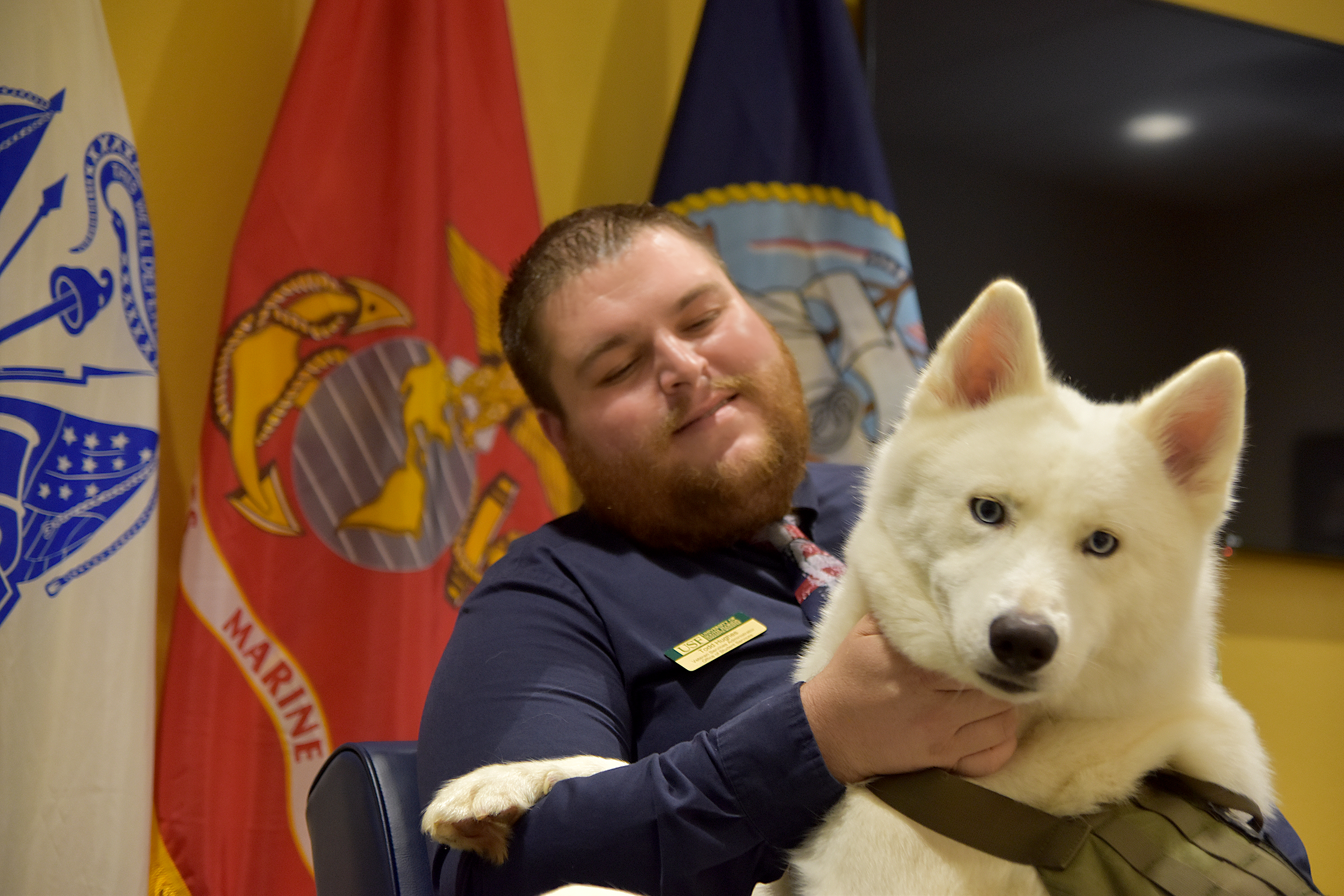 That's where Ghost, a mix of wolf and Malamute with piercingly pale eyes, comes in. Hughes, whose mission as the USF Sarasota-Manatee campus Veteran Services Administrator was to create a dedicated center, brings along his new pal as a potential source of interaction for anyone in need. "It's a proven fact that if you pet or play with a dog, that can really help somebody struggling with Post-Traumatic Stress Disorder (PTSD) or depression," explains Hughes, an Iraq War combat veteran who was injured by an improvised explosive detonation on a convoy and has grappled with the lingering effects of PTSD.
There is something else especially fitting about Ghost as a fixture at the center. Just as his name implies the invisible, the center exists today because of the unseen, anonymous donor who made it possible with a $50,000 gift. Hughes will only say that the person who stepped forward is a military veteran as well – a silent benefactor for those who often deal with silent pain. "I knew him and I was talking with him about potential donors who could help fund a center, thinking maybe he knew some people," Hughes recalls. "And just like that, he said he would do it. I never expected that. And I was so grateful."
University leadership offered the former lab as a site and the space was soon thoroughly transformed. An architect made creative use of limited space: an office for Hughes, a conference room, a kitchenette, a multi-computer work center, and a comfortable sitting area for watching TV or talking. An interior designer even helped select the furniture, including four blue leather lounge chairs, and a warm color scheme. By May, the center was a reality.
One veteran often on hand is Carlos Moreira, 35, currently a finance major and longtime Marine-turned-reservist. Moreira saw one tour of active duty in Afghanistan in 2014, and subsequently moved to Sarasota with his Navy veteran wife to be near family. He enrolled at USF and today is president of the Student Veteran Society. "A lot of times, people who get out of the military have a tough transition" he says. "Many of us are very young when we enlist and only know the military life. When you leave, it can be stressful. So you need a place to escape – where you can relate to people, and that can provide guidance if you need it. That's why this center is so important to us."
"It's impossible to thank this donor enough," adds Hughes. "His generosity has made such a huge impact in such a short time. The long-term results will be amazing with the vets we help."
And an official greeter named Ghost is ready to do his part.