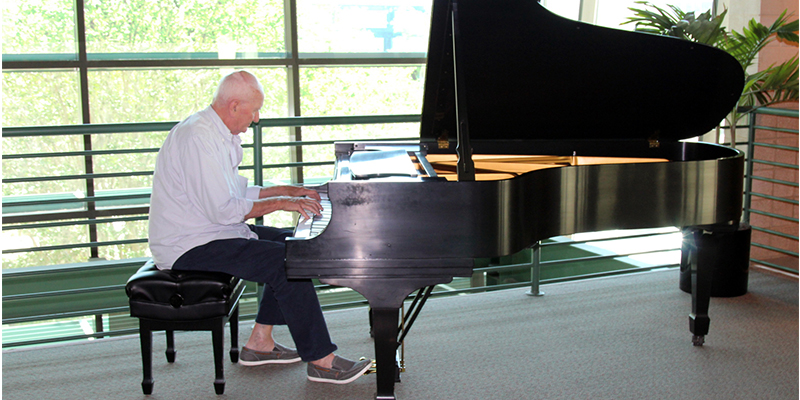 July 13, 2018
An impromptu rock 'n' roll moment of sorts is unfolding recently on the second-floor landing of WUSF's Tampa radio studio – blending the legendary names of Dave Matthews and Billy Joel and the familiar melody of Piano Man, being played to perfection on a stunning Steinway grand that now has a prominent new home at the station.
A small crowd of employees has gathered around to savor the scene and capture it on camera phones. Of course, neither of the superstar singer-songwriters has actually crashed the premises for an unplanned performance. The man making the music flow is a friendly face from local classical music circles, David Matthews, who readily admits to liking the tunes of the rocker who shares his name. Right now, he's effortlessly working the keys of not just any old piano but one that boasts the swirling signature of Billy Joel himself.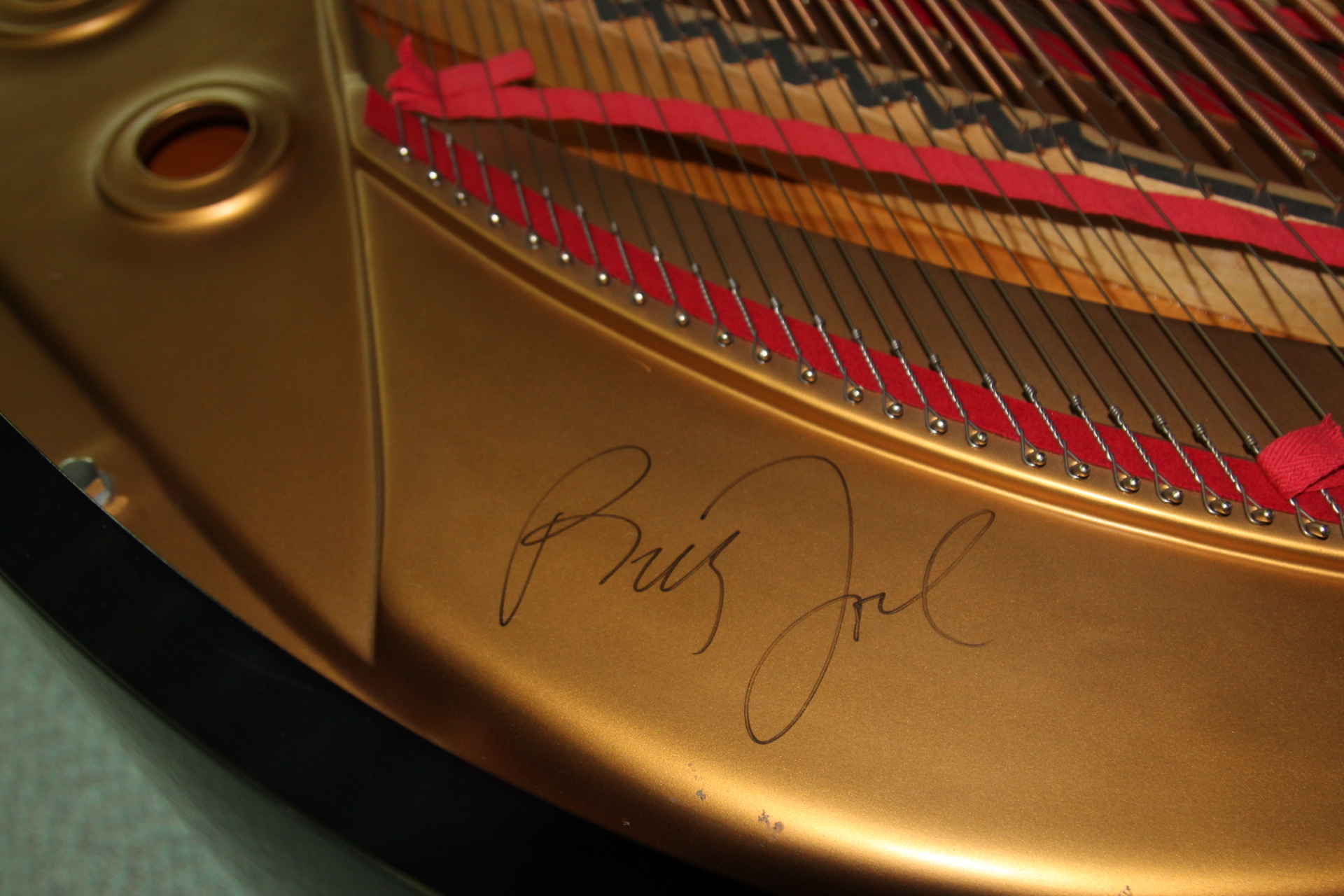 Yet what makes the instrument truly special isn't its connection to the renowned Piano Man, or the $48,000 Matthews managed to buy it for in 1999 – a noteworthy amount considering it matched the most he ever earned in a single year during his long music career. This Steinway stands out because the 73-year-old virtuoso, now retired after 60 years as a heralded church accompanist, has given it to WUSF.
How Matthews came to own the elegant and well-traveled 7-foot grand is part of his own remarkable life in music, and not unlike Joel's career-launching hit with its many colorful verses and a real story to tell.
"I've always liked Billy Joel," he says, "I own two of his music books, and some of his songs are extremely difficult – like Chopin. Well, the guy is classically trained after all."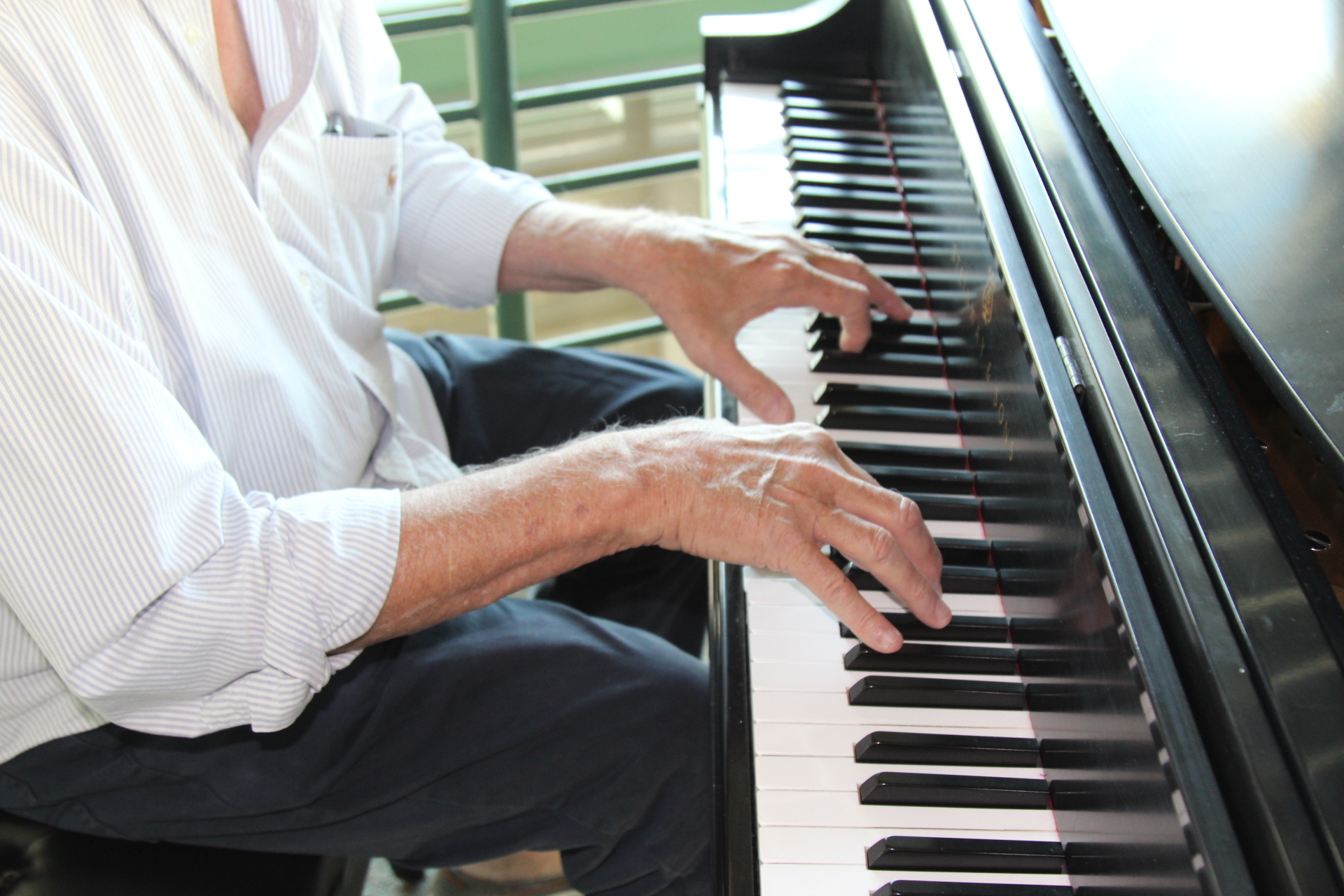 The truth is, before Joel ever signed the Steinway's gold cast-iron plate – believed to be during a master class he taught at USF circa 1998 – Matthews had fallen in love with the piano when it was rented for a recording session in St. Petersburg. There was something magical about the pure, resonant sound and unusually responsive touch – giving it the presence of the highest-end, six-figure Steinways he had played over the years.
Matthews made a point of jotting down the serial number so he could occasionally keep track of its whereabouts with the local dealer that rented it out. He just never imagined he would one day be in a position to purchase it, which he ultimately did through a series of loans and refinancing his condo. And he never dreamed he would one day donate what has become known at USF as "The Billy Joel Piano" to the classical music and public radio station that has meant so much to him.
The generosity is actually two-fold: a "blended" philanthropic gesture through WUSF and the USF Foundation's Office of Gift Planning. The "future" component is an estate gift to benefit WUSF's classical station, WSMR, that will come from the eventual sale of a condo that belongs to Matthews and husband Michael Patica. The other gift has already been made and played: the celebrated Steinway, showcased recently with the start of an intimate "Live on the Landing" WUSF concert series. And on June 22, Matthews and his gift will be honored there at an official piano dedication. "It sounds like a million dollars here – it really does," he says enthusiastically, before launching into another crowd-pleasing Joel tune, Root Beer Rag.
It's just the latest page in the tale of Tampa Bay's own Piano Man. Given the numerous twists and turns, including a stint with late jazz legend Dave Brubeck along the way, the best place to start with Matthews is at the humble beginnings of a long life in music.
• • •
Rewind the tape to post-World War II Indiana. Matthews' parents owned a supermarket in New Castle, some 50 miles northeast of Indianapolis, and the family lived in an apartment upstairs. From a very young age, he displayed a natural touch on his parents' piano and began taking lessons at age 7, adding organ lessons at 10.
During summers, while friends played outside, young David practiced four to six hours a day. By 13, his hometown instructor explained that she had taken him as far as she could, and recommended that the teen continue with lessons in Indianapolis. In spite of the heavy demands of the grocery store, his parents found a way to make it happen, and the motivated student improved markedly with his new teacher, James Kantarze. "He was the best teacher I ever had, and I studied with him through high school," Matthews remarks. Meanwhile, his parents continued to invest their savings in better pianos for their son to give him every possible advantage.
"They spent more on musical instruments for me before I went to college than college itself cost," he recalls. Yet Matthews also made a formidable purchase himself in high school. At 16, he was already giving lessons to nearly 20 students, working at night in a restaurant and playing in church on Sunday. And that allowed him to save enough money for a used Steinway grand. When he told his parents how much he wanted the piano, they explained that there was no way they could afford it. Yet Matthews explained he could buy it, as long as his father signed off on it.
"My dad thought I was crazy, but we went to the Steinway dealer and bought a beautiful, rebuilt piano for $2,200," he recollects. "It was almost the cost of a Cadillac. But I made all the payments, $55 a month!"
When it came time for college, having won numerous piano competitions, Matthews was accepted into the renowned music program at Indiana University, with the help of various scholarships. His goal was to become a concert pianist, but he discovered that about 400 other piano majors had the same idea. Matthews realized that what he enjoyed most was a musical pursuit from high school: accompanying others. At IU, he played piano for members of the chorus, and poured his energy into chamber music.
"At its best, chamber music is the last bastion of democracy," he says with a smile. "Everybody has a say and you have musically educated people reaching a mutual decision on the best way to play something."
Other doors began to open at Indiana as well. An assistant dean helped get Matthews a summer job in 1966 and 1967 playing piano in sacred music workshops in Pennsylvania for a famous U.S. bandleader of the era, Fred Waring. That's what led to Matthews meeting and playing with jazz great Dave Brubeck, who had written a religious-themed oratorio. Performing was an eye-opening experience that made Matthews restless about school. So he took a year off – playing with Brubeck again in Denver, landing a high school teaching job, never returning to Indiana University.
"I was really tired of school – I was bored and I thought I could learn more by performing, which I was already doing plenty of," he says. After a short stint playing organ in a large Nashville church, Matthews, now 25, had an epiphany: He decided to move to the warmth and water of Florida, where his mother and grandparents had relocated. It was the start of a life-changing journey in liturgical and classical music, leading to a special piano.
• • •
Doors quickly opened for Matthews playing piano and organ in churches from Orlando to Daytona to Bartow, the latter stop lasting from 1980-91, before being hired at Palma Ceia Presbyterian in Tampa.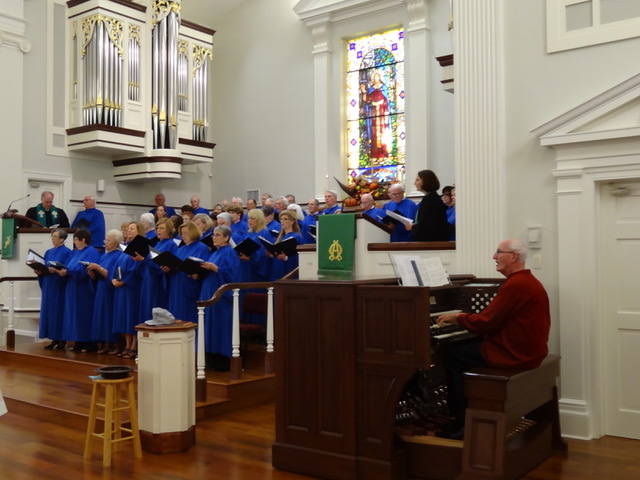 He made that his musical home for nearly 25 years. In 2005, members honored his then-50 years of church work by buying a beautiful Steinway in his honor for the church. They even flew him to New York City so he could select the perfect model, and added a plaque to the piano commemorating his contributions. "That meant so much to me," he says. "It's a gorgeous Steinway, and one of my best memories."
Matthews didn't limit his playing to church settings. He worked often as an accompanist for USF music majors in addition to multiple pursuits, such as playing for Florida Orchestra interim conductor Robert Shaw, the Tampa Bay Children's Chorus, and the Master Chorale of Tampa Bay founded and conducted by Robert Summer. And that's how he crossed paths with his own special Steinway.
In 1996, Matthews was performing on the original Master Chorale recording, made at First Presbyterian in St. Petersburg. Summer needed a better piano than the one owned by the church, so he rented a Steinway in Clearwater – the one that Matthews fell in love with while playing a four-handed piece with Summer's wife, Averill. The piano continued to make its rental rounds around town, including its fateful stop at USF, where Billy Joel used it to teach his late-'90s master class during a concert tour and added his signature.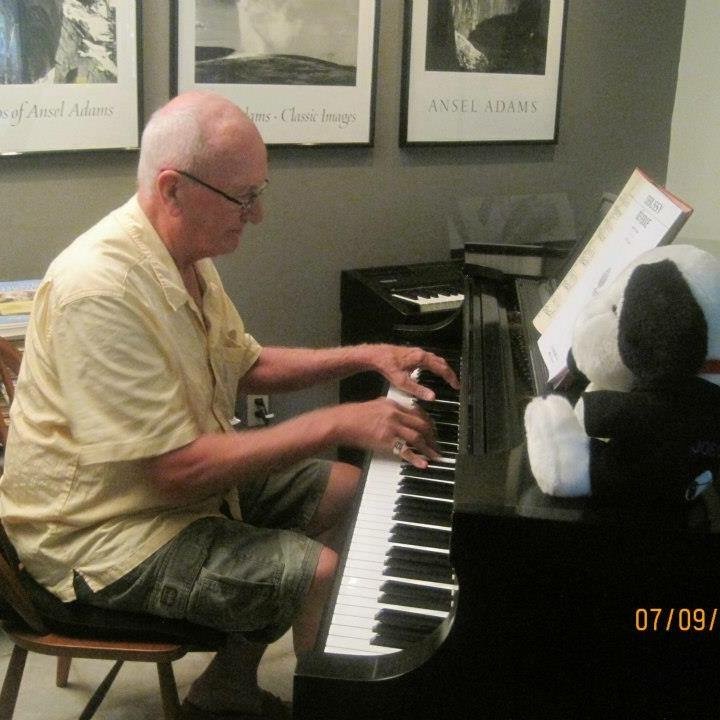 Then came a new epiphany. Matthews decided he wanted to track down and try to purchase the Steinway that had made such an impression. By 1999, it was valued at $61,000 but the store offered him a discounted price of $48,000. He had nowhere near that amount of money, but good friends from the area loaned him $30,000 to put down, allowing him to make monthly payments on the balance. "It was so hard to believe it was mine," he says. "My payments were actually $50 higher than my mortgage!" Nine years later, he refinanced the condo and paid back his generous friends in full.
But there's still the musical question: Why part with the Steinway now after 19 years of happy ownership?
For starters, Patica already owned a top-of-the-line Mason & Hamlin piano, and there was barely enough room in their 1,000-square-foot home to accommodate both pianos. "Michael's piano has been sitting in what would be our dining room," Matthews explains. "And the truth is, we both realized we didn't need two pianos. I don't sit down and practice anymore. But I love listening to WUSF and WSMR. And that's when it dawned on me: Let's give the Steinway to the radio station. Now others can enjoy it."
Working with WUSF's senior director of development Scott Nolan, and Marion Yongue, the USF Foundation's assistant vice president of development/gift planning, Matthews and Patica finalized the gift in January.
"David has been supporting WUSF since the 1980s," Nolan says. "And he's been such a committed member of the station. He's known our classical musical director and host Russell Gant for many years, and Russell was his connection to us. He sent Russell a note saying he wanted to do something for the station and that's how it started. Needless to say, we all are incredibly grateful and excited by David and Michael's generosity."
Plans call for the piano to one day get a permanent home in the WUSF performance studio at USF St. Petersburg, giving the station signature Steinways to be played at all three campus locations. But for now, the piano's home is on the spacious WUSF landing, where it has been receiving plenty of attention – especially when Matthews sits down and makes a little more magic on the Steinway, from one Piano Man to another.
For more information about making a deferred gift, please call (813) 974-8761 or visit wusf.giftplans.org