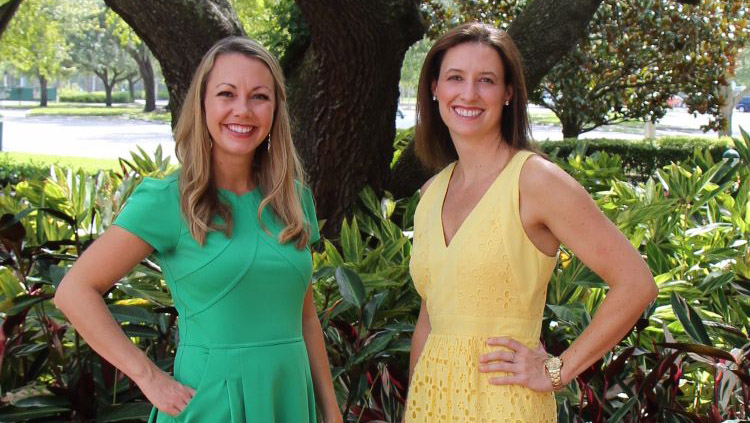 June 5, 2017
They followed mirror-opposite routes to – and through – the University of South Florida, with divergent backgrounds and professional interests that virtually assured their paths would never cross as students.
April Monteith grew up as a self-described Air Force brat, whose family moved with her military dad to bases around the country and as far away as Tokyo. Attending high school in Panama City, she developed a fondness for Florida State University but ultimately chose USF - earning an undergraduate degree in finance, adding a master's in business administration, and promptly embarking on a banking career.
Nikki Stokes grew up in Tampa, the daughter of two USF professors, but opted to attend - wait for it - Florida State. She transferred to USF for the final semester of her senior year, however, earning a degree in psychology and then getting a master's from USF's College of Public Health, soon diving into the non-profit world.
But a funny thing happened on the way to the busy, rewarding lives both April and Nikki enjoy today.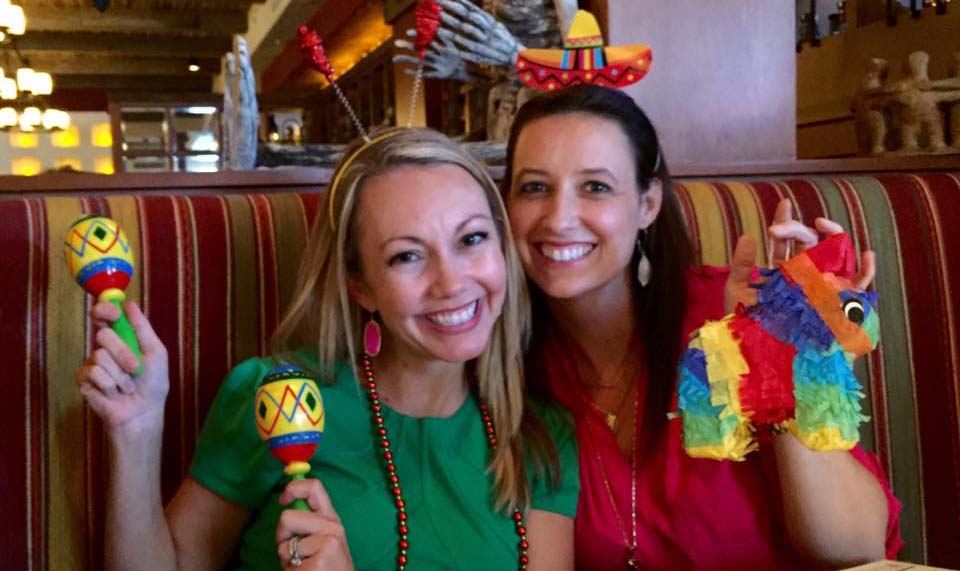 They became the best of friends – with a rare kind of college bond that, in their case, just happened to begin after college. And their relationship has now produced a tangible benefit for USF.
April recently made a deferred gift to USF's Alumni Association though the Foundation's Office of Gift Planning - and it was Nikki, having switched professions to financial planning in 2011, who suggested the gift take the form of an insurance policy and collaborated with Assistant Vice President for Gift Planning Marion Yongue to make it all happen.
"April is still a young woman, so hopefully it will be many, many years in the future before her gift will be realized," Yongue says. "That's why an insurance policy in her name, one that USF now owns, made sense, and is often an appealing option for those wanting to make a larger gift. And it's always helpful to have an expert financial planner like Nikki involved in the process."
It's only fitting that April has designated her gift to one day benefit the Alumni Association. The former USF student ambassador - now a successful corporate relationship banking executive - began her tenure in July as board chair of the USF Alumni Association, where she will lead the charge with alumni engagement and enhance the association's strategic direction, working with executive director Bill McCausland.
"Bill and I have talked about how you're an alumni for a lot longer period than you're a student," she says. "And the Alumni Association plays such a critical role in helping alumni connect with the university."
When it comes to alumni connecting, April and Nikki have quite a tale. Just consider: Within six months of meeting, April was a bridesmaid in Nikki's wedding. And when Nikki's first daughter was born, she made April the baby's godmother. Today they see and talk to one another regularly - and even lead a Girl Scout troop together. April is like an aunt to Nikki's three girls, Callie, 7, and twins Charlie and Brooke, 4.
April's own childhood was one of constant motion, as her father moved the family from base to base. When he transferred to Tyndall AFB in Panama City, she was able to attend the same high school all four years, earning straight-As and became an avid Seminoles fan. Nobody in her family had ever attended a four-year college, and her decision finally boiled down to two in-state choices: FSU and USF. In the end, she opted for USF to be near her grandparents, eventually earning her undergraduate degree in finance in 2001 and an MBA in 2003. That opened the door to a training program with AmSouth Bank, putting her on a path as an assistant branch manager.
Nikki, meanwhile, was certainly no stranger to USF even though she'd attended FSU for her first three undergraduate years. Her step-mother, Dr. Vickie Phares, is a clinical psychology professor and father is head of the jazz studies program, Grammy-nominated pianist Chuck Owen. Initially, the idea of helping people by pursuing her mom's field appealed to her. But after earning her psychology degree from USF in 2003, Nikki wasn't satisfied in her job at a local mental health center. Having been diagnosed as a freshman with Crohn's Disease, an often debilitating condition affecting the G.I. tract, she decided to go for her master's in public health.
Little did they know but their separate paths were about to intersect - thanks to a shared desire to help people and make an impact in the community. April and Nikki each joined the board of the non-profit Ophelia Project - now known as Frameworks of Tampa Bay - to help with the pressing issue of school bullying among middle school girls. "We're both people-oriented and go-getters, so we immediately became friends," recalls April.
"We were opposite in so many ways that we wouldn't normally have become close," adds Nikki. "But we had to work on a project together and we hit it off right away."
The rest is history. April followed a steady ascent that has led to her current role with J.P. Morgan Chase & Co. as a vice president with the Middle Market Banking team. Nikki took a successful detour into fundraising. But after a flare-up of Crohn's when her first child was born, she decided to seek a career with greater flexibility and earning potential - and allow more time with her husband and kids.
One of her friends, a recruiter at Northwestern Mutual, had a suggestion: become a financial planner. She made the jump, becoming the first woman in her practice to "impact" 100 people in her first year - en route to becoming managing director of Northwestern Mutual's Westshore Office.
In that capacity, she guided April through the process of making her deferred gift. "I love what I do and am honored to help my clients plan for their financial futures," Nikki says. "It's even more rewarding when I see a client make a significant philanthropic gesture like the one by April."
The best friend she never knew at USF.