Oct. 4, 2017
It was their daughter's 21st birthday, but there would be no celebration. Instead, Robin and Neil Rivell marked the occasion by signing their names to establish the endowed Emaleigh Dawn Rivell "Never Settle" Scholarship in her memory.
Emaleigh was only 18 years old and a sophomore at USF when she passed away in a car accident in 2014. But in her short time, her parents reflect, she touched so many lives.
"She had the biggest heart," confides her mother, Robin. "She was always thinking of others, like the time she spent her own money to buy books for a young boy she mentored because he never owned one before. It was just who Emaleigh was; she was kind and she loved to help people."
In fact, she dreamed of making a career out of caring for people.
The summer before Emaleigh turned 16, her aunt and two young cousins were in a serious car accident that left one of the children with a broken jaw and neck. The doctors didn't know if she would ever walk again, but Emaleigh refused to lose hope. She spent the summer sleeping at the hospital with her cousin, attending physical therapy sessions and encouraging her to keep trying. The day her young cousin took her first steps after the accident, Emaleigh told her parents the news – she had found her calling. She wanted to become a nurse.
"Her motto was never settle," said Robin. "She worked hard in school and was very disciplined. There were times we'd go to bed, and she was studying at the table. We'd wake up and she'd still be there, asleep on her books."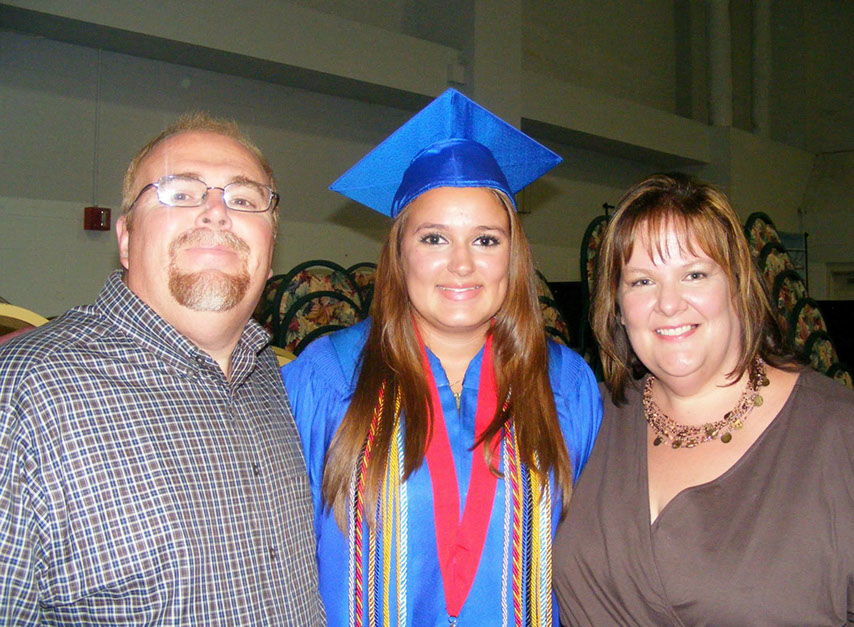 Emaleigh graduated with honors from the International Baccalaureate (IB) program at Stanton College Preparatory School in Jacksonville, proudly sporting eight cords with her royal blue cap and gown. Soon, green and gold would be her colors of choice.
"I'm a Bull! I'm a Bull!" Emaleigh trumpeted, dancing excitedly around the house when she received her acceptance letter from USF. Although she applied to seven schools, USF was her top choice from the moment she stepped foot on campus and saw the diversity of students and faculty.
Eager to start, she volunteered for Bull Haul – a program that allows incoming students to move onto campus early in exchange for assisting other students on the grand opening move-in date. Thanks to the credits she earned as an IB student, she started her first year at USF as a sophomore, an advantage she hoped would improve her odds of being accepted into the College of Nursing.
But Emaleigh never got the chance to apply. In her spring semester, a car accident claimed her life, leaving Robin and Neil devastated by the loss of their only child.
The dean of the College of Nursing at the time called the Rivell family to offer condolences and assured them that Emaleigh would have been admitted into the nursing program. She also sent them a package containing a teddy bear with nursing scrubs, two stuffed Rocky the Bulls and a USF lapel pin.
"We kept one Bull and buried Emaleigh with the other," Robin recalled through her tears. "We dressed her in her favorite denim jacket and the USF lapel pin. Even the marker on her grave has the College of Nursing emblem. She just loved USF so much it was a part of her."
Three years later, Neil, the father that once danced ballet in a daddy-daughter number on stage, now kneels beside her grave every morning to pray. He prays for strength to make it through the day. He prays his daughter is at peace and knows how much she is loved. And he prays that she is proud of the life they've built.
It's a life the Rivells live to honor their daughter. They've found peace in God and are very active in church. They sponsor children living in third-world countries, writing letters and sending pictures. They've formed deep bonds with their work and church families and meet up regularly with Emaleigh's friends.
Last year, they even celebrated Emaleigh's favorite holiday again. They put up a Christmas tree and lights, and hosted a cookie party that had cars lining the street and cookies overflowing on the table she used to study, and sometimes sleep, on.
And, of course, they created the endowed Emaleigh Dawn Rivell "Never Settle" Scholarship at USF.
"When Emaleigh was born, we thought she was our legacy," said Robin. "But now we know that we are hers. We are trying to live our life the way she would have wanted and that is why this scholarship is so important to us – it's an extension of her."
The scholarship will benefit first-generation nursing students, helping them fulfill Emaleigh's dream of caring for others and keeping her name alive, along with her mantra - never settle.