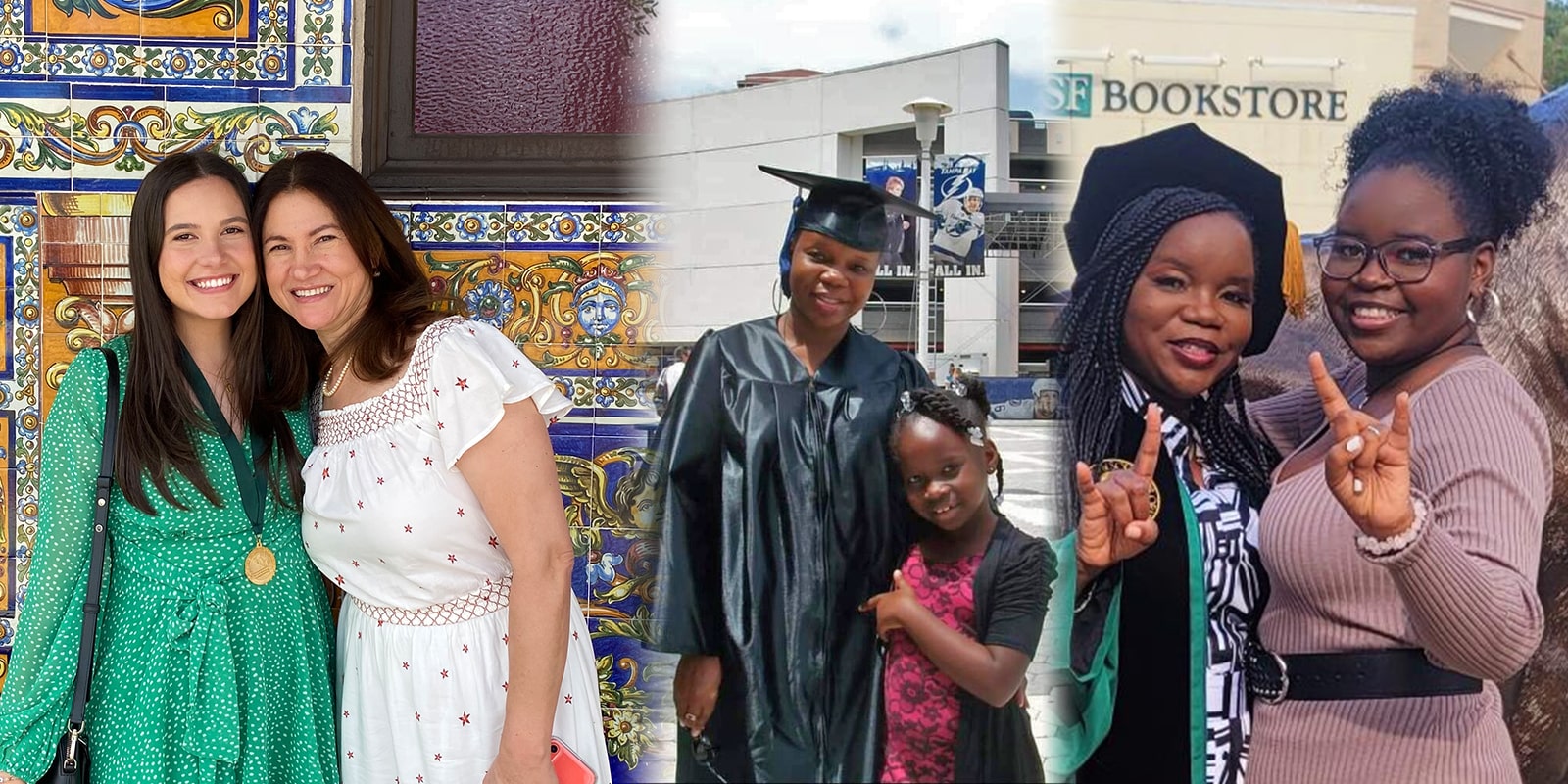 Editor's Note – The path to achieving a dream comes strewn with obstacles, and family can be a powerful source of inspiration, guidance and support. In a salute to Mother's Day, here are two stories of mothers and daughters who provided that for one another. They also found extended family within the university community through the Black Leadership Network and Latino Scholarship Program, which offer mentorship, networking and workshops, along with financial assistance.
May 10, 2023
At 4 p.m. on many a Tuesday or Thursday, 6-year-old Anaiah Canty would follow her mother into a USF lecture hall, pull out her Chick-Fil-A chicken nuggets and waffle fries, and settle in for two hours of psychology.
Her mom, Lisa Armstrong, a first-generation college student, full-time employee and single parent, often struggled to find child care as she pursued her bachelor's degree and, later, master's and doctorate degrees. Anaiah grew up in USF classrooms, and her mother worried that would discourage her from one day pursuing her own degree at the university.
Instead, it inspired Anaiah, a USF health sciences major who plans to become a nurse. Today, Lisa is the director of community engagement for Angel Investments, a nonprofit focused on African American cemetery preservation and education. She's also an adjunct instructor for State College of Florida Manatee-Sarasota.
"My professors watched Anaiah grow up and they had patience and time for her and for me," Lisa says. "Anaiah applied to 20 universities and was accepted at all of them. She chose USF because of the family she found here."
• • • •
Lisa's journey began at Hillsborough Community College, where she started taking classes in the 1990s. In 2004, she gave birth to Anaiah. Money was tight and juggling a full-time job with child care forced her to pause her academic ambitions.
When Anaiah turned 4, Lisa decided to finish what she'd begun. She enrolled at USF, earning a bachelor's degree in psychology in 2011.
"I had taken courses on African American community research and I fell in love," she says. "I loved hearing stories from elders. I loved hearing how they thought about history."
So she enrolled in a certificate program that led to a graduate degree path. That meant more time in USF classrooms for young Anaiah, and long days for both mother and daughter. When Anaiah attended school dances and parties, Lisa sat outside with her laptop and books.
"During my master's program, many people believed that I was in a doctorate program and they would ask Anaiah, 'Is your mom a doctor?' She would say 'No, she's a master.'
"She came home one day and asked, 'Mom, are you going to become a doctor?' I said that I didn't know, I'm just trying to get through this master's program. And she responded with, 'Well, I really would like it if you became a doctor.'
"It wasn't until I crossed the stage for my master's program that I processed that I was the first person in my family with a master's degree," Lisa says.
She immediately enrolled in the anthropology doctorate program. When her fellowship ran out midway through, she turned to the Black Leadership Network (BLN).
"I became the first recipient of the Julius and Emma Hawkins scholarship. That was an amazing opportunity and it helped me in so many ways," she says. "I learned a lot from their meetings, really good tips on financial management, corporate opportunities, mental health."
As always, Anaiah often accompanied her mom. She loved those BLN meetings. She always learned something and came away energized. So when she applied to USF, she also applied for a BLN scholarship — and received one.
Lisa is happy, and relieved, to see her daughter following in her footsteps — in every way but one.
"Because of BLN, she didn't have to struggle," Lisa says. "She didn't miss a beat."
• • • •
Like Lisa, Marcela Marshall had long dreamed of earning a college degree.
When she was 29, she came to Tampa from Venezuela to develop her English fluency through a program at The University of Tampa. She never intended to stay, but fell in love with her host family's neighbor, Phil Marshall, and the two married.
While working full time, Marcela began taking community college classes with the goal of becoming a teacher. After daughters Deana and Christina were born in 1997 and 2000, she paused work to focus on the children.
"When we were growing up, she was always taking classes," recalls Christina, 23. "I know it's always been her goal to finish."
But Marcela was even more determined — to ensure her daughters continued their education. "You have to have your education," she says. "It's essential, and it's something nobody can take from you."
She earned an associate degree in 2011 and returned to work. Deana, now 25, is a double Bull who earned a bachelor's in 2020 and a master's in 2022. When Christina was a high school senior, Phil, a 1983 USF alumnus, learned about the Latino Scholarship Program and encouraged Christina to apply.
The financial assistance was a big help, she says, but it was so much more than that.
"It was great having Silvia Soto Avella as my mentor throughout my undergrad years," says Christina, who graduated in 2022. "It also helped being in that community with the other scholars, all the professional development sessions, and just having people around me that were very supportive."
She and her sister encouraged their mother to enroll at USF, apply for the Latino Scholarship Program and join them as USF alumni.
"They told me, 'You can do it, you can finish.' After being admitted to USF, I was excited to learn that I could apply to the Latino Scholarship Program. I was very happy to receive a scholarship and this continued to motivate me," Marcela says.
This summer, she'll graduate with a bachelor's degree in general studies with a concentration in educational foundations. She didn't plan to attend commencement, but her daughters have other ideas.
"I told her I'm saving my gown for her," Christina says. "She can wear my gown and my sister's cap."