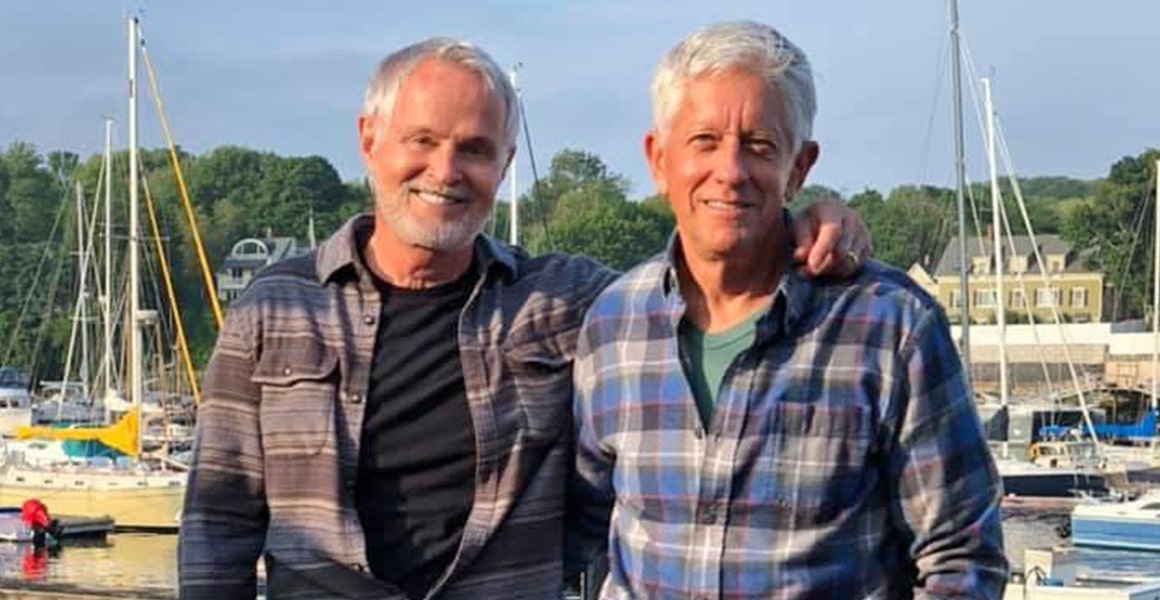 Nov. 4, 2022
"This is Joey," said Phil Dinkins, holding up and touching noses with a gray tabby cat with four white mittens.
"I trained him to kiss you," said Dinkins' spouse, Ed Lally, over a video call from their vacation home in Maine.
For years, Dinkins and Lally bought purebred Siamese cats from a breeder, but then a friend and animal activist encouraged them to rescue a cat instead.
"So we finally did nine years ago," said Dinkins, clearly smitten with their furry family member. The couple have since begun supporting the Humane Society, one of several nonprofit organizations in the Tampa Bay area they donate to, including WUSF Public Media.
"There's just so many organizations that need support and have great causes," said Dinkins. "It's so important to donate and also get involved when you can."
Dinkins and Lally, who recently celebrated their 44th anniversary, have listened to WUSF ever since they moved to Tampa from Louisville, Kentucky, in 1979. They've been regular donors to WUSF Public Media since 2003 and have included a generous bequest for WUSF in their estate plan.
"It's probably the only radio station I listen to," said Dinkins. When they moved from Tampa to St. Petersburg a few years ago, Dinkins would listen to the station during his long commute. "Thank goodness WUSF was there, because that's what really kept me entertained on the road."
During election season, they appreciate the balanced coverage provided by NPR News.
"NPR is a station you can trust. They tell the news straight, not slanted one way or the other. Just the truth, and that's so important," said Dinkins.
A self-described news junkie, for his part, Lally enjoys listening to NPR News as well as Fresh Air with Terry Gross.
After retiring from a career in banking at the relatively young age of 50, Lally began a second career at Equality Florida, a political advocacy group that advocates for civil rights and protections for lesbian, gay, bisexual, transgender and queer residents of Florida.
"That's where my heart and passion was," said Lally, who worked as the Central Florida and corporate development manager for the nonprofit until retiring again in 2016.
Dinkins, who also began his career in banking, shifted to commercial real estate in 1982 and is winding down his tenure as director of leasing with Cushman and Wakefield. Throughout his career, Dinkins was responsible for the leasing of three of downtown Tampa's most prominent office buildings — Fifth Third Center, Bank of America Plaza and 100 North Tampa.
Since retiring, Lally has stayed busy fundraising for several political campaigns, taken up watercolor painting and serves on the board of freeFall Theatre Company as well as the Equality Florida Action PAC.
With Dinkins on the cusp of full retirement, they hope to be able to spend more time at their home in Maine and travel a little further and wider.
When they are in Florida, you can bet they'll have their radios tuned to WUSF 89.7.
"It's so critical. I worry with what's going on in our country right now, where our resource for the truth is going to be. You can always count on NPR for that," said Lally.
They encourage others to support WUSF Public Media and consider including a gift in their estate plan.
"We'll make you wait a while for it, hopefully," Dinkins said with a laugh. "But at some point, you know you can count on that."