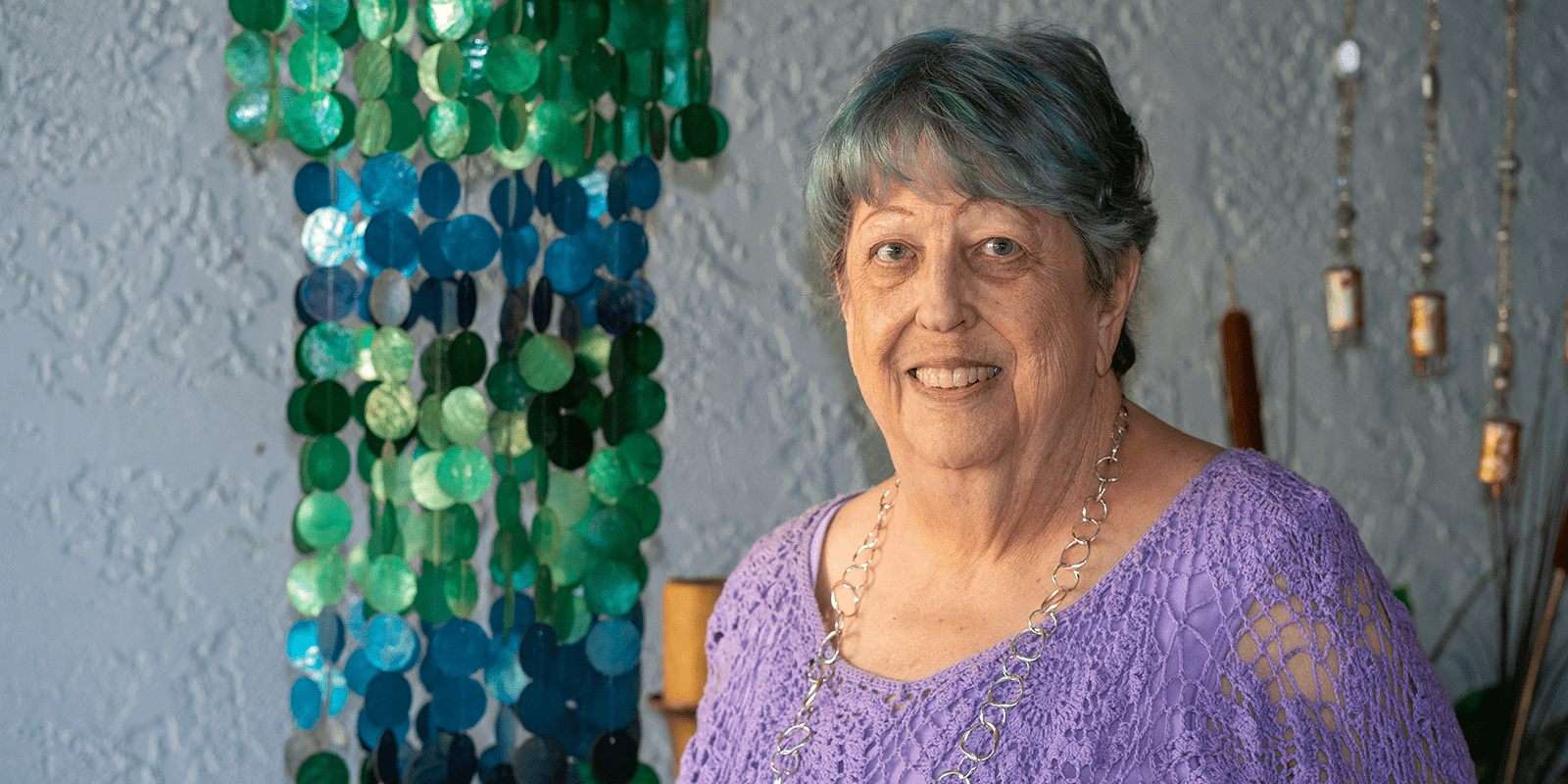 June 8, 2022
Pat Tuley begins each day by listening to NPR's Morning Edition on WUSF 89.7, even before she has a cup of coffee. Though she admittedly leans left, she appreciates NPR's even-handed approach to the news.
When 9/11 happened, Tuley recalled, the news anchors of the "big three" networks (NBC, ABC and CBS) guided the country through those first few days after the attacks.
"If something like that happened today, where would you turn?" she asked, pointing to the diverse array of choices for news these days. "The first thing I thought was NPR."
Born in New York and raised in New Jersey, Tuley began listening to public radio when she relocated to Fort Lauderdale. But it wasn't until she settled in the Tampa Bay area that she stepped up as a supporter.
At first, Tuley gave during fundraising drives as she enjoyed talking to the special guests whom the station would bring in to answer the phones. She eventually committed to monthly support and is now a Cornerstone Sustaining Member.
"I said, 'You know, I wake up to this every day.' I started small, but we kept getting bigger and bigger," she said from her home in Riverview, where she is surrounded by collections of beautiful colored glass (inherited from her mother), eclectic artwork and religious objects used by the church gatherings she hosts on Sundays.
Still, with the blessing of financial security, she felt she could do more.
In 2005, Tuley notified WUSF Public Media of a small bequest, joking the amount should be enough to support "a few hours of Morning Edition."
Consulting with her professional advisor, she substantially increased her gift in 2021. This most recent gift names WUSF 89.7 as a beneficiary of an IRA, which ensures WUSF will receive the amount she intended and was as simple as updating her beneficiary form with her IRA administrator.
Now retired, Tuley enjoyed a long and varied career in the computer industry, beginning by working on IBM keypunch machines and 1401 mainframe computers and ending with dabbling in online publishing and courses.
"I was constantly learning something new," she said.
Along the way she discovered a love for technical writing.
"The prevailing wisdom was don't ever try to get a programmer to write documentation. They just can't do it. But I loved it," she said.
She also managed a Y2K (year 2000) remediation project.
"People poopoo it now, but it could have been a major disaster. The fact that it wasn't is a tribute to all of the people who did all the work ahead," she said.
Retirement hasn't changed Tuley's love of learning new things. Besides listening to WUSF programs, she indulges her curiosity by taking The Great Courses and other online classes. She discovered sound healing through a Facebook advertisement and has since invested in several instruments used in the practice.
"Somebody once said I was like a pinwheel. I take up interests all over the place," said Tuley. "That's why I never went to college. I couldn't focus on just one thing."
Faith is also a cornerstone of Tuley's life, and she hosts a small church gathering and book study in her home on Sundays. Currently, they are working their way through An End to Upside Down Thinking by Mark Gober.
With all her varied interests, and love and support for WUSF, Tuley readily admits she is a perpetual learner.
"Yes, absolutely. Everything."
To learn more about how you can make a planned gift, please visit usfgiving.org.