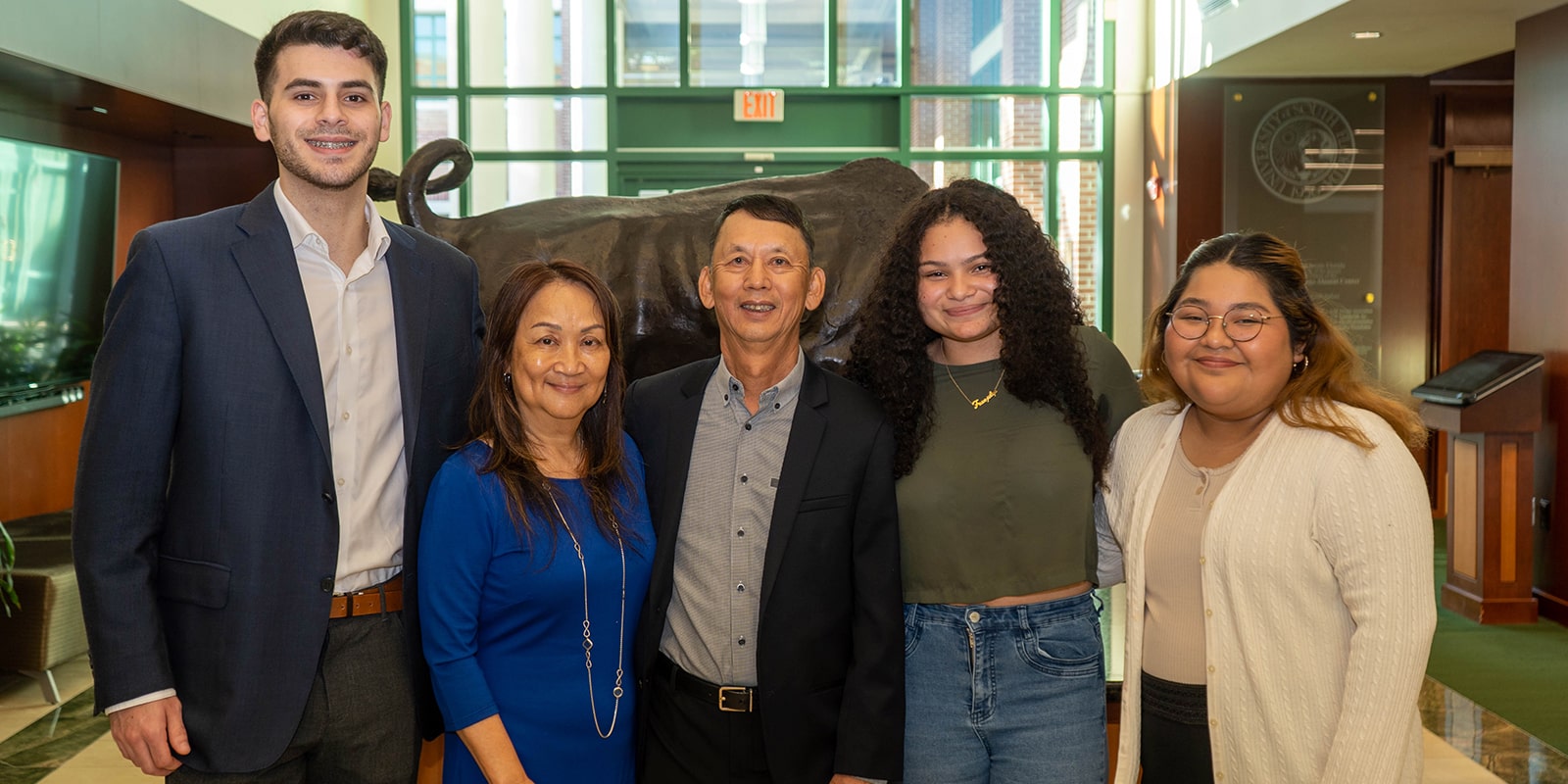 From left, Javier Perez Iglesias, Connie Leung, Tony Leung, Franjelys Reyes and Crystal Vazquez were all smiles when they met up at the Gibbons Alumni Center this past fall.
Students say couple's new scholarship buys time to learn.
May 4, 2023
The summer before Crystal Vazquez started at USF, she had to spend most of the money she'd saved for tuition on a new transmission for her car. She considered pausing her education, but her parents encouraged her to sign up for classes and have faith that the finances would work out.
"I literally didn't know how I was going to pay for school," she said.
Her older sister, a USF alumna and the first in the family to graduate from college, asked if she'd checked on the scholarships she'd applied for. Feeling pessimistic, Vazquez asked her to do it.
"She logged in and was like, 'It says you have $5,000.' I was like, 'No way. It's a mistake.' I literally started shaking and crying," said Vazquez, realizing her tuition was covered. "It felt like the weight of everything came off my shoulders all at once. I felt like I won the lottery."
Vazquez is one of the first four recipients of the Leung Family Scholarships, established by Connie and Tony Leung in 2022. It supports students from high schools in southern Hillsborough County, including the areas of Ruskin, Apollo Beach and Wimauma.
The Leungs founded their business, Sanwa Food Group, 42 years ago in Ruskin. At the time, the area was mostly farmland, and Interstate 75 had yet to be completed. Today, it is one of the fastest-growing areas in the county.
Sanwa grew as well, evolving into a regional food distribution company with warehouses in Tampa and Atlanta.
"We had a lot of support from the community in south Hillsborough County, and we wanted to give something back to the people who helped us be successful in our industry," said Connie Leung.
The Leungs particularly hope to help students from low-income and migrant families.
Vazquez's parents immigrated to the U.S. from Veracruz, Mexico, and supported the family with agriculture jobs in Wimauma and Ruskin. Now settled in Gibsonton, they work in construction.
Being the second oldest of the close-knit family's four daughters, Vazquez decided to stay close to home for college. She attended Hillsborough Community College for her first two years, transferring to USF this fall to finish her marketing degree.
"It literally changed my life," said Vazquez of the scholarship. A substitute teacher and Amazon employee, she could cut back on work to better focus on her studies. "It changed the trajectory of my next years at college."
Vazquez, who will receive an additional $5,000 from the scholarship, was among the first four recipients. Hailey Friedrichsen, Javier Perez Iglesias and Franjelys Reyes are also receiving $10,000 each.
Reyes, a business analytics and information systems major, is also the daughter of immigrants. Her mother was born in the Dominican Republic and adopted by a family in Puerto Rico. She moved to the mainland U.S. after Reyes and her older sister were born to ensure they had a good education. Reyes' stepfather is a farmworker.
"It feels good to fulfill my mom's purpose in moving to the U.S.," said Reyes, who plans a future in business. As a high school student, she sold stuffed animals she crocheted herself and she's working on launching a T-shirt enterprise.
Before the fall semester, Reyes figured she would have to pay most of her tuition herself. She planned to continue working at a Little Caesars pizza shop to save the money. Then one day she checked her USF account.
"I was like, 'What? This isn't real.' I even called the office to make sure it wasn't a mistake!" she said. "I started crying and then I called my family. It was a really good day. It caught me by surprise."
Like Vazquez, Reyes held down two jobs. The scholarship has allowed her to work less and study more.
"I was doing full-time school and then full-time work, and it was a lot, but I needed the extra income. I would stay up late or get up early before work to finish assignments," she said. "Now I'm able to focus on my studies, and it's been a while since I've been able to do that. It's less stress on your mind, body, everything. It makes a big difference."
Reyes also has more time to spend with the people she loves. "I worked weekends, so I missed out on a lot, but now I can actually have family time, too," she said.
This is the Leungs' second USF scholarship. In 2009, they established the Leung Global Experience Scholarship, which they endowed in 2011 and then earmarked for students in the Muma College of Business in 2016. It subsidizes a study abroad experience, which is significant to the Leungs. Both natives of Hong Kong, the couple met while attending Guelph University in Ontario, Canada.
Connie Leung's parents were educators, who instilled a love of learning. Tony, one of eight children, was the first in his family to finish college. They were excited to meet their first four scholarship recipients at a fall get-together.
"A couple of the students expressed to me that without this funding, they probably would have had to work to save enough money or even skip a college degree," said Tony Leung. "We were able to help them, and it makes us feel really, really good."
For Vazquez, the Leung Family Scholarship was more than just a financial boost. It gave her confidence, the opportunity to broaden her perspectives and more time to explore her interests.
"There's honestly no words that can explain to them how grateful I am," said Vazquez, who is inspired by the Leungs' story of being immigrants to this country and starting their own successful business. "It really gives me hope for the future."
Like the Leungs, she hopes to one day give back by rewarding a student's faith that the finances will work out.