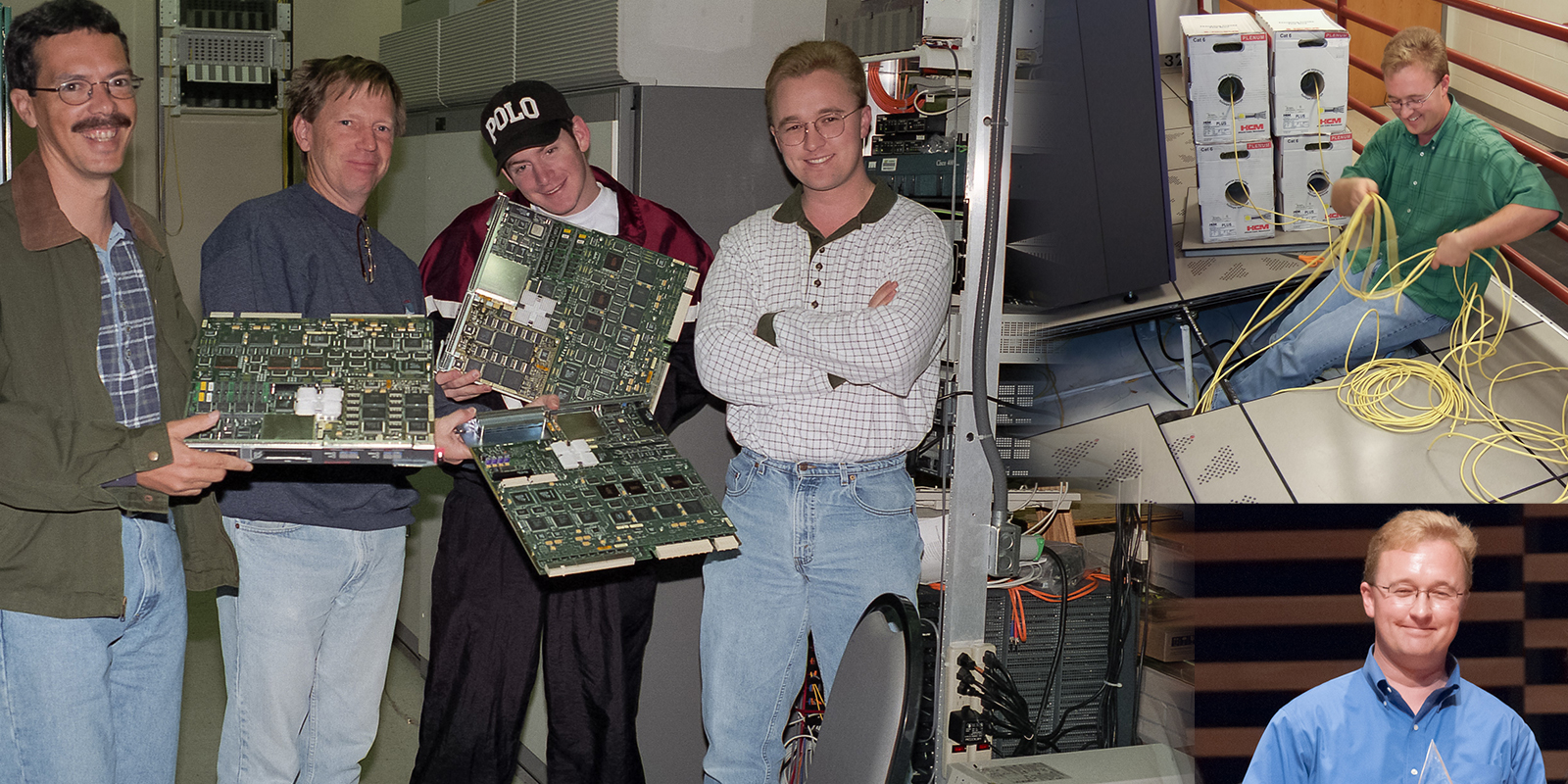 Nov. 18, 2021
Before the late Joe Rogers got his first computer — a toy from Radio Shack he held on to his whole life — before he helped build the USF computer network or won the DEFCON hacking competition, he was just a little boy, curious about the way things worked.
"He was always inquisitive," said his father, Joe Rogers II. "I joke that I expected any time to come home from work and find the television taken apart in the middle of the living room floor."
Always looking for ways to encourage Joe's natural curiosity, his mother, Sherry Rogers, once set him up with a broken fan and a screwdriver and let him take the fan apart.
"From then on, if anybody had anything that was broken, they would bring it over for him to 'play' with, never expecting he would fix it. And of course he would," she said.
That Radio Shack toy computer, a Christmas present from his parents, would spark a lifelong passion for computers. At USF, he double majored in computer engineering and computer science and eventually earned a master's degree in computer engineering. He then joined the university's staff in the information technology department, where he spent the next 25 years helping to build the university's computer network.
"He's been there basically from the beginning, setting up all the networks," said former colleague Jeremy Rasmussen. "Until this year, Joe Rogers' name was on the domain registration for usf.edu."
Rogers also met his wife, Kimberly, at freshmen orientation. "It was about 30 people — 29 men and me," she said with a laugh. "It was a different time."
The two ended up having a couple of classes together and soon began dating, marrying in 1998.
Kimberly described Joe as reasonably shy and quiet, until you got to know him. Those closest to him knew what a goofball he could be, and Kimberly particularly loved his bobble head impression.
Though they were both engineers, their areas of focus were very different, with Kimberly becoming an environmental engineer. "I used to joke that I married the IT department, so everything in my house worked," she said.
When Joe became involved with the Whitehatters Computer Security Club at USF, Kimberly could see how much he enjoyed it.
"He loved it, because he was working with all these super smart young people who really wanted to be the good guys. There was a nice little bit of idealism on top of the computer nerdery," she said.
Joe met Rasmussen through the Whitehatters. After attending DEFCON in the mid-2000s, Rasmussen saw the hands-on experience ethical hacking competitions gave to students and decided to start an ethical hacking club at USF. Word quickly spread across campus of a new "hacking" club, triggering IT to show up at their first meeting — including Joe Rogers.
Once he saw what Rasmussen was trying to do, Rogers not only approved of the idea, but wanted to be a part of it.
Rogers joined the team as a mentor, but also a competitor, eventually winning the DEFCON Capture the Flag competition — and then hosting the event five times.
"Some people just have it. They have this left-brain mentality where they understand bits and bytes and computers and architecture," said Rasmussen. "But then they have this right-brain critical thinking, problem solving capability and that's very, very rare. Joe had that."
Outside the office, Rogers loved the great outdoors, biking with friends, hiking with his wife, fishing and hunting with his dad. He and Kimberly would trade off vacation destinations each year, one year going on a "do-something vacation" to hike or bike in Colorado and the next a "do-nothing vacation" to Jamaica or The Bahamas.
"He had never biked like that before, off-road biking," said his mother, Sherry Rogers. "He was obviously slower than his friends were when he first started, and then he caught up. Then they were having to chase him. He learned the things he personally needed to do to be able to accomplish his goal."
When Rogers passed away in 2019, at the age of 45, his friends and family honored him by establishing a memorial scholarship at USF in his name.
"To hear of his health issues and his untimely demise at such a young age just really punched me in the soul,"
said Rasmussen. "I felt like we should honor him, and I knew he would be honored to have a scholarship in his name that would benefit computer science, engineering and cybersecurity students, especially the members of our Whitehatters Computer Security Club."
The original goal was $10,000, but as those who knew and loved Joe contributed to the fund it soon surpassed $28,000, enough to become an endowment.
Rogers' parents recently committed a generous estate gift toward the fund that will one day support even more students with scholarships.
"We're really proud of what he accomplished," said his father, Joe Rogers II. "For the legacy and the example that he set. He demanded the best of himself, and he encouraged the best in everybody else. He worked very hard to help people."
Kimberly Rogers, who also contributed to the fund, is sure Joe would love the scholarship.
"Kids just starting to learn about computer science and trying to figure out what to do with their lives are going to get this boost to help them on a really great career path," she said. "I hope I or others at USF who knew him get the opportunity to tell the young person who gets this scholarship, 'Let me tell you about Joe Rogers. Let me tell you a Joe Rogers story.'"
Joe Rogers will live on through the lives he touched, the computer network he helped build and the students who will receive the scholarships that bear his name.