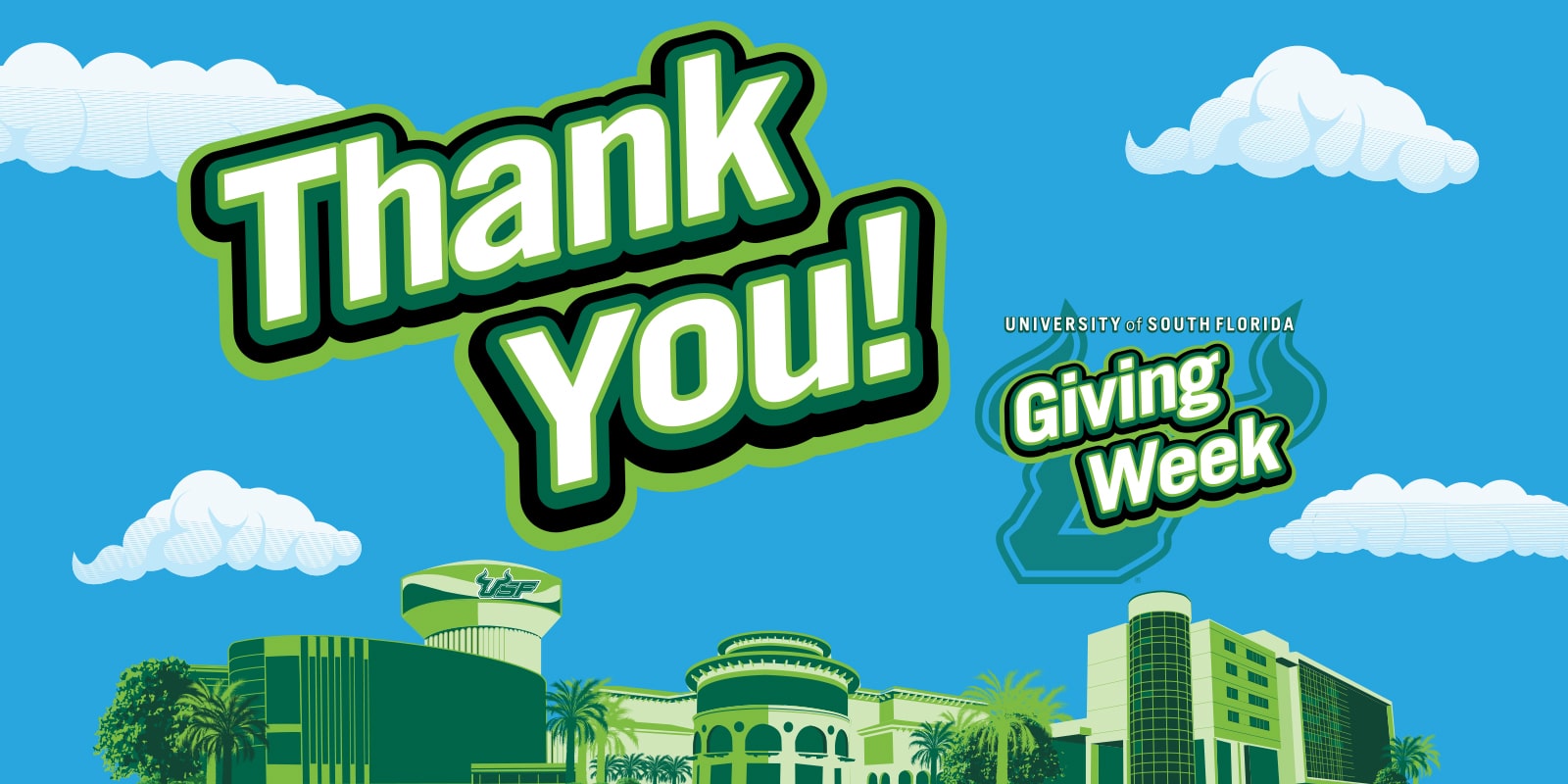 Nearly 5,000 gifts bolster student success on all USF campuses
April 21, 2022
A record number of donors — nearly 5,000 — gave more generously than ever to make a positive impact in the lives of students on all three University of South Florida campuses during Giving Week earlier this month.
From April 4–8, alumni and friends joined together to bolster numerous programs, from combatting food insecurity to supporting student scholarships. This year's 4,905 donors more than doubled the previous record and over 10 percent of them were making their first gift to the university.
"The generosity of our alumni, friends, faculty and staff is truly humbling," USF President Rhea Law said. "This groundswell of support underscores just how much our community values our students and understands the impact they have on Tampa Bay and beyond."
Hundreds of donors gave to USF HerdFunder projects, which are crowdfunding initiatives designed to help attract gifts of all sizes that impact our USF community by focusing on specific needs and opportunities. Gifts supported academic excellence, including for the libraries, marine science, nursing and other vital areas. Notably, several HerdFunder projects included challenge gifts, five of which were achieved when donor participation reached the established goals.
Dr. Ronald Kennedy, '79, USF alumnus and associate professor in the Morsani College of Medicine, offered generous support as the challenge donor for the "Take PRIDE in Our Students" project. Once the goal of 25 donors was reached, Kennedy's challenge gift was unlocked, providing $5,000 to scholarships supporting LGBTQ+ students and their allies.
When the Ybor Youth Clinic project reached its goal of 50 donors, a generous $25,000 challenge gift from Dr. Patricia Emmanuel, M.D., USF professor and chair for the Morsani College of Medicine's Department of Pediatrics, was unlocked. In addition, Michael Brunson, made a gift of $25,000 to endow the Diane (Howarth) and Michael Brunson Health Sciences Scholarship once 1,000 gifts were received during Giving Week.
"The Tampa Bay community recognizes the limitless potential of our students, empowering them to succeed academically and professionally," said USF Foundation CEO Jay Stroman. "We are inspired by the thousands who gave their time and their treasure during Giving Week this year. Every single supporter is making a positive impact on our Bulls."
Another highlight of the week was announced on April 6 when longstanding supporters Jeff and Penny Vinik gave $5 million to help bring the on-campus stadium project closer to reality. Their giving was inspired by a $5 million gift from Carol and Frank Morsani made toward the same effort last month.
Elsewhere in athletics, the Stampede for Women project that works to empower female student-athletes, quickly surpassed its 50-donor goal, raising more than $7,000. The Bulls will begin playing women's lacrosse in 2023 and beach volleyball in 2024. Gifts made to this project support student scholarships and career development opportunities.
In addition to monetary gifts to academic areas and WUSF, supporters donated more than 350 items to the Feed-A-Bull "Stock the Pantry" project. Included in the donations was fresh produce from the Judy Genshaft Honors College Community Garden on the Tampa campus. A HerdFunder project aimed at maintaining the community garden met its goal, thanks to 85 donors. All produce from the community garden is donated to the Feed-A-Bull Food Pantry and Feeding Tampa Bay throughout the year.
In total, Giving Week donors supported 198 funds at the university. Many HerdFunder projects continue to accept donations. Supporters are encouraged to visit our website to explore the many ways to make an impact.