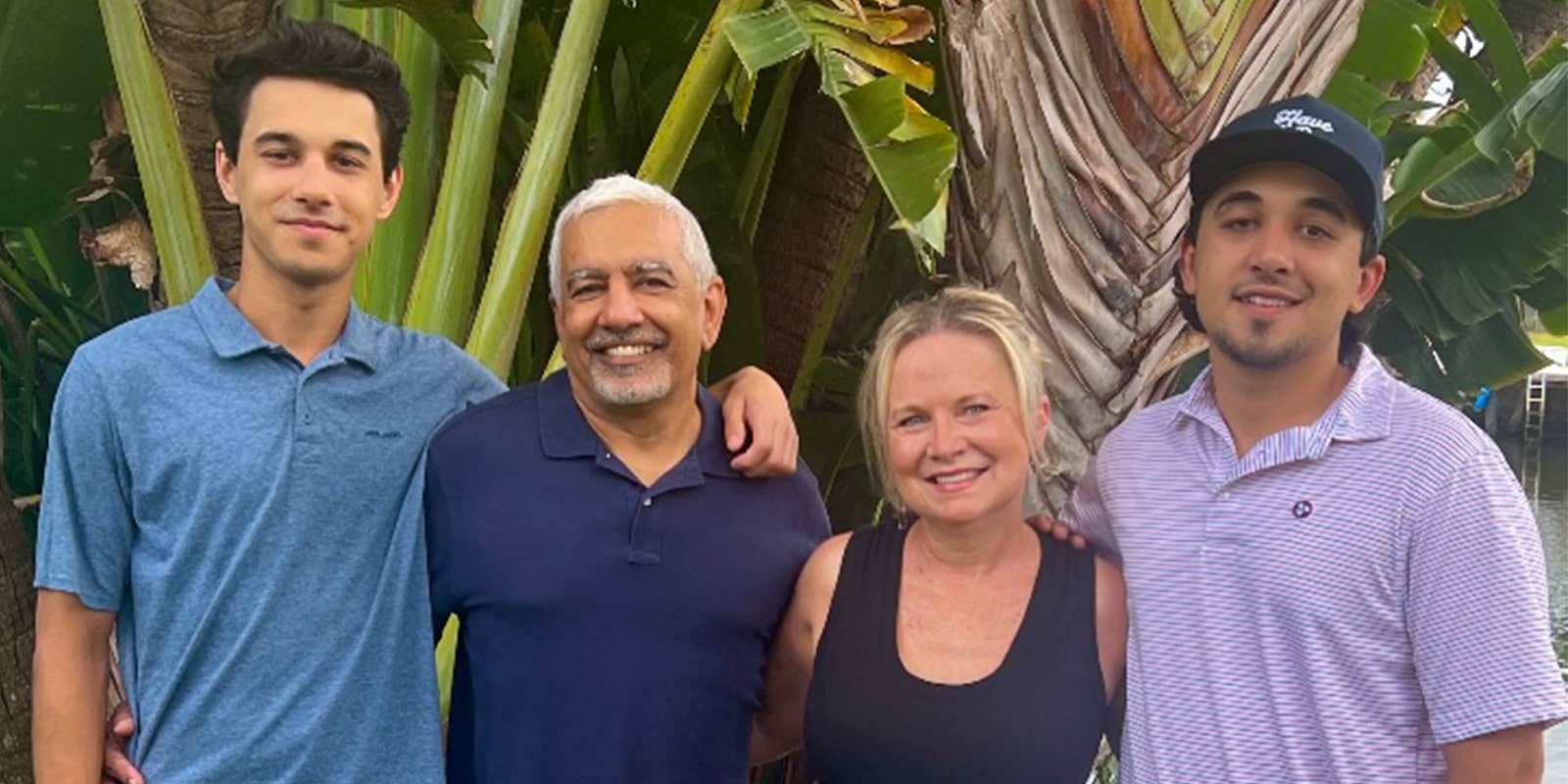 Dr. Ravi Randhawa and Christine Randhawa (center) with their two sons, Liam and Colin.
A proud USF alumnus and his wife make a gift designed to help College of Arts and Sciences students eyeing medical school
Oct. 30, 2023
Dr. Ravi Randhawa has always felt grateful for the research experience he gained as an undergraduate in USF's College of Arts and Sciences, and how it propelled him toward medical school and, ultimately, his career as a successful ear, nose and throat physician.
The opportunity to pursue research projects, in fact, was one of the reasons he transferred to USF in 1984 after spending his first two academic years at the University of Florida. "I was able to do a lot of Alzheimer's research and even got some papers published," he says. "And that was a big plus when it came to applying to medical school, having the research experience under my belt."
Not surprisingly, when the idea of making a gift to USF began to percolate, Randhawa and his wife, Christine, hit on the perfect way to make a difference. They would establish a scholarship to support undergraduate students studying molecular biosciences with an interest in attending medical school, allowing the recipients to conduct research.
"It just seemed like a good place to help students who are interested in taking that next step into medical school," says Randhawa, who graduated in 1987 with a degree in biology. "Hopefully, this will provide a little bit of extra assistance and make it easier for students to conduct research. They have a lot of kids who want to conduct research. So we thought it would be the place to make the most impact."
Now a reality, the Randhawa Family Scholarship represents a welcome source of assistance, according to Marcus Cooke, chair of the molecular biosciences department in the College of Arts and Sciences.
"I really want to promote undergraduate research, because I see from my lab and the labs of other faculty that they also want students to do research," Cooke says. "This award will allow students to do that while being supported in cutting-edge labs."
Gaining solid research experience is a potential game-changer, he says, putting a student's training in a completely different context.
"If you have a good research background, even if it's just for one semester, it gives students a leg up and an edge when they're applying to med school. I like to say that tomorrow's medicine is today's research."
In Randhawa's case, the formative lab experience gained at USF helped pave the way to medical school at Nova Southeastern University in Davie, not far from his hometown of Miami. And it also launched him on a path to meet his future wife.
After medical school, Randhawa did his internship and residency at the Philadelphia College of Osteopathic Medicine, a part of City Avenue Hospital. Christine had worked in human resources at Thomas Jefferson University's medical school in Philadelphia, but then was recruited by the chair of the Radiology Department at City Avenue Hospital. It was there she met Randhawa, a part of the otolaryngology and facial plastic surgery program.
"My company staffed various centers, and I was the same age as the residents," Christine recalls. "Ravi and I were introduced by mutual friends and started dating."
The relationship deepened and the couple married in 1997, the final year of Randhawa's residency. A move followed back to the familiar territory of South Florida. That's where Christine had graduated from Florida Atlantic University in Boca Raton, and where young Ravi grew up after emigrating with his parents from India.
He and Christine soon opened his ear, nose and throat practice in Delray Beach, north of Boca Raton. After the birth of the first of their two sons, Liam, she stayed on with the practice, handling bookkeeping duties at home. But, following the birth of their second son, Colin, she set off on her own track in 2007, starting a successful real estate business. Today, Christine not only sells homes but has also returned to her husband's practice to take care of the books.
Four days per week, Randhawa sees patients, performing surgery one day a week. He also serves on the staffs of two area hospitals, including having served as chief of staff at Delray Medical Center, a Level 1 trauma hospital. He is currently vice chief of staff at West Boca Medical Center.
The Randhawas make periodic visits to the USF Tampa campus, where Colin, 20, is studying engineering, attending Bulls football games and staying in touch with some of Randhawa's former classmates who have opened medical practices nearby. Liam, 23, could become a Bull as well — applying to USF's MBA program.
This marks the first time the Randhawa's engagement with the university has taken the form of philanthropy, inspired by the growth of the College of Arts and Sciences and the USF Health Morsani College of Medicine in partnership with Tampa General Hospital.
"The medical school they just finished is fantastic and the hospital is beautiful," Randhawa says. "It's just amazing how much has taken place since I left."
Now they are looking forward to supporting that growth, helping open doors for student success — in undergraduate research, medical school and beyond.
"It sounds like a cliché, but giving back feels good, helping kids who are basically in the same situation I was in," Randhawa says. "This school and its research programs did a lot for me. So hopefully our scholarship will help some students take advantage of that and launch them on their careers in medicine."