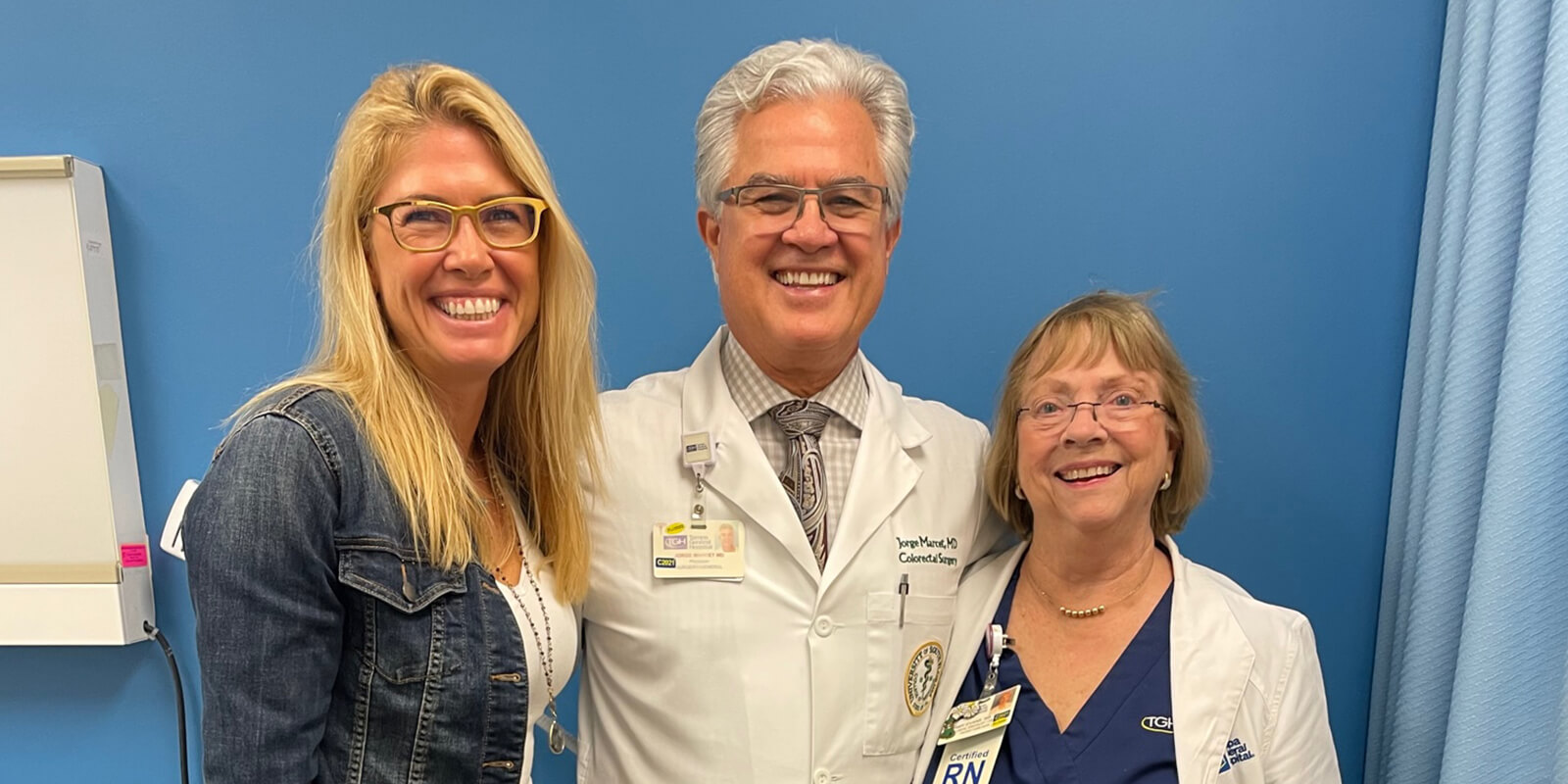 Lisa Becker uses her experience to help others cope with a difficult diagnosis
Nov. 15, 2023
Diagnosed with Crohn's disease in her early teens, Lisa Becker has had her body taken apart piece by piece. It started with an intestinal surgery, in her late 20s, when she was fitted with a permanent ostomy bag.

She's had few choices in how she goes through life physically but total control when it comes to mindset. She chooses to be a survivor with a positive outlook.

"When you grow up with health issues, having a bad day is relative," she says.
With continual inspiration through her USF Health surgeon and other caring staff at Tampa General Hospital, Becker found ways to help others — body and soul.
Most recently, Becker founded Secrets of Lemons, an online resource library and community of people sharing their stories about living with chronic illnesses and hidden disabilities. Becker shares her story and personal insights as well and provides valuable tools for other patients, such as a Wellness Check-In and an e-book on managing relationships with health-care providers.
"Sharing my story ignited other people to share their story with me. It was such a gift when I put myself out there," she says.
During the peak of the coronavirus pandemic, Becker saw so many people hurting, with isolation and anxiety taking a toll on mental health.
"I wanted to help allow them to see a brighter side of things, regardless of what hill they are climbing," she says. "That's the only way shame goes away, the devastation of a diagnosis, the devastation of not being able to solve a problem, that's the only way to help part the clouds."
One major source of empowering encouragement comes from her USF Health-Tampa General Hospital surgeon, Dr. Jorge Marcet, division director of colon and rectal surgery at the Morsani College of Medicine.
"I feel so grateful because the right people came into my life and encouraged me to keep going," Becker says. "I won the lottery by having Dr. Marcet as my surgeon. He just gets me. We speak the same language."
Her efforts to turn her own trials into help for others date back to 2008. After her ileostomy, she found it hard to feel comfortable in clothes again. She created a solution by designing products to accommodate the medical device worn after ostomy surgery and made them available to others by founding a company, Ostomysecrets. The company, which she sold in 2012, creates adaptive apparel that helps people living with an ostomy enjoy an active lifestyle. It can be a sensitive issue for patients and a challenge they aren't often comfortable discussing. From a place of true understanding, Lisa sought to help others find confidence in their daily lives.
For Becker, it's all about patient empowerment. "No. 1, accept your diagnosis. Sit in it, breathe in it, ask yourself a lot of questions and don't settle," she says. "I try to help people own their story and narrative, and give them the inspiration and tools to make the best choices they can in their situation."