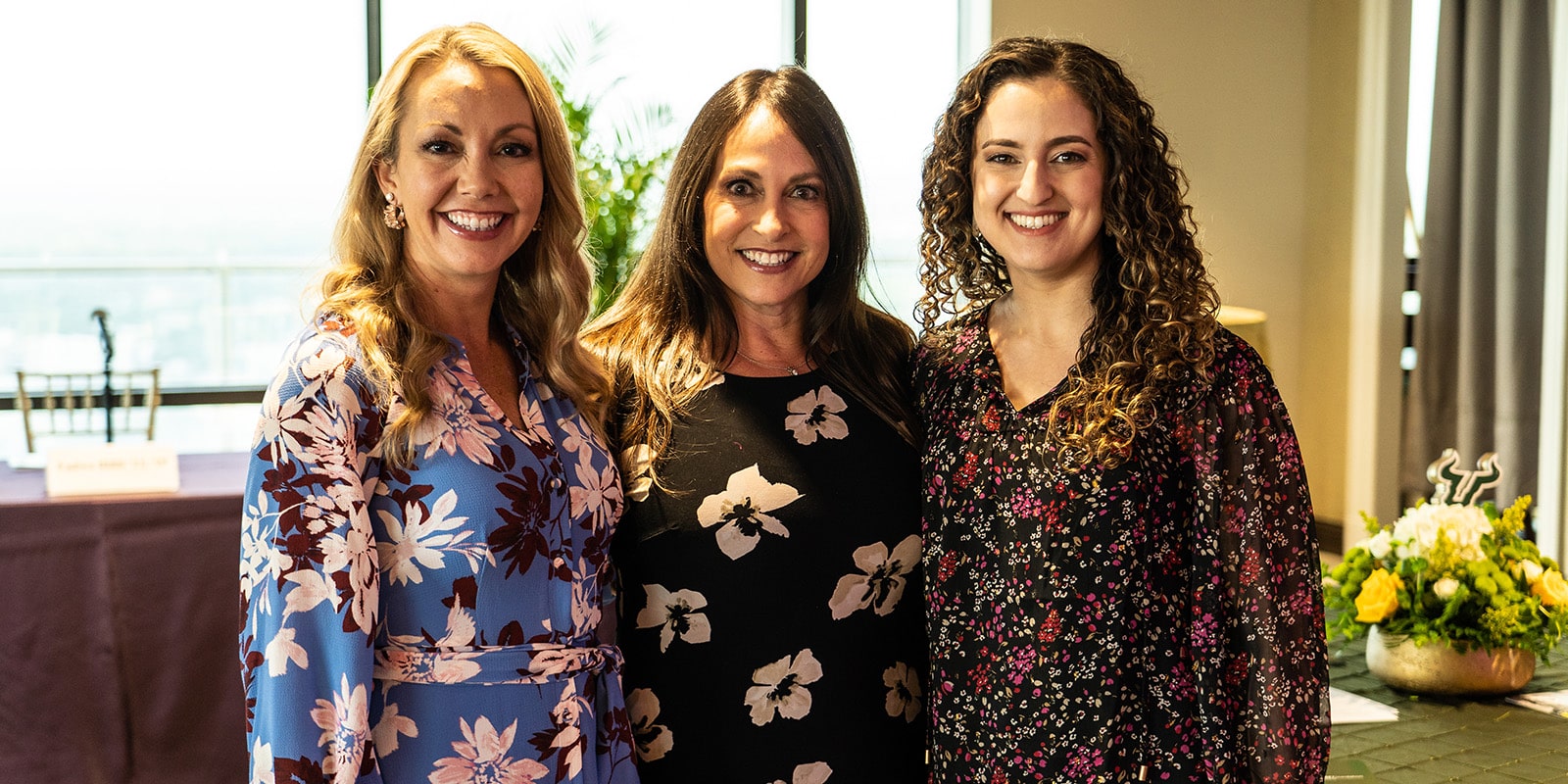 Above: From right: Fadwa Hilili, '13, '15, Chris Reyes and Nikki Zolkos, '03, '07, spoke at a recent Women, Wills and Wine event co-hosted by USF Women in Leadership & Philanthropy and Gift Planning.
USF Double Alumna Fadwa Hilili Established a Future Endowed Scholarship with the USF Foundation
June 16, 2022
Fadwa Hilili had already left a lasting mark, a powerful statement for someone still shy of her 30th birthday. The USF alumna, a double-degree holder in accounting, could simply have continued her impressive rise in the financial field, knowing that she was forever enriching the lives of students following her path in business.
The Forward Scholarship for Women of Excellence that she and several other alumnae from USF's Muma College of Business established in 2016 — just one year after Hilili graduated from USF with her master's degree and three removed from earning her bachelor's — would have been more than enough of a legacy.
But Hilili has now begun etching a new one, and this time on her own. At only 29, she has established a deferred endowed scholarship with the USF Foundation — designated to one day benefit the organization that has meant so much to her since becoming a member six years ago at the front end of her career: USF's Women in Leadership & Philanthropy.
"I began going to WLP events and being around these women who are just powerhouses, women who are philanthropic leaders in the community who founded this organization," she said. "The way they welcomed me was so uplifting. And to see the impact their actions had on young women's lives is something I wanted to be a part of."
This past year, Hilili became chair of the WLP program committee, which coordinates the WLP Fall Symposium, the organization's signature event. But she wanted her involvement to reach a deeper level as a WLP Life Member, requiring a commitment of $25,000. That's a hefty sum for a young professional such as Hilili, who worked for five years with TECO in various finance and accounting roles (following five as an intern), and since 2020 as associate director of Embedded Risk Management for the Depository Trust & Clearing Corporation in Tampa.
"I thought, '$25,000 — how am I going to do that?'" she recalled. "Even if I did $5,000 a year for five years, that's still a lot of money for a young person."
But then came a conversation over dinner with WLP Life Member Chris Reyes, risk and claims manager at Tampa International Airport. They talked about USF and WLP and how Reyes had become involved with the organization, and she explained that through her estate plan, she is bequeathing money from her life insurance to the USF Foundation to set up a future endowed WLP scholarship that will support USF students.
"That was the 'aha' moment for Fadwa — she said, 'Wait, you can do that?' and I explained how I'd done it, and how you could use life insurance or a 401(k) — without needing all of that money up front," Reyes said.
Hilili happened to be meeting the next day with Kate Evans, who was then serving as WLP executive director. Evans confirmed that Hilili could make the USF Foundation a beneficiary of her retirement account, specifying that the funds — in excess of $25,000 — be used upon her passing to create a WLP endowed scholarship.
"It was a no-brainer," Hilili said.
Soon after, the deferred endowment was established. And one of the appealing features, she learned, was that the percentage of the 401(k) left to the Foundation can be adjusted at any time if life circumstances change.
"What I love about a designated beneficiary gift is the simplicity," said Stephanie Walgamott, associate director of development in the Office of Gift Planning. "It's as easy as contacting your financial institution and telling them you want to update your beneficiary, signing the form and you're done. You don't have to pay legal fees or hire a lawyer, and it can usually even be done online."
And for Hilili, there's another key message: "If you have an appetite for giving, you can do it. Just reach out to people at USF. You will never look back and miss the money you give through charity. You'll always feel good about it."
And create an even more impactful legacy in the process.
To learn more about how you can make a planned gift, please visit usfgiving.org.