(From left) Anila Jain, her late father Kailash Jain and her late mother Mona Jain.
Feb. 17, 2023
Dr. Anila Jain gained an early appreciation for the values of education and mentorship by watching one of the people closest to her.
Her late mother, Mona Jain, PhD '84, was a trailblazer in the fields of science, technology, engineering and mathematics (STEM). She taught biological science, health science and physical science at schools throughout Sarasota and Manatee counties at a time when there were no other women in her department.
The only Fulbright Scholarship recipient from India in 1964, Mona's academic ambitions were encouraged by her late husband, Kailash Jain, who owned several businesses in the private sector for over 50 years. He was an ardent supporter of USF and the two special women in his life in any and all endeavors, especially in the areas of education, health care and women's issues.
Mona earned several degrees, including a doctorate in interdisciplinary education and educational leadership from the University of South Florida in 1984, as well as a doctor of medicine from Spartan Health Sciences University. In 2019, the School District of Manatee County honored her through the naming of Dr. Mona Jain Middle School.
Students remember her as a source of encouragement who inspired them to reach their highest academic potential. For students without a stable support system, Mona's guidance made the difference in their decision to pursue higher education.
Her passion for mentorship has bolstered a strong family legacy at the University of South Florida — a legacy embodied by her daughter, Anila Jain, '81.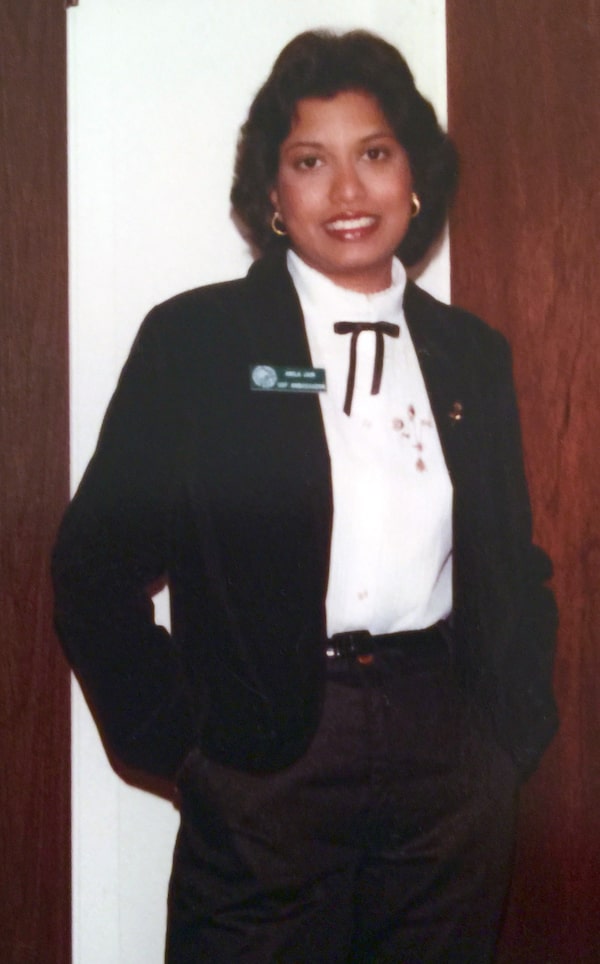 The only child of education-minded parents, Anila excelled in her academic and extracurricular life. An undergraduate biology major, she served as a founding member of the USF Ambassadors and was a Kappa Delta sorority member, later becoming national chair of the Kappa Delta Foundation.
"I was very fortunate to have the support of both my parents. I can't imagine a child not having that," said Anila. "I feel very fulfilled by being able to help students accomplish their dreams through mentorship and private support."
Alongside her mother's influence, Anila's time as a student at the University of South Florida inspired a lifelong passion for championing the education of future generations.
She has honored her family's legacy at USF through numerous endowed scholarships and planned gifts to various initiatives, including STEM programs, USF Athletics, Women in Leadership & Philanthropy and the USF Sarasota-Manatee campus.
"Improving access to education has always been a priority for my family," Anila said. "All the endowments are in my family's name because we want to leave a legacy of promoting student success through philanthropy."
Her devotion to USF is a source of pride for her parents, who were early supporters of the Sarasota-Manatee campus and have continued to invest in the university for more than 40 years, and the community that benefits from her impact.
"Sarasota-Manatee is my hometown, and because it's a small-town campus, I get to know the students a lot more," explained Anila. "I see firsthand what a difference it makes to these students to be able to get a college degree and I want to support their success as much as possible."
More recently, Anila exemplified her commitment to student success with a generous estate gift to enhance the Drs. Anila and Mona Jain and Kailash Jain Endowed Fund in STEM.
"Anila has created a legacy of promoting excellence through education and encouraging women to pursue fields where they are typically underrepresented," said India Witte, who first met Jain when she joined the USF Advancement team in 1999. "This gift guarantees that the impact of her life's work will continue in perpetuity."
Emulating her parents' guidance and leadership, Anila has mentored countless young women, many of whom are the first in their family to earn a college degree.
Often, Anila's students become her family.
By inviting her scholars to enjoy home-cooked dinners at her family home, Anila provides unique opportunities to meet with local professionals and alumni, enabling valuable connections and guidance in a variety of fields.
"Anila always wanted to make sure that we had those formal introductions with members of the community, whether it was at events on campus or in her home," said Hannah Moore, a realtor in Sarasota who met Anila through USF Ambassadors. "She knows the impact it has on both students and alumni to be able to meet and learn from each other."
Priscilla Sosa, DMD, remembers Anila as a passionate mentor who provided critical support during the process of applying to dental school. Anila helped Sosa write and review her personal statement, and the two often met up to practice interview questions.
Today, Sosa serves as the lead dentist at a clinic in Venice, Florida.
"I've always respected Anila as a mentor, colleague and physician," said Sosa, who was an Ambassador when she met Anila. "The help she provided during the application process really touched my heart and is something I will always be thankful for."
Through her gifts, the transformative legacy of Anila and her family will be passed down to generations of Bulls to come.
"Anila doesn't have children by birth, but there are scores of her daughters and sons across USF whose lives have been transformed by her mentorship," said Witte.
Anila has remained involved in both campus and student affairs since her undergraduate years, acting as a generous donor of her time, talent and treasure to her alma mater, USF, and her hometown campus, Sarasota-Manatee.
A founding member and former chair of USF Women in Leadership & Philanthropy and a co-chair of the USF Sarasota-Manatee Women in STEM Committee, Anila also serves on the USF Foundation Board of Directors and is vice chair of the USF Sarasota-Manatee Campus Board among numerous other committees. A past chair of the USF Alumni Association, both Anila and Mona are Distinguished Alumni Award recipients.
"She brings the best of herself to every initiative, every engagement," said Witte, who has worked with Anila for more than two decades on initiatives that benefit USF and community projects that benefit women and children and promote education and health equity. "To Anila, it's always about the mission, the people and the programs."
Anila credits her ability to fully devote herself to a wide array of commitments to the time management skills and habits she learned during her residency.
"I don't need a lot of sleep," she said. "I do my best work if I go to bed at midnight and get up at around four in the morning."
Through scholarships and other initiatives, she hopes this generous gift will encourage more women to enter STEM fields and inspire others to give back.
"A lot of young women excel in STEM and have a lot of passion, but they don't have a role model to help them plan the next steps," Anila said. "I hope I can fill that role to make a difference in the life of each individual student."
• • •
Mona Jain passed away on February 28, 2023. The University of South Florida offers our condolences to the Jain family. Her legacy will be felt at USF for generations.