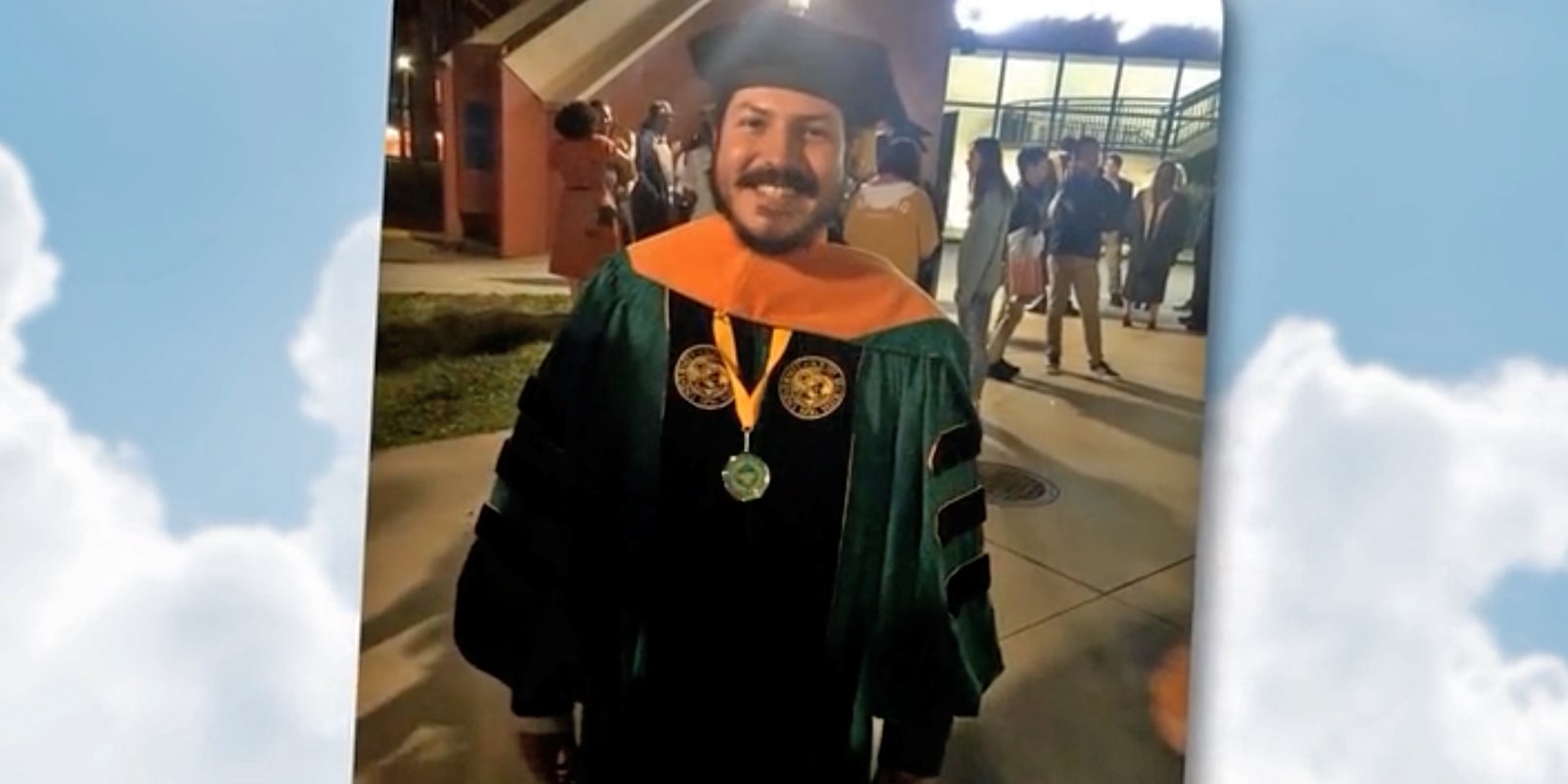 Aug. 24, 2023
Jose Trevino learned the value of hard work when, at age 5, his family emigrated from Mexico to become migrant workers in Ruskin. Those early life lessons would serve him well in pursuing his dream of becoming a Certified Registered Nurse Anesthetist (CRNA), a job that requires years of rigorous academic and clinical experience and training. Undaunted, Trevino became the first in his family to graduate college, earning bachelor's, master's and doctoral degrees in nursing at USF.
He was only a few weeks into a new job at Blake Medical Center in Bradenton earlier this year when he left his brother's house one evening. He never made it home.
His family put out a call on social media asking for help in finding the 35-year-old. The tight-knit community of USF CRNA graduates quickly responded, joining the search and spreading the word. The result would be tragic; Trevino had died in a motorcycle accident off an Interstate 75 exit ramp.
Soon after learning of his death, USF College of Nursing Assistant Professor Erik Rauch '03, MBA '21, DNP '11, launched an effort to create a memorial scholarship. He'd first met Trevino when he applied to the college's master's program, and the student had left an indelible impression.
"I interviewed him and remember him explaining how he was the first and only college graduate in his family," said Rauch. "He not only really wanted to be a CRNA and told us he'd work harder than anyone else to get to that goal, but he also wanted to be an example for the rest of his family to encourage them to try and achieve the American dream."
In three days, 151 friends, colleagues and loved ones gave $29,530 to create a scholarship at USF in Trevino's memory. Donors to the scholarship included nurse anesthetists from across the country.
Since the gifts exceeded $25,000, Rauch and CRNA program director Michelle Canale, '00 and DNP '15, were able to create the Jose Trevino Nurse Anesthesiology Memorial Scholarship as an endowment, allowing the interest to be awarded annually to a USF CRNA student in perpetuity.
"Anesthesia is a relatively small world — everyone knows everyone," said Canale. "I was just flabbergasted. As amazing as Jose was, I never expected we would get to endowment. It blew me away.
"It was such a tragedy, such a loss of one of the most amazing people that I've ever known, with enormous grief from our community of CRNAs and USF. We desired to make sure Jose's memory was never lost."
During Trevino's funeral service, Canale recalled, his brother remarked in his eulogy that a person dies only when his name is mentioned for the last time.
Thanks to the scholarship that bears his name and will endure forever through endowment, she noted, Jose Trevino will live on.