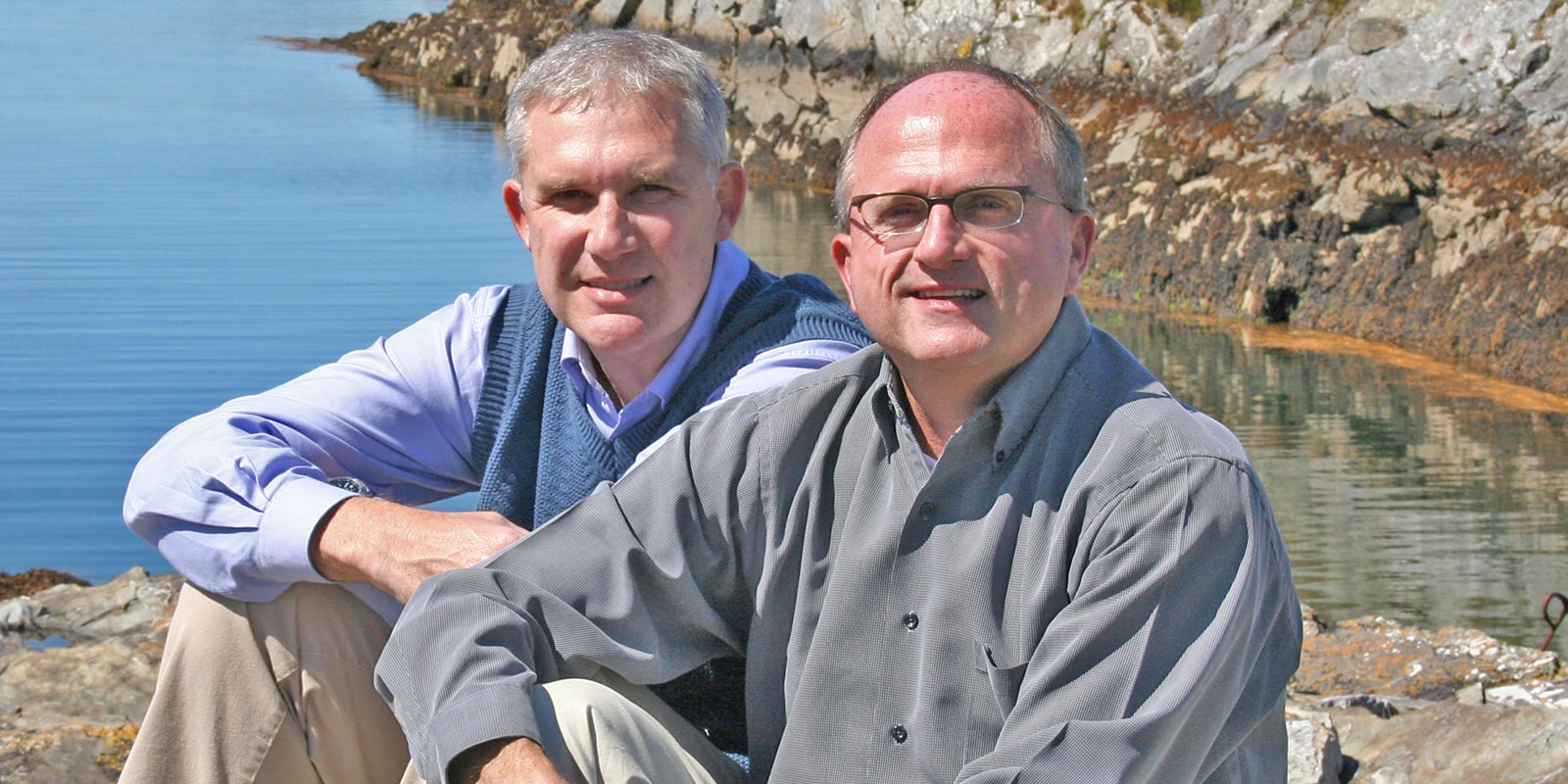 Mark Lundy (left) with his late husband, Dr. Marion Ridley.
Dec. 13, 2022
The late Dr. Marion Ridley loved being a physician.
"You can tell me other doctors loved being a doctor as much as Marion, but you can't tell me anyone ever loved it more," said Ridley's husband, Mark Lundy.
Ridley joined the University of South Florida in 1989 as a professor of otolaryngology (ENT) at the USF Health Morsani College of Medicine and the chief of ENT at the James A. Haley Veterans' Hospital.
For the next three decades, until his sudden passing in 2018, he was a compassionate physician to his patients, a caring mentor to his students and residents, and a dependable colleague to his fellow physicians and staff.
"Dr. Ridley was an outstanding physician in every sense of the word," said Charles Lockwood, MD, MHCM, executive vice president of USF Health and dean of the Morsani College of Medicine. "He cared deeply about his patients, students and residents and left an indelible mark on so many lives."
His specialty in the treatment of vocal disorders was fitting given his lifelong passion for music, especially opera. He sang in church choirs throughout his life, including the Men and Boys Choir of St. John's Episcopal Church in Tampa, and he performed at the White House on two occasions.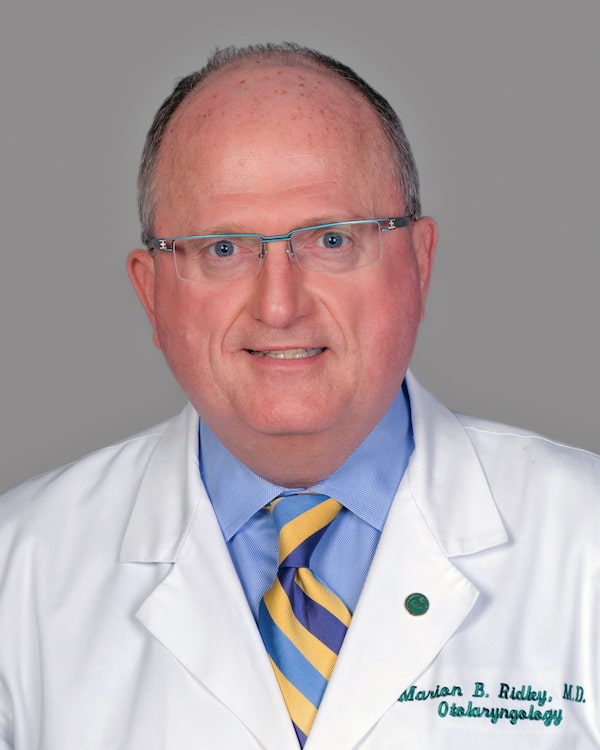 While Ridley was a brilliant doctor, he exuded a humble nature. Lundy said whenever someone would talk about how smart he was, Ridley would deflect saying, "I'm just a good troubleshooter."
Raised in Jasper, Tennessee, Ridley graduated valedictorian of his high school class. He completed his undergraduate degree at the University of Tennessee, Chattanooga, then medical school and a surgical residency at the University of Tennessee (UT) Health Science Center in Memphis.
It was during his time in Memphis that Ridley met Lundy, who was studying at UT to become a clinical chemist. They were just friends for quite a while, but eventually their relationship blossomed into more — just as Ridley was moving to Baltimore, Maryland, to enter the ENT residency program at Johns Hopkins University.
Realizing his future was with Ridley, Lundy soon joined him in Baltimore, where they lived for the four years of Ridley's residency.
While his Johns Hopkins residency was certainly challenging — Lundy described it as "nonstop, up all hours of the night" — the experience was one of the highlights of Ridley's life.
"For a surgery resident who loved learning new surgical skills, Hopkins was the place to be," said Lundy.
While both Ridley and Lundy were working, their budget was still tight during these years.
"We were poor as church mice, as they say, and so one of the things that really made a big difference was the Hopkins ENT resident fund," recalled Lundy.
The fund provided resources for residents to spend on educational materials, travel to conferences and other related expenses. One year, Ridley used the funds to purchase a Nikon camera with special lenses so he could take photographs during surgery. Ridley used these images throughout his career, even publishing them in academic journals.
After his death, faculty at USF asked Lundy if they could keep the images taken by Ridley because they were still so useful.
"You see how important that was in his career, not just as a resident," shared Lundy about the impact the resident fund had on Ridley's career.
After a brief stop in Ann Arbor, Michigan, where Ridley completed a facial plastics fellowship at the University of Michigan, they finally settled in Tampa.
Throughout his time at USF, Ridley worked to recreate the resident experience he enjoyed so much at Johns Hopkins for the residents at the Morsani College of Medicine.
"Many people I didn't even know came up to me (at his service) and told me what a difference Marion had made in their lives," said Lundy. "He became the person who encouraged other people to go after their dreams and telling them they could accomplish it."
Karin Hotchkiss, MD, FACS, a Tampa-based pediatric otolaryngologist, was a resident in the otolaryngology department at USF from 1999-2004 under Ridley.
"He was an amazing example of what it means to be a doctor. His knowledge base, compassion and empathy were second to none. He encouraged me to always give and be my best for every patient," she said.
Hotchkiss said Ridley was integral in helping her obtain a fellowship in pediatric otolaryngology at Johns Hopkins — and even attended her graduation ceremony in Baltimore.
"His legacy will carry on through the countless physicians he has trained," she said.
After his passing, Lundy established the Marion B. Ridley Endowed Resident Fund with a gift of $50,000 to both honor his beloved husband and further cement Ridley's legacy at the university and in the profession. He recently added a $1 million bequest in his estate plan that will greatly increase the impact of the fund.
"This fund continues the incredibly meaningful work Dr. Ridley began during his years at USF Health to provide impactful experiences for our ENT residents," said Jay Stroman, CEO of the USF Foundation. "We are grateful to Mark for this generous gift that honors the life of Dr. Ridley and supports residents during a formative time in their careers."
The endowed fund supports residents in the Otolaryngology Residency Program at the USF Health Morsani College of Medicine. Like the support Ridley received early in his training, the residents can use the fund to pay for special training experiences and equipment, providing the means for the surgical telescope, mini headlight or high-resolution camera that might otherwise be out of financial reach.
"Dr. Ridley filled so many vital roles in the Department of Otolaryngology and loved the residents so," said Tapan Padhya, MD, professor and chair of the USF Health Department of Otolaryngology — Head and Neck Surgery. "I know he would have been proud of our journey to become a top-ranked program and this investment further solidifies his legacy and commitment to our residents."
Ridley's work to provide young doctors at USF with the same wonderful experience he had when he was in training will continue for decades to come, thanks to the Marion B. Ridley Endowed Resident Fund.
"He would be happy that the money we worked hard to acquire in our lifetime, that a portion of it is going back to fund this program he cared so much about," stated Lundy. "I hope he'll be remembered for all the work he did, and I think this honors him in the best way I know how."