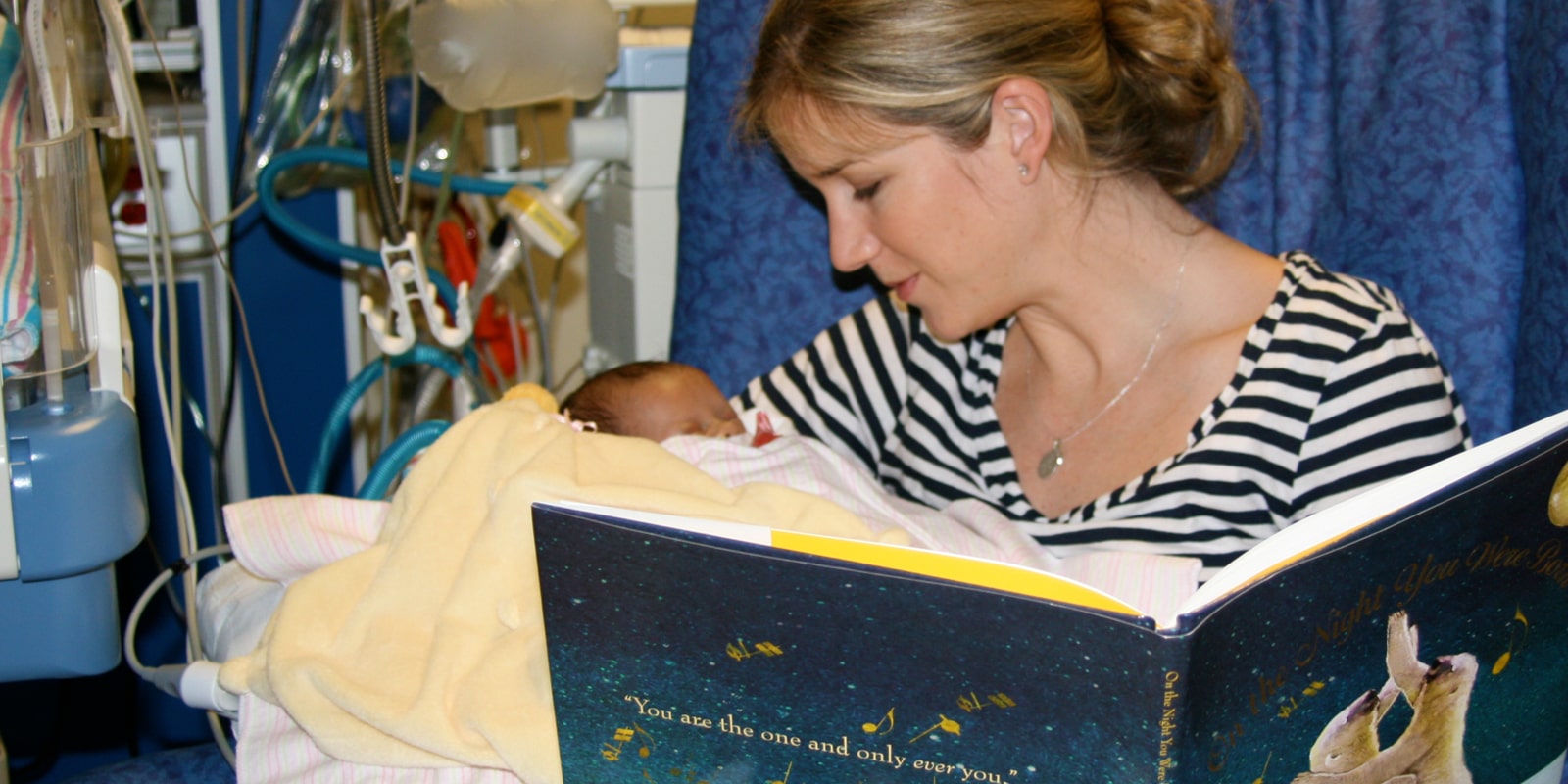 High Risk Hope founder Heather Barrow reading "On the Night You Were Born" to Baby Hill while in the NICU.
High Risk Hope (HRH) is injecting life into the community, even as it closes its proverbial doors.
Sept. 6, 2023
For over a decade, the nonprofit extended arms of comfort and support to more than 14,500 families grappling with high-risk pregnancies and premature babies in neonatal intensive care (NICU). HRH connected with families in crisis through their Hope Bundles, delivering NICU Napsacks, Bed Rest Baskets and Bereavement Boxes stocked with essential, informational and emotional support provisions to nine hospitals in Florida and California.
Honoring its founding mission, HRH is bolstering the future by providing eight full-ride scholarships for accelerated USF Health College of Nursing students specializing in pediatrics or NICU care. Through this endeavor, founders Bennett and Heather Barrow hope to open more doors for students aiming to carve a career in this crucial and underserved field.
"Having such a remarkable university like USF in our vicinity, it was our obvious first choice to create a local impact," shared Bennett Barrow. "We also wanted to honor the nurses who were our lifeline during our own high-risk journey."
• • •
The Barrows experienced the critical importance of nurses firsthand during the pregnancy of their second child.
Heather was only in her second trimester when her water broke, and she prematurely went into labor. Admitted to St. Joseph's Women's Hospital at 24 weeks, she was diagnosed with preterm premature rupture of membranes — a rare condition that placed both mother and child's life in danger.
The doctors' prognosis was grim. If the baby was born that day, they estimated a 50% survival rate and severe lifelong disabilities.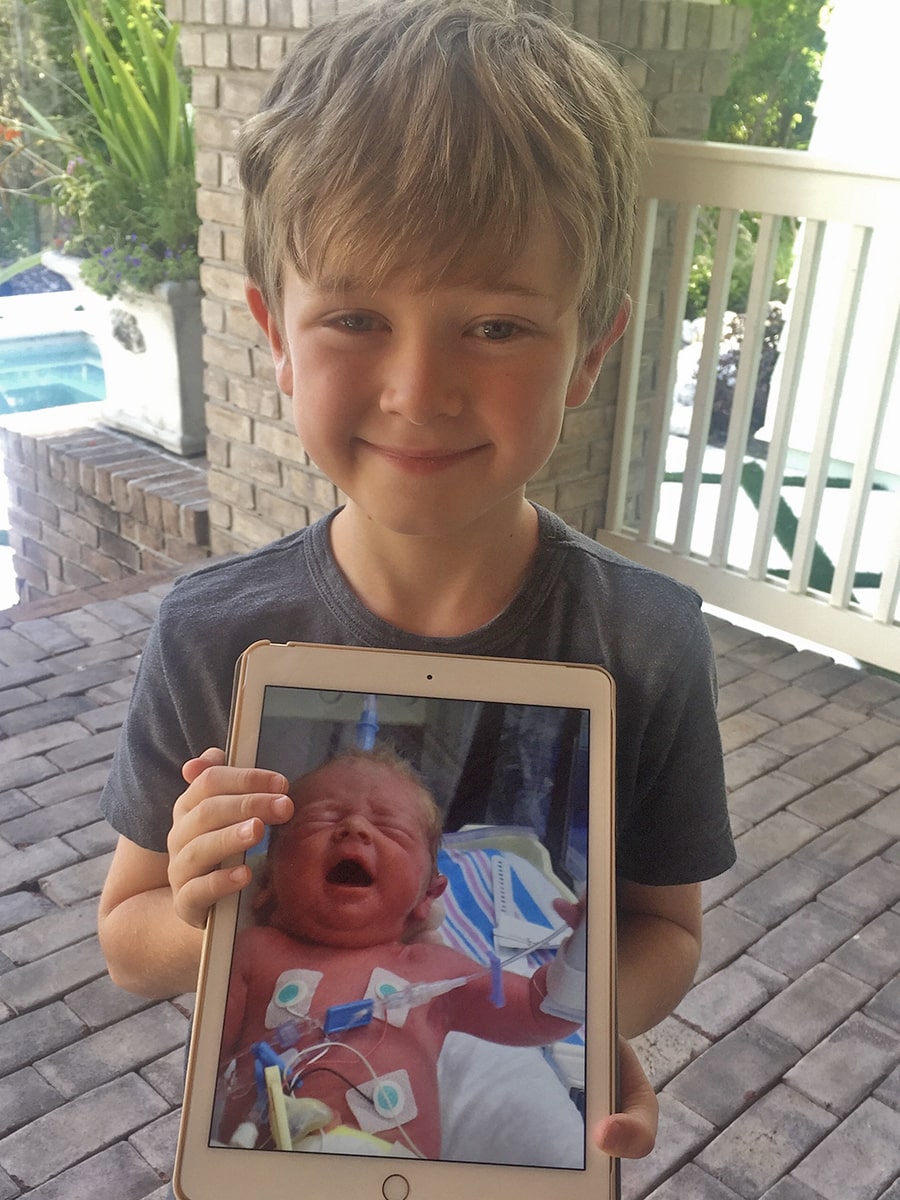 "Our pastor visited us in the hospital that night," recalls Bennett. "He told us, 'Those are just statistics. They don't represent your story or God's plan for your child.'"
Hope took root in their hearts as Heather's contractions eased. The doctors charted a course, prescribing complete bed rest under close monitoring to prolong the pregnancy as long as medically feasible.
"Every day in utero means the world as far as the baby's growth and development," said Bennett. "They told us each day she could remain pregnant would mean three less days our child would need to stay in the NICU."
The nurses played a vital role in maintaining Heather's spirit and tranquility amid these formidable circumstances. Their consistent doses of care and compassion significantly contributed to Heather's capability to extend her pregnancy by an additional 58 days.
A small but healthy baby, Hill Barrow, was born via emergency C-section at 32 weeks old, weighing four pounds and 11 ounces — proof that miracles come in small packages.
• • •
Due to significant disruptions caused by the pandemic, HRH made the difficult decision to close this year. But while HRH's operations have ceased, its legacy continues to thrive, not only through the scholarships at USF, but also through gifts to support fetal and neonatal care at several hospitals.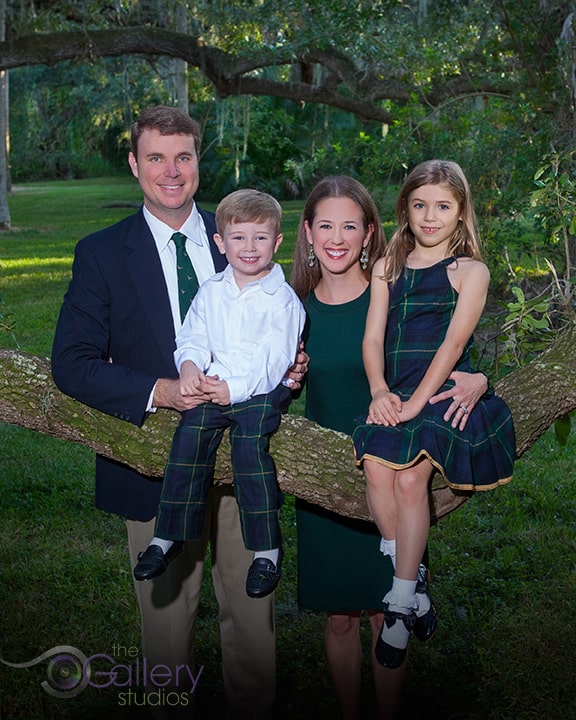 "These scholarships create a legacy of care, compassion and hope that will ripple through generations to come, not only for the students who receive them but for the thousands of children and families that these future nurses will care for," said Usha Menon, senior associate vice president of USF Health and dean of the College of Nursing. "Heather and Bennett's commitment to supporting nurses and their dedication to improving the lives of NICU children aligns perfectly with our mission at the USF Health College of Nursing."
As one chapter closes, the Barrows are channeling their focus into their latest project. RareGuru is a mobile health app designed to empower and connect individuals confronting rare diseases. This innovative venture was birthed from the Barrows' personal journey to find resources and support after Heather and their oldest child, Claire, were diagnosed with hypophosphatasia, a rare genetic metabolic bone disorder.
Once again, the Barrows are transforming personal hardship into a catalyst for lasting and positive change. Their contributions shine as a beacon of hope for countless families and future nurses on their own health care journeys.