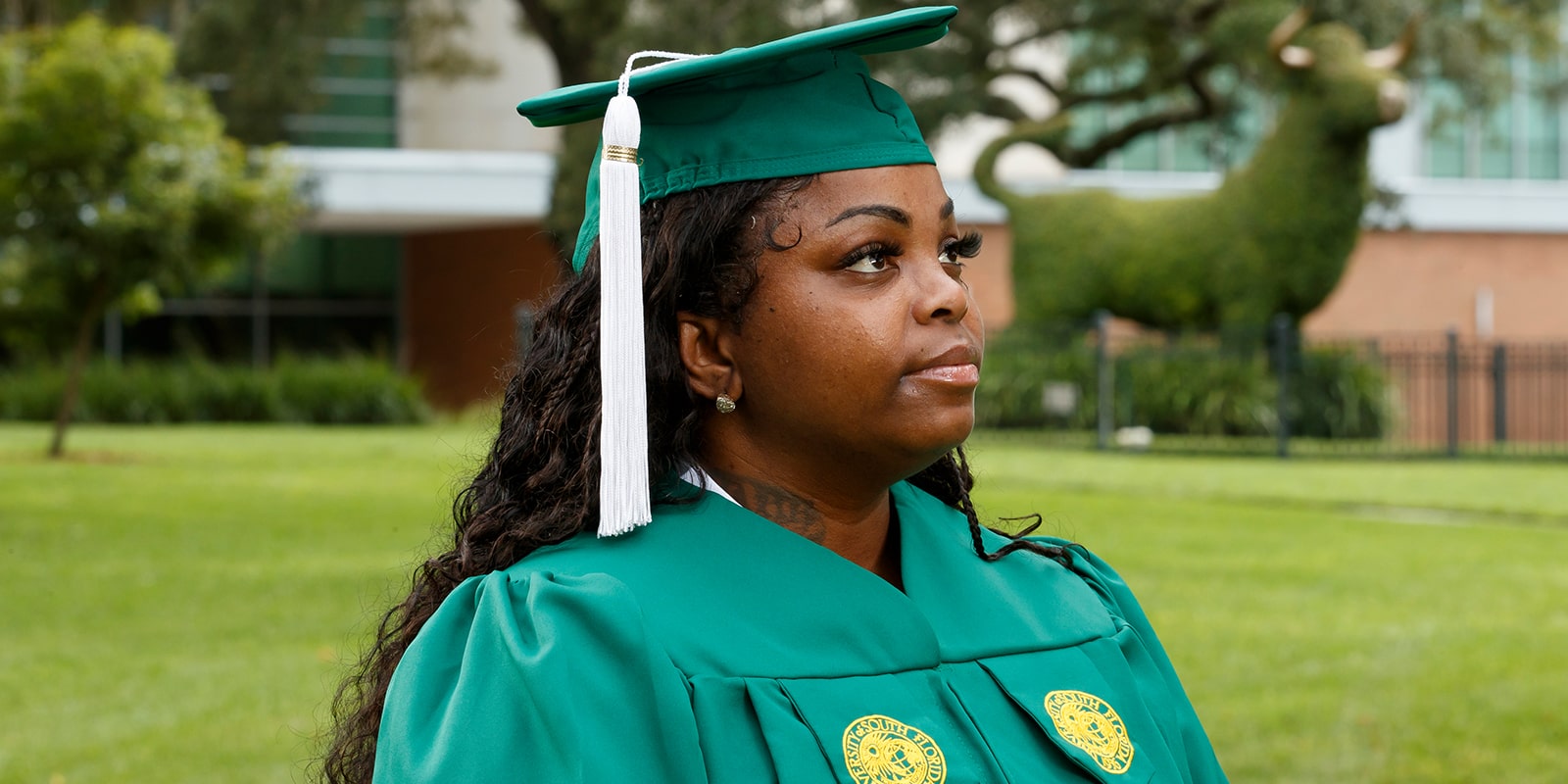 Nov. 18, 2021
Cherrelle Burroughs' journey toward completing her education began with a simple statement from one of her children.
"You want me to go to college, but you never did it yourself," said her daughter, who was in sixth grade at the time.
It was a pivotal moment for Burroughs.
"It dawned on me. How can I tell her to do something I never did?" said Burroughs, deciding then and there she would practice what she always preached.
"The day I graduated (from Hillsborough Community College) was very emotional for me," she said. "I said to my daughter, 'Now can I push you to go to college?' And she said, 'Yes, Mommy.'"
Burroughs didn't stop there. After finishing her associate degree, she enrolled at USF majoring in public health with plans to continue on to earn her master's degree.
But the journey hasn't been easy. A single mother of four, ages 16, 13, 9 and 5, Burroughs works two full-time jobs along with going to school full time.
"It was tough. I had times where I wanted to give up," she said.
In her second semester at USF, Burroughs was awarded a Crankstart Reentry Scholarship, which provides scholarships to "reentry students," defined as individuals who have experienced an interruption in their education of five or more years and who want to resume their education at the undergraduate level.
"Without that money, I don't believe I would have been able to afford it," said Burroughs. "That money really helped me continue on and lifted a lot of stress off of me."
The Crankstart scholarships are patterned after the Osher Reentry Scholarship program established by philanthropist Bernard Osher through The Bernard Osher Foundation at 100 universities around the U.S., including USF. The Bernard Osher Foundation endowed the Reentry Scholarship in 2011, and since inception, 114 USF students have received support from the fund.
Inspired by the success of the Osher Reentry Scholarship program at USF, the principals of Crankstart, Harriet Heyman and Michael Moritz, with the encouragement of The Bernard Osher Foundation, established a similar program at the university.
In early 2019, the USF Foundation received word of a $100,000 gift to get the program off the ground, which was renewed — and increased to $120,000 — in 2020. The Crankstart Reentry Scholarships have already helped 39 reentry students at USF pursue their dream of completing their education.
For Burroughs, having just completed her undergraduate work, the steady support provided by the scholarship helped her cross that proverbial finish line.