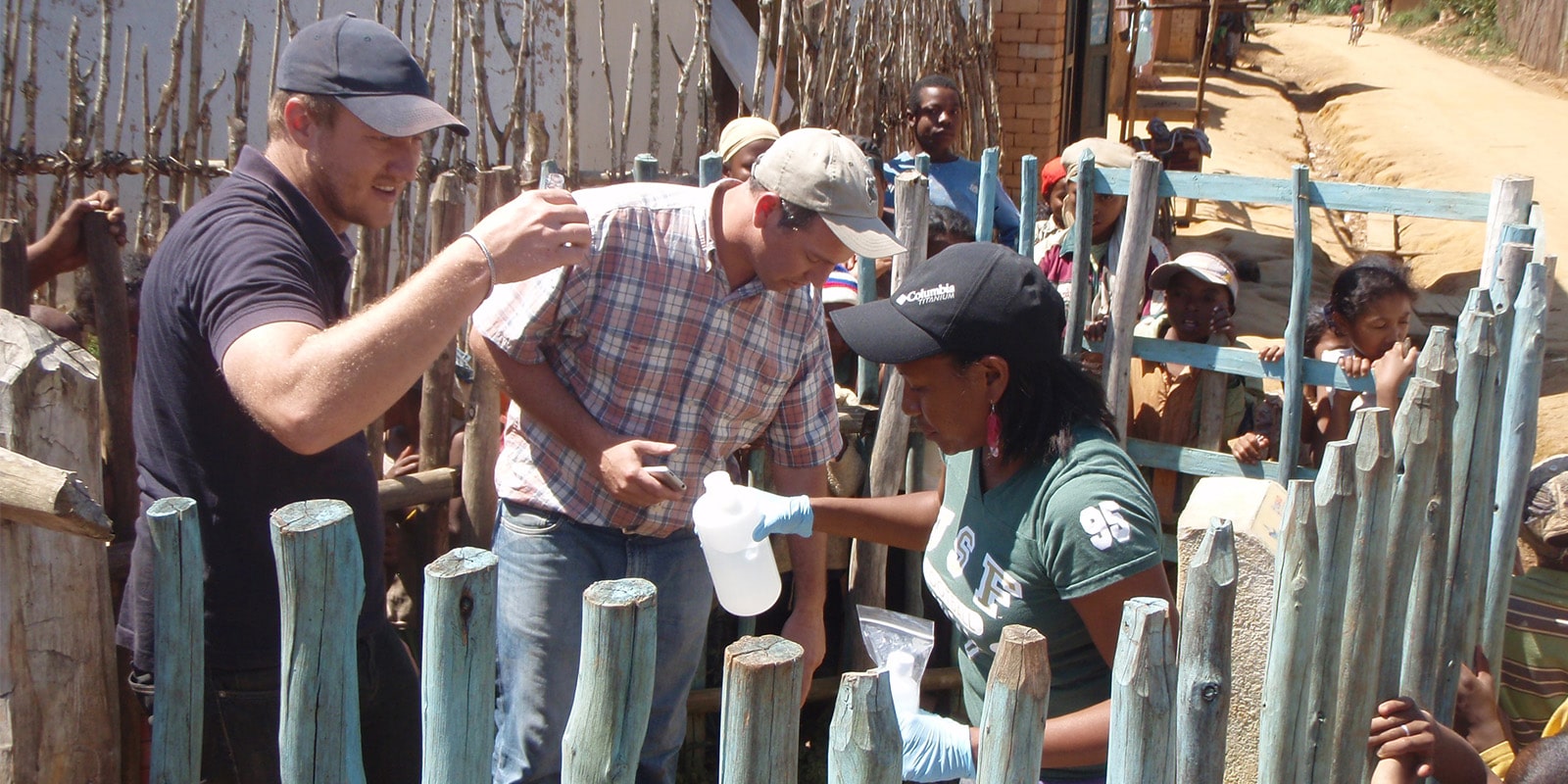 Above: In 2010, USF researchers traveled to Madagascar to sample well water and test for arsenic. Instead they found high levels of lead.
May 9, 2022
The words "my former student" are a common refrain when talking to James Mihelcic about his work. Over his more than three decades in academia, he has built an extensive network of contacts around the world, a USF family of sorts, many of whom are his former students who have become professors themselves or work in nonprofit and nongovernmental organizations across the globe.
"It's kind of like planting a seed and then watching the seed grow," said Mihelcic, who is the Samuel L. and Julia M. Flom Endowed Professor in Civil Engineering and director of the Center for Reinventing Aging Infrastructure for Nutrient Management at USF.
One such student called in 2009 to tell Mihelcic about a water sanitation project he was working on in Madagascar, an island country off the southeastern coast of Africa, and ask if the university could do some research for him.
Just under a year later, Mihelcic and colleague Maya Trotz, professor of civil and environmental engineering, found themselves in eastern Madagascar, watching a local technician build a hand pump to provide potable water from one of the shallow wells common in the area.
The man made a little depression in the soil, then melted a car battery over a charcoal fire. He poured the molten lead in the depression in the soil, creating a lead weight that would be used as part of the well's hand pump.
After witnessing this, Mihelcic and Trotz decided they should check the water samples they'd been collecting for not just arsenic, as planned, but also lead.
"Good thing was, we didn't find arsenic — but we did find lead," he said. The concentration was well above World Health Organization guidelines — no more than 10 micrograms per liter or parts per billion. "We measured some pumps that were over 100 micrograms per liter or parts per billion."
Not only were people consuming lead through drinking the well water, but since a staple of the diet in this part of Madagascar is starchy food, like rice or yuca, cooked in the water and thus absorbing lead, they were also ingesting it that way.
Looking for a solution, the team replaced the two lead components of the hand pump with ones made of iron. When they again sampled the water, the lead content had dropped to a level within WHO guidelines. While there is still some lead in the well screen underground in most wells, this simple fix made a significant difference.
Mihelcic estimates there are 9,000 or so of these pumps on the east coast of Madagascar, most shared by several families, including children.
"Every day I'd go to bed thinking, 'These kids are being poisoned with lead, and we know about it, and we're not doing anything,'" said Mihelcic. "At that point, I said, 'I don't care if my wife and I have to pay for this, we're doing it.'"
In the intervening years, he has received grants and even paid out of his own pocket to remediate wells to remove the lead components, once stopping at a bank in Casper, Wyoming, while on vacation to transfer money from his personal account to pay people working on the project.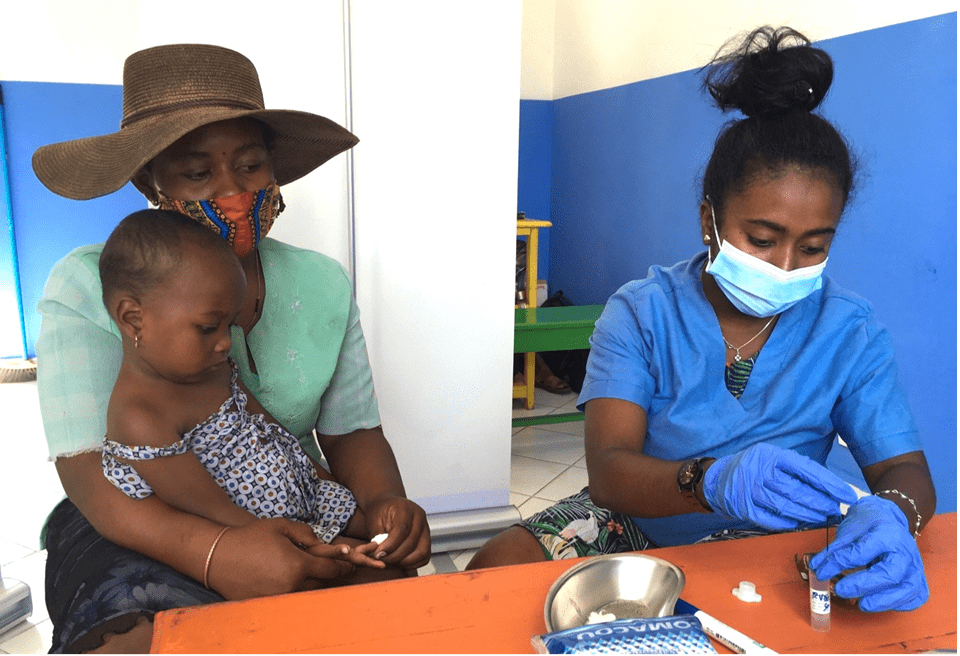 One of the organizations who gave Mihelcic a grant asked the team working on the project to actually measure blood lead levels in children, not just estimate it as they'd been doing previously.
He partnered with Mahmooda Pasha, an assistant professor in the College of Public Health, to help train medical personnel at local clinics in Madagascar to collect blood samples from children ages 6 months to 6 years. Over 2020 and 2021, they collected more than 400 blood lead level measurements.
"We've scientifically shown that replacing the two lead valve components does result in a statistically good improvement of blood lead levels," said Mihelcic. The work has been supported, in part, by funds Mihelcic receives from the Flom endowment.
One of the nuances of the project is not disrupting the work of the pump makers, a vital source of work and income in the community, by manufacturing and shipping pumps from elsewhere, for instance.
"The idea is how do you get homeowners to request a hand pump and all the well material without lead, and how do you get the manufacturers to stop using lead?" he said.
That's were Pasha's expertise came in.
"I identified that we needed to change the behavior of technicians in Madagascar, because they seemed to be the gatekeepers in the whole cycle," said Pasha.
She received a research grant from the College of Public Health that allowed her to hire and train staff in Madagascar to speak with and conduct surveys with the technicians to better understand the extent of their knowledge regarding lead, water quality and water safety, and learn how they go about doing their jobs.
From this research they concluded the technicians felt they were playing a vital role in the community and wanted to be seen as professionals and innovators. She then developed a social marketing strategy that included skill-based training and raising awareness.
"Our campaign really focused on providing the technicians skills and making them aware of the dangers of using lead in the pumps, but also creating an exclusive community that other technicians may want to join," she said.
Based on models, with these behavior changes, this source of lead exposure in the community could be eliminated in 15 years.
On a personal level as a junior faculty member, Pasha has found Mihelcic to be "an ideal mentor," providing the nudges she needs to publish research papers and apply for grants, and including her on his own grants to engage with a community of researchers.
"Most of the people I'm working with right now in the field are his former students," she said. "They're his colleagues now. It's like he's sent his children out into the world, but now these children are his equals."
This type of interdisciplinary work is what attracted Mihelcic to USF in 2008. He was named the Flom Professor in 2015.
"The gift from the Flom family, it's really allowed me to build a larger network. I could have an impact by myself, but the Flom funds allowed us to initiate some of the blood testing in Madagascar," he said. "Flom has supported many graduate students in my program who have gone on to be great contributors to Florida and the world."
One of his current students, who is supported in part by the endowment, Addie Buerck, decided to pursue her doctorate at USF to work with Mihelcic on the Madagascar project, which is the focus of her dissertation.
Her first connection to Mihelcic was using one of his books in a master's degree course. Her professor, who went to school with Mihelcic, told her about the work he was doing and encouraged her to apply.
While her concentration is civil engineering with a focus on environmental engineering, she's also completed a social marketing certificate and is co-mentored by Mihelcic and Pasha.
"I think people are starting to realize how everything's intertwined and how important it is to have that common language," said Buerck.
For Mihelcic, the work is its own reward, seeing his family of USF students and professors bettering the lives of families in Madagascar.
"It's a wonderful project. It's been wonderful. We're graduating students. We're publishing in really high-impact journals," he said. "But we're also doing something that's improving health for children in Madagascar."