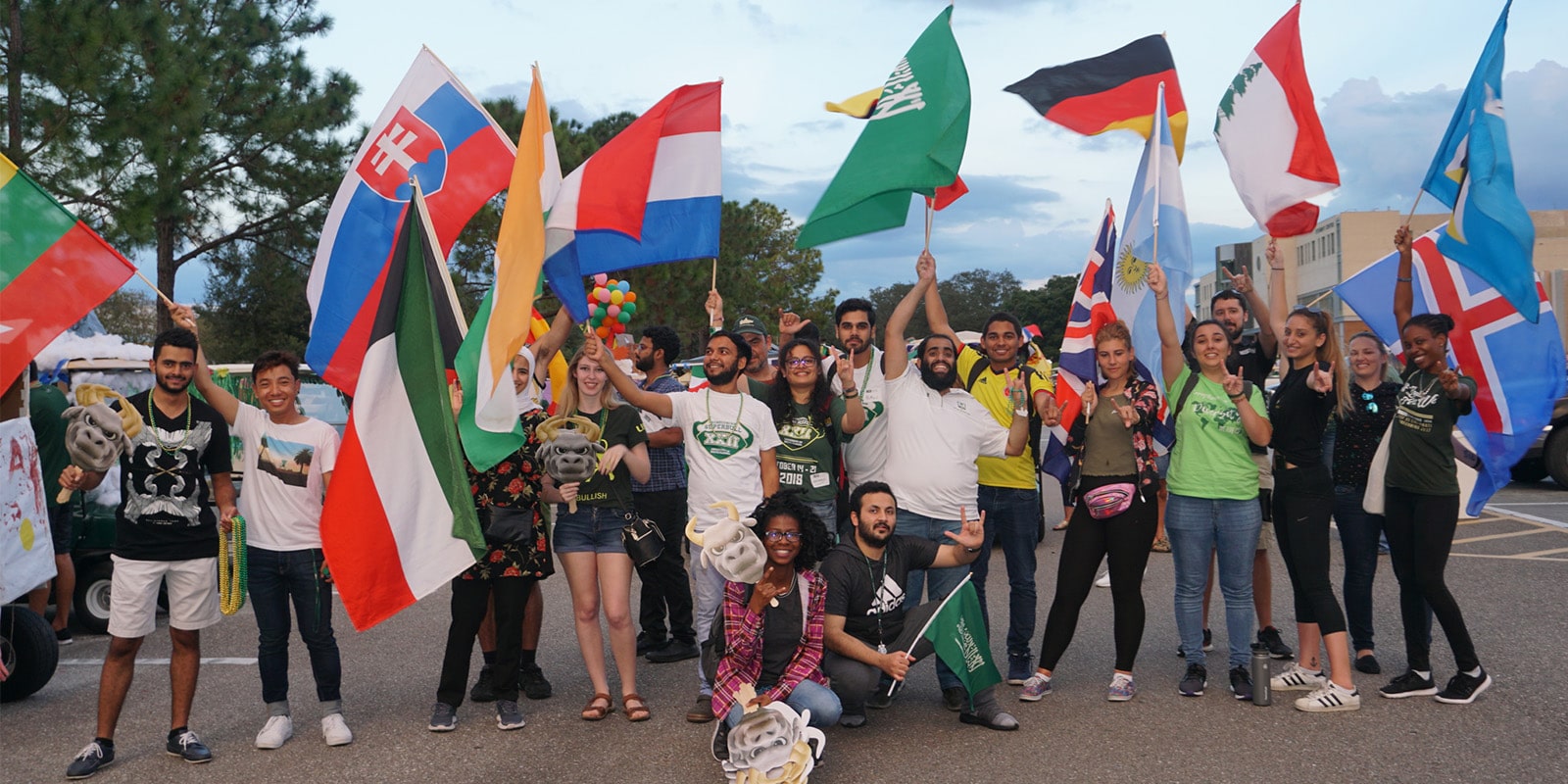 Karen Holbrook is no stranger to world travel. While she never completed a study abroad program as a student, Holbrook has had opportunities to conduct research, teach and provide consulting services across the globe throughout her distinguished career and has hosted many international colleagues in her research lab during her time at the University of Washington.
She has participated extensively in the activities of global professional and honorary societies, and serves on boards of numerous international organizations, including Civilian Research and Development Foundation Global, the Institute of International Education and as a Distinguished Fellow of the Global Federation of Competitiveness Councils. She was also a trustee of the King Abdullah University of Science and Technology in Saudi Arabia, which she helped to create.
Holbrook believes strongly in the value of study abroad as a catalyst for personal growth and would like more students to be able to take advantage of the broad range of programming available at USF, especially to destinations where the culture is very different from the U.S.
"The people, the environment, the geography, the cuisine — everything can be so unlike what you experience at home," said Holbrook, who served as the first senior vice president of USF World. "The student who returns from a study abroad program is transformed. It makes such an impact on their lives and future careers."
As regional chancellor of the University of South Florida's Sarasota-Manatee campus, Holbrook wants to make sure every student has this opportunity. To that end, Holbrook and her husband, Jim, a physical oceanographer who spent his career with the National Oceanic and Atmospheric Administration, recently gave $25,000 to establish the Karen and James Holbrook Study Abroad Scholarship.
Kiki Caruson, vice president of USF World, is deeply appreciative of the gift and the Holbrooks' continued commitment to global engagement.
"The Holbrooks' generosity is greatly appreciated and will enhance USF's global footprint," she said. "USF currently ranks 13th in the U.S. among public institutions for the number of students studying abroad and this gift will increase our ability to make study abroad a possibility for all students."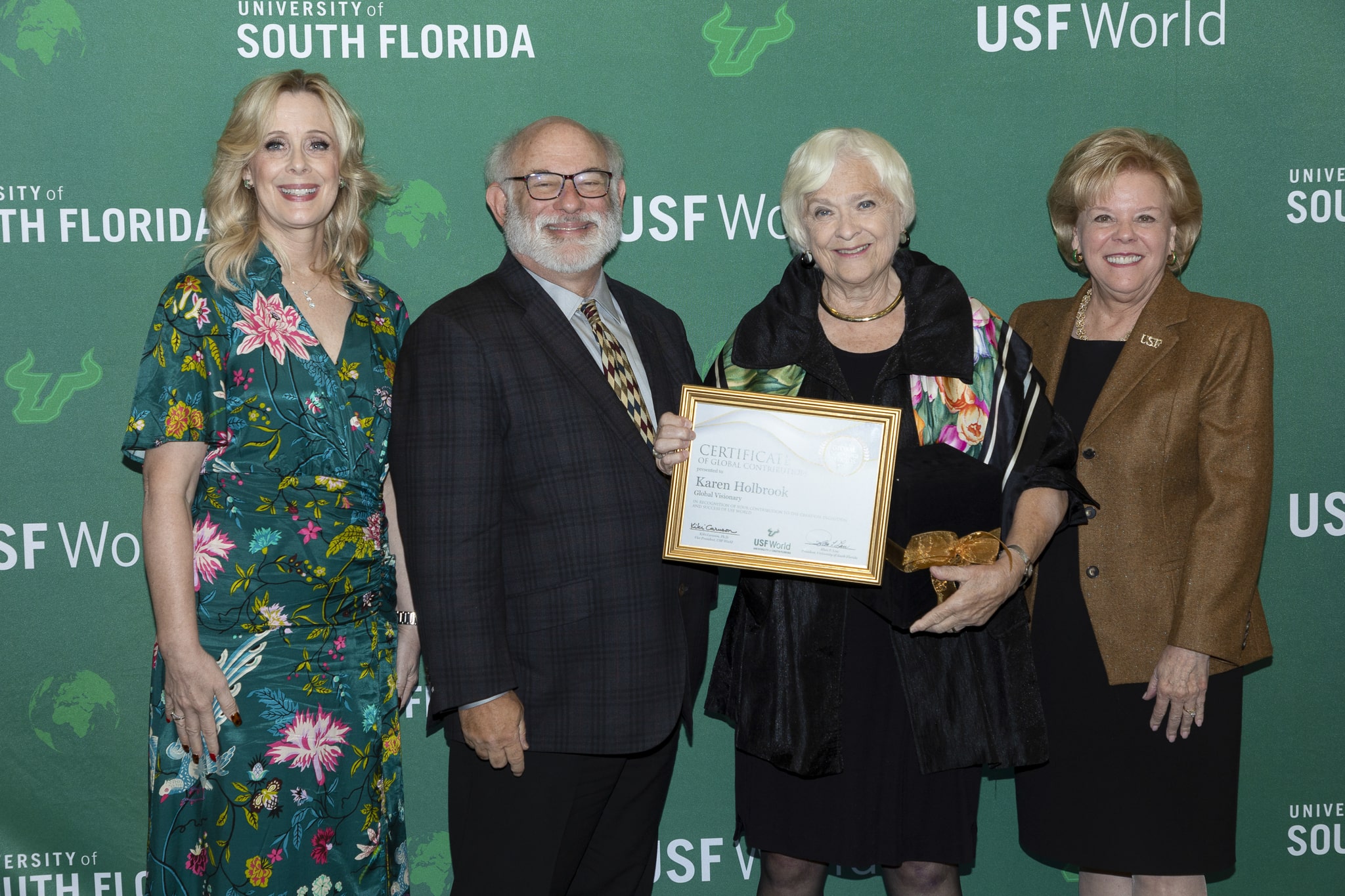 Holbrook is naturally invested in helping the campus she has overseen since 2017 thrive. The Holbrooks have already given generously to USF, supporting the Sarasota-Manatee campus annual Brunch on the Bay fundraiser, and contributing toward the new student center and residence hall as well as the nursing and STEM building, both in progress on the Sarasota-Manatee campus.
"We've been giving to buildings on campus, but we also want to do something that more directly impacts the life experience of a student," said Holbrook.
She recognizes that many students don't have the resources for a study abroad program. Through this scholarship, which gives preference for students enrolled or taking the majority of their classes at the USF Sarasota-Manatee campus, Holbrook is excited to provide the needed funds to make those experiences possible.
"This gift brings together two things I care about deeply: international travel and students," she said. "There is so much students learn from studying abroad and many doors open for them as a result of international experiences. I'm very excited about every student traveling abroad if they can."
With USF recently joining the Association of American Universities, Holbrook has worked at four AAU institutions. Before joining USF, Holbrook served as president of The Ohio State University, as vice president for research and dean of the Graduate School at the University of Florida, and as associate dean for research and professor of biological structure and medicine at the University of Washington, School of Medicine.
She also served as the senior vice president for academic affairs and provost at the University of Georgia and as a trustee for 17 years as well as the interim president at Embry Riddle Aeronautical University.
USF Foundation CEO Jay Stroman said this latest gift is another expression of Holbrook's career-spanning dedication to providing new educational opportunities for students, most recently at USF.
"The university has been so fortunate to benefit from Chancellor Holbrook's leadership and generosity for many years," he said. "This gift continues Karen and Jim's tireless work and will provide lifechanging experiences for students in the years to come."