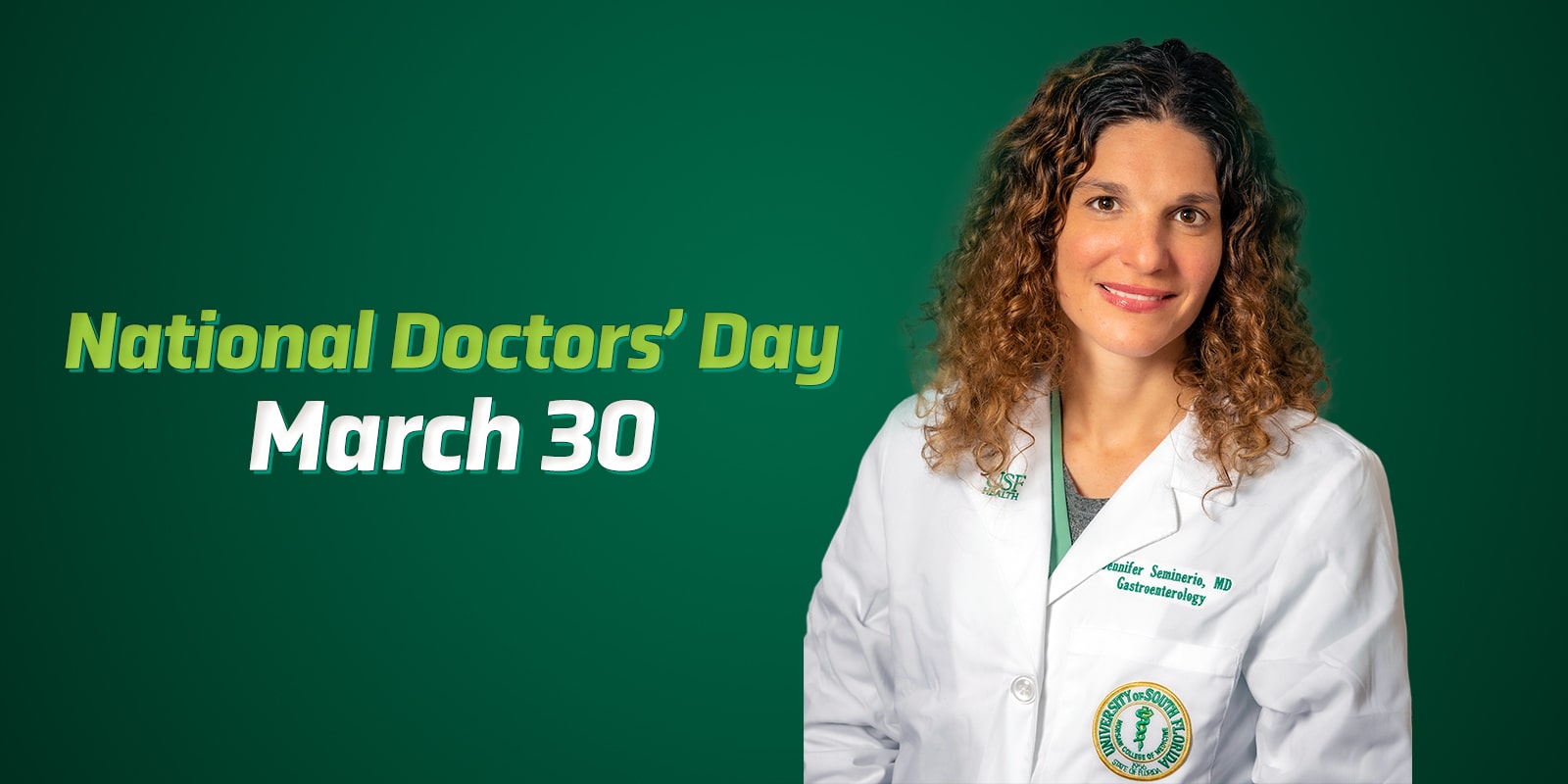 March 16, 2023
Mondays get packed with meetings, so Tuesdays through Fridays, Dr. Jennifer Seminerio sees as many patients as physically possible, starting her days early and foregoing lunch.
"If you've ever had a patient tell you they've been waiting six months for their appointment while they're suffering, it'll turn you pretty quickly," she said.
Seminerio specializes in gastroenterology, treating painful and debilitating illnesses such as Crohn's disease and ulcerative colitis. She is the medical director of the new Inflammatory Bowel Disease Center at the USF Health Morsani Center for Advanced Healthcare, the first multidisciplinary care center for inflammatory bowel disease (IBD) on Florida's west coast. She's also an assistant professor and associate program director of gastroenterology in the USF Health Morsani College of Medicine.
Seminerio's patients come from all over Florida, but she also has many snowbirds or "college birds" who live in the state for only part of the year. Through these patients, she has developed relationships with IBD physicians across the country.
"Collaboration is key," said Seminerio. "It's important to build a relationship with patients and put in the effort to communicate with other physicians. If any of us in the IBD community need our patient to go somewhere else, we usually know somebody. I'm excited I get to be that name in Tampa."
Seminerio first came to USF as the IBD director of research, and she still helps run multiple projects and write grants. She is also active in several IBD-related organizations, serving on committees for the Crohn's and Colitis Foundation and the Florida Gastroenterologic Society, among others. Once a month, she organizes an accredited continuing medical education program focused on IBD issues.
An outspoken advocate for IBD issues in the state, Seminerio meets with legislators each year to inform them about advocacy programs.
She works with the IBD team at the center every day and consults with Tampa General Hospital on any IBD patients there.
"The days are really busy, and I just try to make it as fruitful as possible," she said.
Crohn's disease patient Michelle Turman, MA '00, appreciates that dedication. The illness affects every aspect of your life, she said, and managing your own care can be exhausting. That's why she gave generously to help launch the IBD Center.
"I am forever grateful that I was introduced to the IBD doctors at USF Health in 2020," Turman said. "Their approach of healing the full spectrum of the disease and coordinating my care has made all the difference in my quality of daily life."
Of all her roles as a doctor, Seminerio said caring for patients is most important, providing a place where they feel listened to and where their needs are being met. At the end of the workday, she goes home to her husband and five kids, often cheering at least one of them on from the sidelines of a soccer field. It's a balancing act she enjoys.
"I love that my husband's not in medicine and when I go home, they don't care about any of this. And when they go to sleep, I'll get back on and check emails," she said.
Seminerio said she always wanted to be really good at one thing. In medical school, she explored internal medicine, intrigued by the investigation required to diagnose an illness. But after a loved one was diagnosed with Crohn's disease, she became obsessed with the condition.
"This is the thing I'm really good at. This has become my passion, and I don't ever get sick of it. I honest to God feel so grateful that I get to be a doctor in this specialty every day," she said.
Only about 15% of practicing gastroenterologists in the U.S. are women, and even fewer serve in leadership roles. At USF Health, four of the GI doctors, including Seminerio, are women.
"The biggest joy for me comes from when I make somebody who is really sick better. It's one of my favorite appointments," she said. "I always tell them that's the best thank you I can get, that they're better and that they're able to live their lives."
• • •
For National Doctors' Day, you can help celebrate USF Health doctors like Dr. Seminerio by making a gift in their honor. Your gift will support research conducted by USF Health doctors, and we will share your note of appreciation with your preferred doctor in advance of National Doctors' Day on March 30.