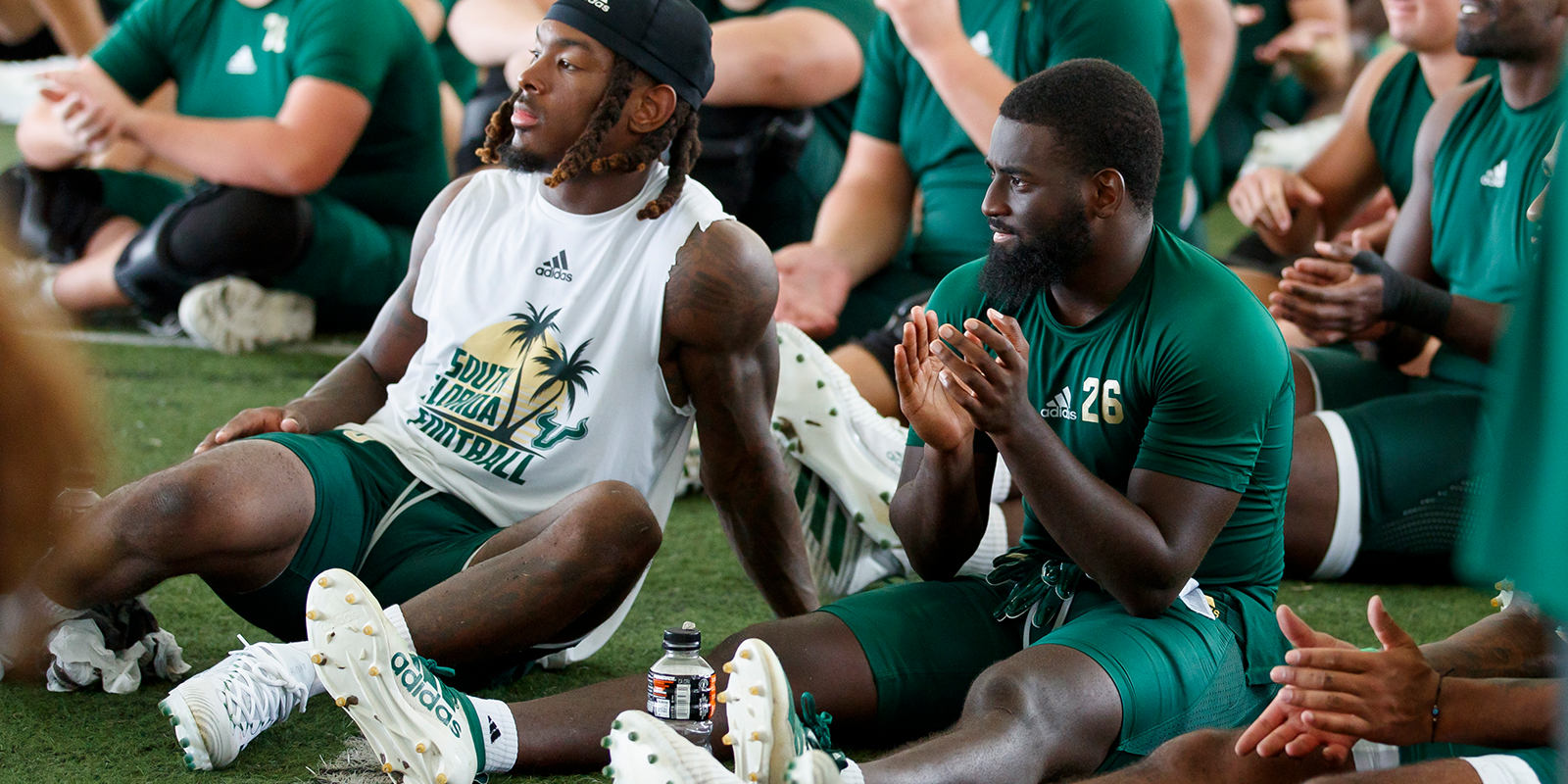 Above: At a groundbreaking event in Sept. 2021, student-athletes at the University of South Florida applaud the development of an Indoor Performance Facility on campus.
June 1, 2022
The University of South Florida is woven into the fabric of Adriana Wilsey's childhood. Her father, the late Donald Gifford*, was not only a USF alumnus, but served as president of the USF Alumni Association and USF Foundation.
"I was my dad's right-hand little partner," she said, describing how he would bring her to basketball games and other university events as a child. "I had the influence of USF very, very early on."
Adriana would eventually become a USF alumna herself, earning a bachelor's degree in education in 2006, after a brief career as an occupational therapy assistant and a decade as a stay-at-home mom. She eventually earned a master's degree at Nova Southeastern University and now serves as part of the administrative team as a math coach at Davis Elementary School in Tampa.
Her husband of 29 years, Michael Wilsey, '92, is also a USF alumnus, who went on to medical school at the University of Miami and a residency at Baylor College of Medicine and Texas Children's Hospital. An accomplished pediatric gastroenterologist, Michael is chief of medical staff and vice chair of the Department of Gastroenterology at Johns Hopkins All Children's Hospital in St. Petersburg, and a clinical professor in pediatrics at the USF Health Morsani College of Medicine.
Together they share a passion for USF Athletics.
When the Wilseys returned to the Tampa Bay area in 2002 after Michael completed his residency, they once again began attending USF athletic events, becoming season ticketholders for basketball and football.
But it isn't just in the stands that the Wilseys have shown their support for the Bulls.
"There's a time to learn, there's a time to earn, and there's a time to return the gifts that were so freely given to us," said Michael of their giving philosophy.
They first joined the USF Athletics' Victors Club, and for the last several years the Wilseys have been members of the Iron Bulls, which recognizes donors who give $10,000 or more annually to support USF athletes.
"We graduated as we were able to," said Michael, explaining they were among the youngest members of the Iron Bulls when they joined.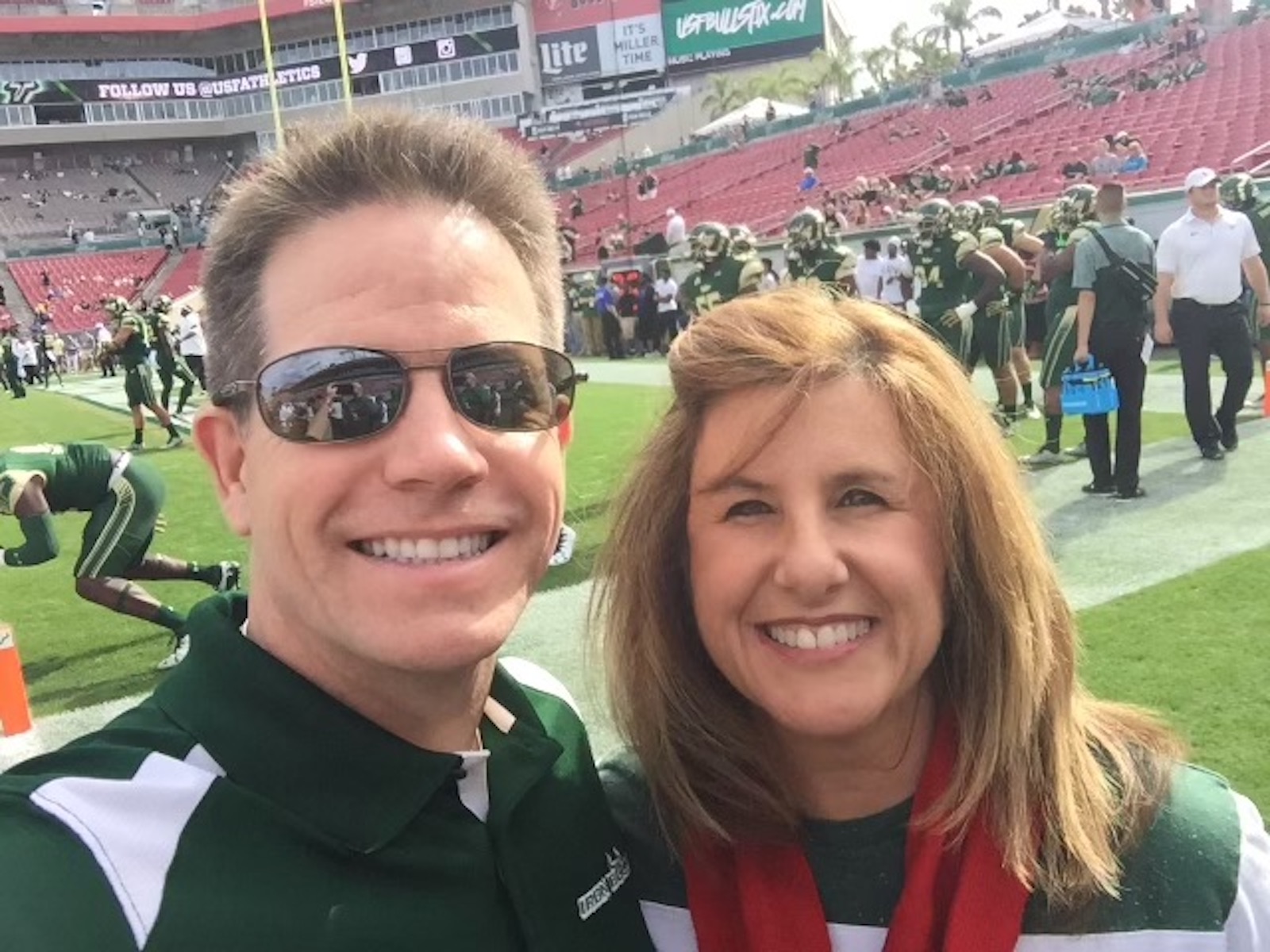 The Wilseys are particularly pleased with how the athletics program puts academics at the forefront for student-athletes, and they are impressed by the student-athlete graduation rate of 84 percent.
"It's not just sports. The focus we want our student-athletes to have is getting a great education. That's really important," Adriana said.
Inspired by a desire to support student-athletes in a tangible way and secure their legacy as Bulls fans, in 2019 the Wilseys made a generous blended gift to the USF Indoor Performance Facility, with half of the gift being made in cash and half earmarked for the center in their estate plan.
"I think the Indoor Performance Facility will help inspire current student-athletes and help recruit future student-athletes from all over the state and country," said Michael.
"We're totally in agreement with bringing that excitement and keeping it on campus," Adriana added. "The Indoor Performance Facility will be a special place for them to call their own."
Michael said they are happy to make the gift, and even though the estate portion will not be realized for many years to come, the Wilseys trust USF's leadership to know where it will best serve the university, the programs and the athletes in the program.
"We are committed to providing the best student-athlete experience in the country and generous gifts from donors like Mike and Adriana Wilsey — who share our goals and commitment to excellence — are how we will continue to provide the facilities that will attract top student-athletes and coaches and help them compete for championships at USF," said USF Athletic Director Mike Kelly.
In addition to financial resources, the Wilseys also give their time as part of the Selmon Mentoring Institute. As a former occupational therapy assistant, Adriana was paired with a student majoring in occupational therapy, an experience she relished.
"Both Michael and I really enjoy being a part of the Selmon Mentoring Institute and meeting some of the athletes one-on-one," she said.
"We appreciate the opportunity to be of service," Michael agreed. "We get to be part of the solution. Our gift hopefully will inspire others to give back to the university and help with the mission of the program and help it grow. We get to lead by example."
To learn more about how you can make a planned gift, please visit usfgiving.org.
*The USF Alumni Association's Donald A. Gifford Alumni Service award, which recognizes an alumnus who has rendered distinguished service to the university and the community, was renamed in 2000 in memory of Adriana Wilsey's father, Donald Gifford.