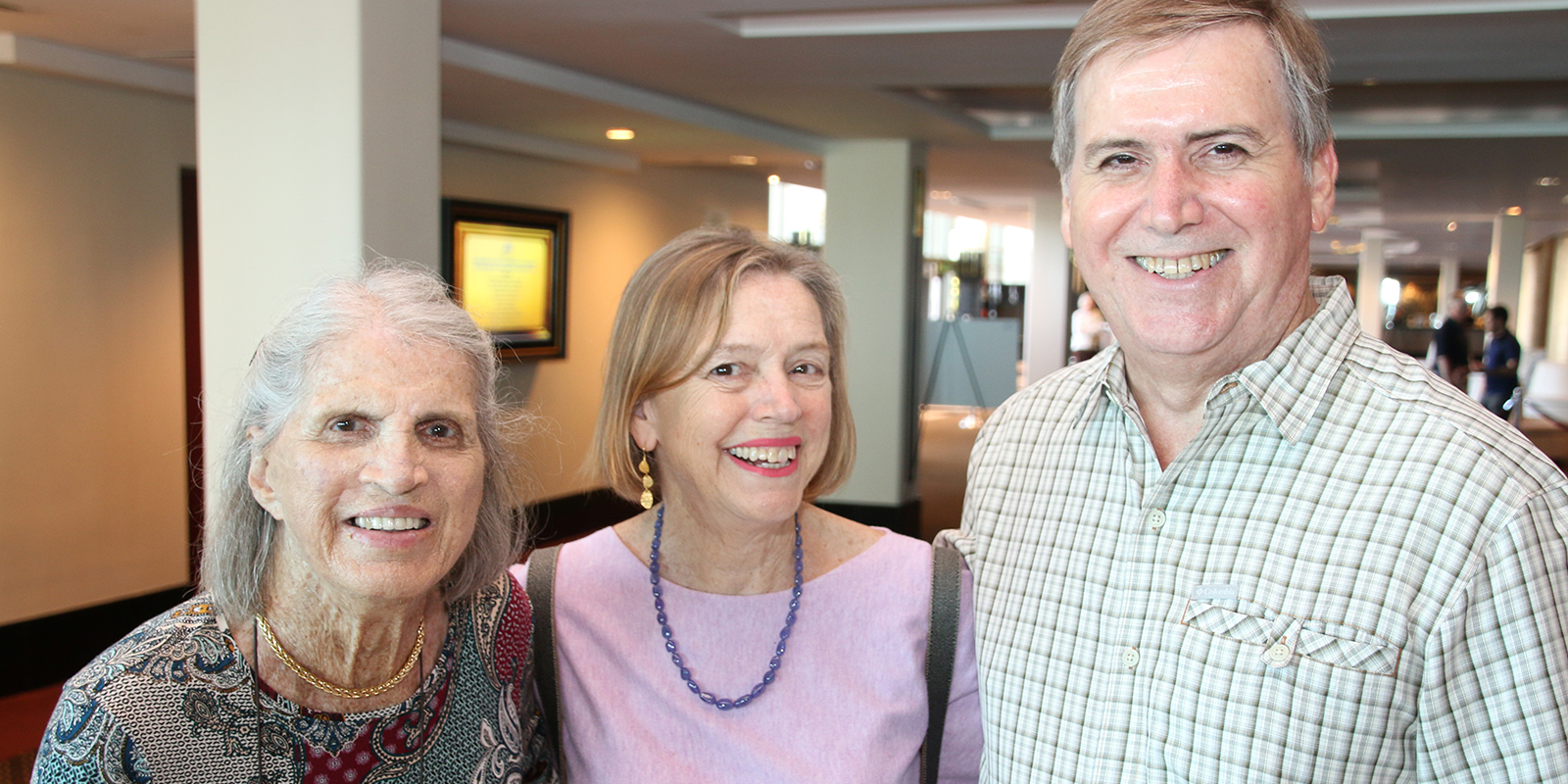 Nov. 18, 2021
A few years ago, Peter Betzer, founding dean of the USF College of Marine Science, received a call from Anne Von Rosenstiel, who said she really wanted to speak with him.
Betzer wondered if he'd done something wrong, but when he arrived at the meeting the following day, she asked him a question:
"What do you think are the most important needs for the College of Marine Science?"
While Betzer mentioned several things, ultimately he put forth the need for an innovation fund that would allow students to try out novel scientific ideas.
"That sounds good," she said. "I like it. Go home and write it up."
Betzer did, Von Rosenstiel signed off on it and a week or two later, a check for $500,000 arrived at the USF Foundation to establish the Von Rosenstiel Innovation Fund.
"I thought that was amazing," said Betzer. "There was no hesitation. If she was excited about something, that was it."
When Von Rosenstiel passed away in December 2019, she left a $3 million estate gift to be divided between the Innovation Fund and the Anne and Werner Von Rosenstiel Fellowship in Marine Science, which she had established with her late husband in 1993.
"We are deeply honored to receive this gift from the Von Rosenstiel family, whose ardent support of the College of Marine Science has been unparalleled in our 54-year history," said Tom Frazer, current dean of the college. "Anne and Werner's generosity continues to help us achieve international prominence. Their legacy lives on in our students, who continue to advance science in support of a better world."
The gift was a coda to decades of support to the college, going all the way back to helping attract the United States Geological Survey St. Petersburg Coastal and Marine Science Center to the area in the late 1980s.
"She was a major part of that victory," said Betzer, who said Von Rosenstiel maintained a very strong interest and involvement from then on. "She did more to elevate us, our programs, to national prominence than any other person."
Indeed, the Von Rosenstiels are the largest individual donors to the College of Marine Science, establishing the Von Rosenstiel Fellowship, supporting the Oceanography Camp for Girls and the Bridge to the Doctorate program and finally creating the Von Rosenstiel Innovation Fund, among other causes at USF and in the wider community.
Betzer described Von Rosenstiel as intelligent with wide-ranging interests, a talented painter and photographer who loved discussing books and ideas.
"She was somebody who loved to think about and understand things," said Betzer. "She loved interacting with our graduate students and listening to them talk about their research."
The additional funds to the Von Rosenstiel Fellowship provided by her estate gift will allow faculty in marine science to offer multiple years of support, making USF more competitive for the very best students.
Jonathan Sharp, who was a recipient of the Von Rosenstiel Fellowship the first year of his doctoral program, said having a reliable source of funding is also helpful to faculty.
"Having that source of funding instead of having to support all of their students from external grants is hugely beneficial," said Sharp, now a postdoctoral scholar at the University of Washington Cooperative Institute for Climate, Ocean and Ecosystem Science.
Sharp was also one of the first recipients of the Von Rosenstiel Innovation Fund, which allowed him and his co-researcher to purchase equipment. Though the project has been delayed due to the pandemic, Sharp is grateful for the support and the experience of applying.
"Putting that proposal together and presenting was really beneficial for me. That was my first foray into putting a collaborative idea together for a research project," he said.
With funding for scientific research harder and harder to come by, the Von Rosenstiel Innovation Fund helps fill that gap a bit, especially for new scientists. The funds can be used for everything from equipment purchases to international travel, depending on the researcher's needs — flexibility that is hard to find with other grants.
"The Innovation Fund is one of those things that's going to stand out to graduate students," said Betzer.
Betzer's successor, Jackie Dixon, who stepped down as dean in 2020, continued the relationship between Von Rosenstiel and the college. Like Betzer, Dixon saw Von Rosenstiel take a keen interest in the work of the college's graduate students, passionate about learning the students' personal stories.
"Everyone needs a champion," said Dixon. "And she was ours."