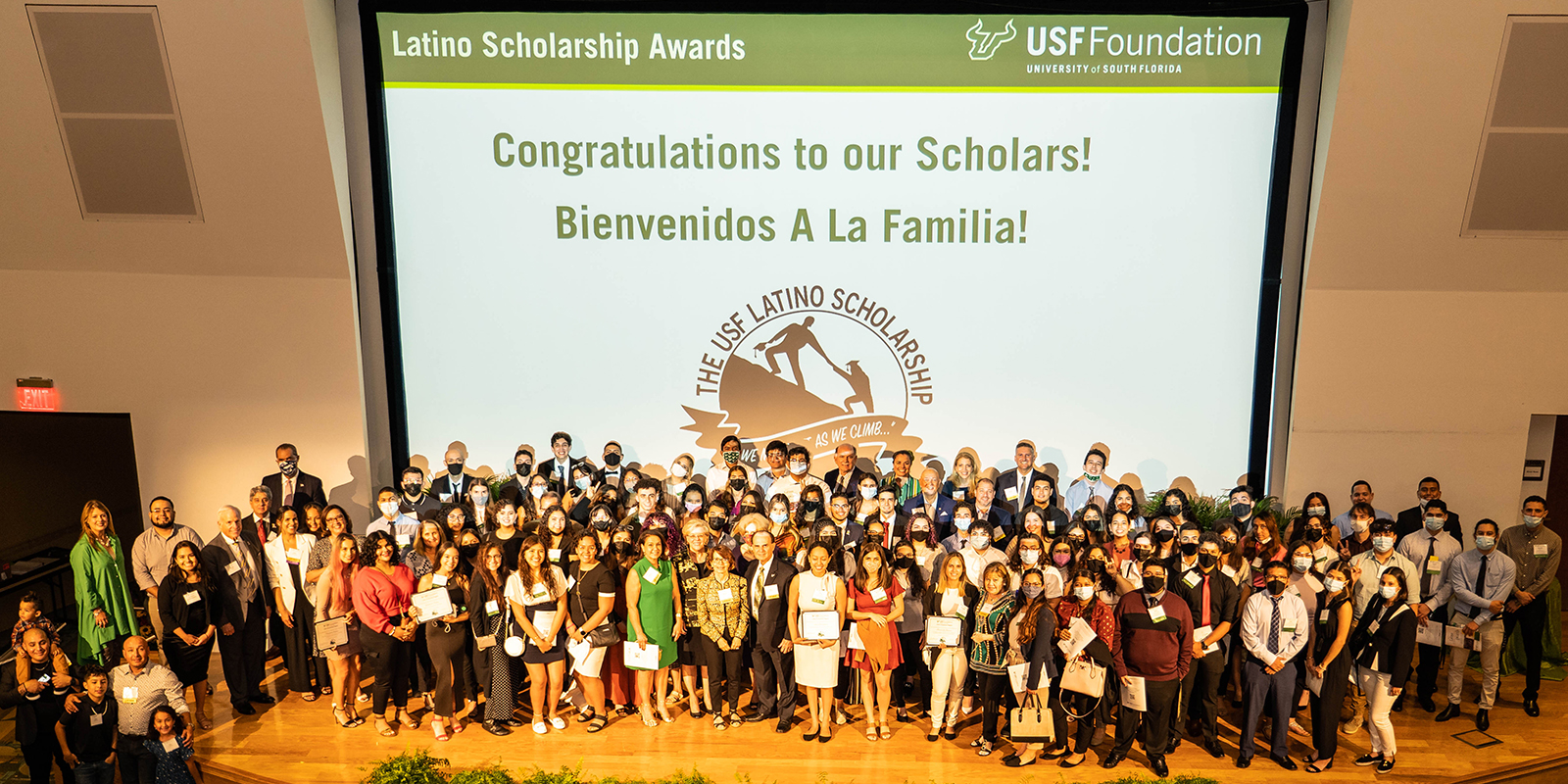 Oct. 6, 2021
On September 16, President Rhea Law and Foundation Board Chair Jose Valiente welcomed 140 undergraduate scholars at the 30th annual Latino Scholarship Awards Ceremony in the USF Marshall Student Center.
Founded in 1992 by generous members of the Latino community, the Latino Scholarship Program (LSP) creates pathways to higher education for Latinx students and provides them with tools for success upon graduation. Since its inception, LSP has awarded more than $4.2 million to over 600 graduates. With nearly 70 endowed and annual scholarships, the program currently supports more than 40 new and 100 returning students.
"USF's Latino Scholarship Program reflects a core commitment to help our talented Latino students access a world-class educational experience, not only by providing financial assistance, but through mentorship and community engagement," said President Law.
One of the greatest elements of the Latino Scholarship Program is the mentorship program, which pairs scholars with mentors. Mentors are donors to the program who support their students, not only financially, but by providing guidance and career advice as the students move through their educational continuum. LSP scholars also participate in a monthly professional development series to learn soft skills, such as resume writing, dinner etiquette and networking, that will help them gain the skills and confidence to succeed when they graduate.
Hosted by Jose Valiente '73, the ceremony featured remarks from former LSP recipient and donor Zaida Coronado DPT '08, '11, USF Latin Community Advisory Committee Chair Anthony Perez, and current scholarship recipients Stephanie Toledo and Eddy Santoyo.
"As a low-income first-generation student I did not know if or how I would be able to attend a university," said Toledo. "As soon as I knew that I was awarded the Latino Scholarship I felt proud of myself and excited for the future that I knew would be filled with opportunities to learn and collaborate."
According to the Education Trust, USF is recognized as the No. 1 public university in the nation for eliminating the completion gap between Latino students (of all races) and white, non-Latino students.