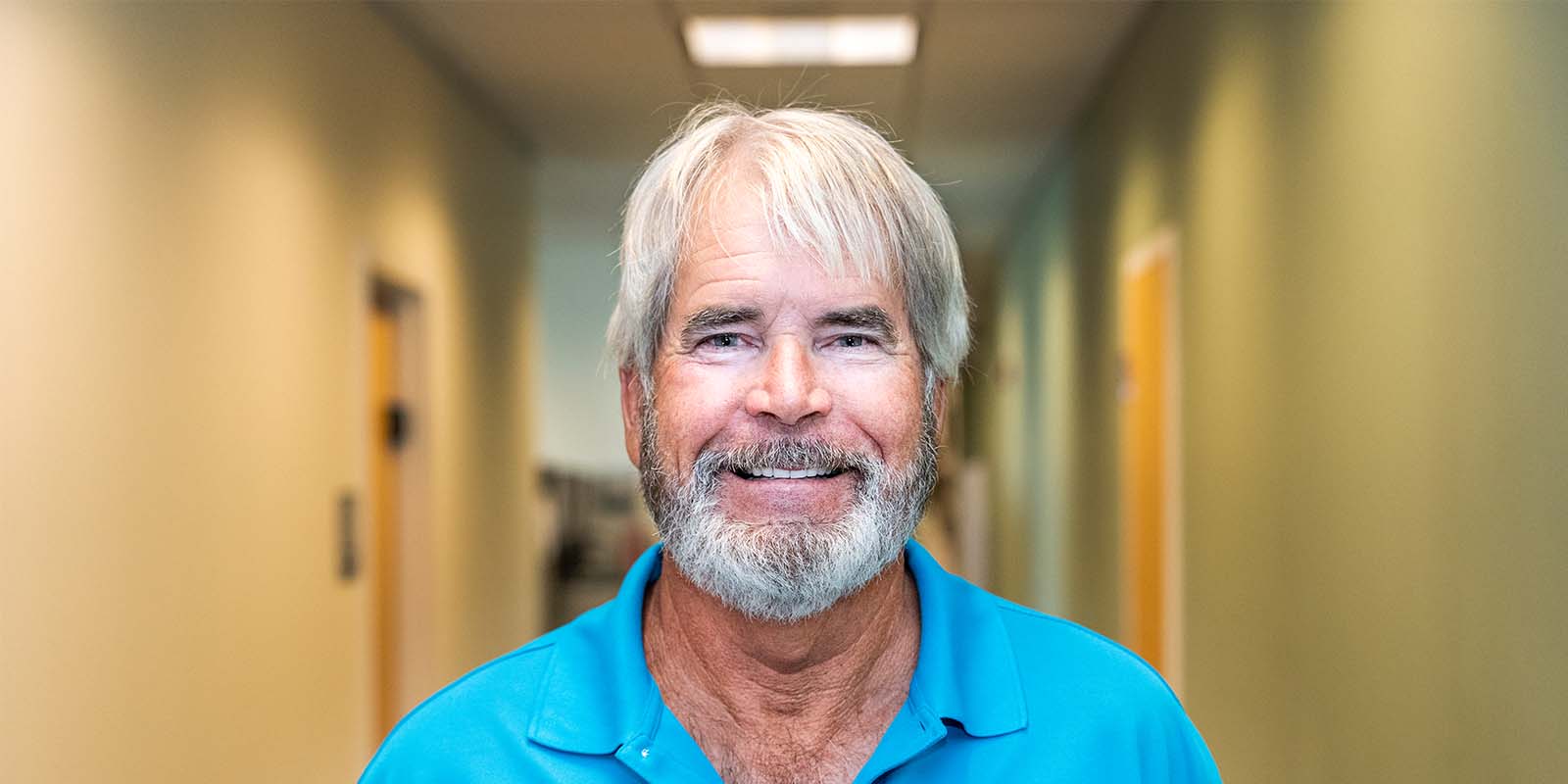 In October 2018, William "Bobby" Jacobsen was diagnosed with rectal cancer. He was told by his doctor that after receiving chemotherapy and radiation, his recovery would require surgery to attach a colostomy bag and possibly a reconnect after eight to 10 months. After completing a successful chemotherapy and radiation program, Jacobsen was placed on a "watch and wait" program.
A few months later, he was tested again, and his results showed that the cancer cells had come back.
The immediate decision was he would need to go back into surgery to get a colostomy bag, which would be difficult because of the area operated on. Since his surgeon was on vacation, Jacobsen took the opportunity to seek a second opinion.
He met with Jorge Marcet, MD, division director of colon and rectal surgery in the USF Health Department of Surgery, and after a few appointments, Dr. Marcet was confident that he could remove the remaining cancer cells without a complete operation. Now, more than two years later, Jacobsen is living a cancer-free life.
"USF Health made a huge difference in my life, because if I hadn't met Dr. Marcet, I would have had a colostomy bag, possibly forever. My lifestyle would have been affected if I had to go that way," said Jacobsen.
To show his gratitude for Dr. Marcet giving him the opportunity to continue living a normal life, Jacobsen established the William Jacobsen Program for Colorectal Education and Research to support the Division of Colon and Rectal Surgery at USF Health. Because of its endowment status, the fund will continuously generate interest to provide ongoing critical support to the division.
"The University of South Florida has established itself as a research powerhouse, and gifts from philanthropists like Mr. Jacobsen empower our physician scientists to continue discovering innovative and successful treatments for our patients," said USF President Rhea Law.
"It's exciting to see our patients giving back to support the work of their physicians as a sign of gratitude for the transformational care they received. This gift will tremendously impact the lives of patients for years to come," said USF Foundation CEO Jay Stroman.
The immediate impact of his gift will allow the division to add a research fellow to the team who has an interest in colorectal surgery and research. The fellow will contribute to critical clinical research, which will be published and presented at a national level and allow the team to collaborate with other likeminded researchers at other institutions throughout the country to develop more innovative clinical trials. These trials may ultimately result in novel treatments and knowledge that will impact patients in the future.
"I am truly grateful for Mr. Jacobsen's generosity, as his gift will strengthen colorectal research and education at USF Health to improve the quality of life for many other patients," said USF Health Senior Vice President and Morsani College of Medicine Dean Charles Lockwood.
Thanks to their research, Dr. Marcet and his team led the way in reducing the recommended age for colorectal screenings from age from 50 to 45. He has also successfully treated many patients with rectal cancer, while avoiding a major, life-altering operation.
"Colorectal cancer affects one in 10 people in this country and through some of our research, we've been able to demonstrate that the incidence of this disease has become higher in people younger than 50. We were the first group in this country, and in the world for that matter, that published this alarming rise in the incidence of colorectal cancer in people younger than 50," said Marcet.
With the help of his gift, Jacobsen is confident that Dr. Marcet will continue to save the lives of many people, as he did his, and help them to return to a healthy lifestyle after battling cancer.
"Life's been pretty good to me, and it's been a huge moment in my life to continue to be able to play golf, fish, and to live a completely normal life due to Dr. Marcet, USF, and the whole organization of Tampa General Hospital. I'm blessed that I'm living a completely cancer-free, normal life," said Jacobsen.
To support colorectal education and research, contact Kara Steiner at advancehealth(at)usf.edu.