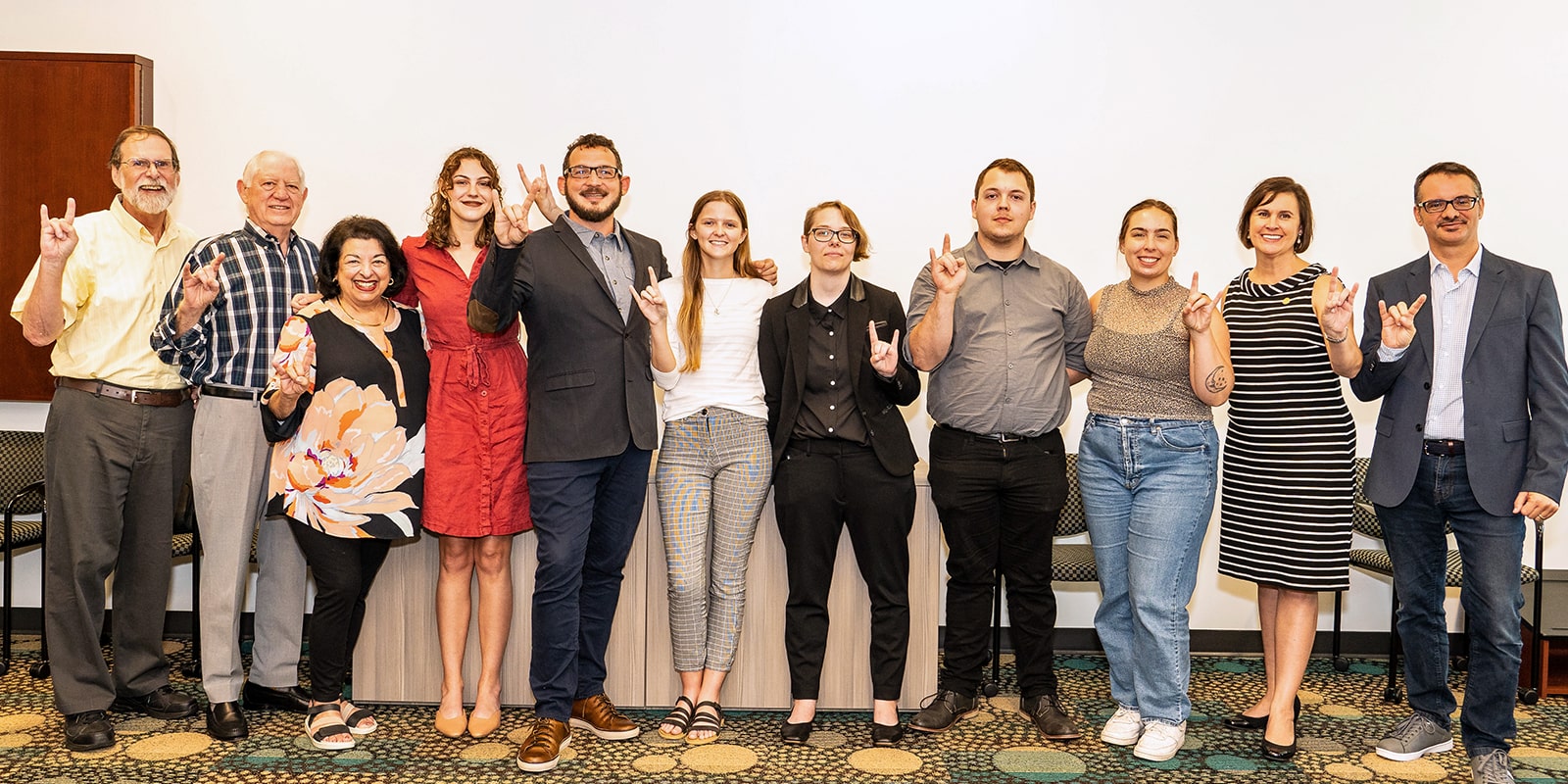 Oct. 28, 2022
It was a typical late September Friday afternoon on USF's Tampa campus — warm and sunny, with most students and faculty members wrapping up their final classes in anticipation of the weekend ahead. But inside one room in the Interdisciplinary Sciences Building, a group of students, professors and USF supporters were being transported far from campus, back to ancient Athens, Sicily and Malta.
Transported is the most appropriate word because these were not simply fast friends sharing stories and photos of study abroad adventures over coffee and cookies. There were 3-D models and virtual reality demonstrations that truly made the historic sites come to life for everyone lucky enough to attend.
"It was an irreplaceable experience," said Will Chastain of his visit to Athens as part of a student group during Spring Break 2021. Born and raised in Florida, the trip represented his first time on a plane, first time being outside the U.S. and first time being in snow. "In just one or two moments being there, I learned more about the place, and about myself, than I did in three years studying from textbooks."
Chastain and the other students were sharing their study-abroad experiences through the College of Arts and Sciences' Ancient Studies Center (ASC) and Institute for Digital Exploration (IDEx) with a small group of donors who helped make the trips possible. The last student to present was Stephan Hassan, who was part of two international teams performing excavations and archeological mapping of sites in Sicily and Greece. His remarks were particularly timely as he was leaving the following week to spend nine months in Sicily through a Fulbright Award he won.
"None of this would have been possible without the support of USF faculty and the generous supporters of me and my work," Hassan said.
Those words nearly brought a tear to the eye of Liana Fox, who along with her husband, Bob, fund the Accardi and Ferlita Family Scholarships that Hassan had been awarded. Liana, who earned her USF degrees in 1980 and 1998, studied abroad in Florence as an undergraduate and knows the power of experiencing another culture firsthand.
"I am so jealous with a capital J. What I loved the most was how each student took their own particular interest from the same trips and found something entirely relevant to who they are as people even beyond their studies," Liana said, her hand over her heart and her eyes filling with tears.
Michelle Turman knows those emotions and study abroad experiences well. A USF alumna who studied in Paris while pursuing her master's degree (after also studying abroad in Florence while an undergraduate at Florida State University), Turman funds a USF scholarship that bears her family name.
"Even playing a small role in their journeys and expanding their educational experiences and horizons to European culture is so special. There is nothing like it to be there and live it. It is amazing and refreshing to see it through their eyes," said Turman, a former art museum director who is also the founder and CEO of Catalyst Consulting Services, which specializes in executive searches, organizational management and fundraising.
Bill Murray, the Mary and Gus Stathis Professor of Greek History, has been at USF for 40 years. He has seen how all gifts to the program, large and small, enable students to see parts of the world that would not have been accessible otherwise.
"When you're 70 years old like I am and can still get excited by the experiences these students have had, that says a lot about this place and about the incredibly generous supporters we have," Murray said.
Kaitlyn Kingsland, a doctoral student and trained archaeologist, participated in her first excavation outside the U.S. during a trip to Malta. She beamed sharing how much richer and more accurate the 3-D models are than the traditional way of using hand drawings to document a catacomb that dates to the mid-1600s, and then being able to take those models and quickly turn them into virtual reality walkthroughs of the site. But there was also a less than pleasant surprise on her trip.
"The spiders were the most aggressive I have ever seen," Kingsland said. "They tried to walk off with our equipment."
Luckily, no spiders were seen during the meeting with donors and faculty.