The USF Ice Bulls need your help!
We have seen tremendous growth in the desire for USF students to take part in the sport of hockey at USF. This season, we have had over 75 college students try out by showcasing their skills on the ice to join the USF Ice Bulls. Of the 75 students that try out, 22 students make it to the developmental team. With this increased interest in hockey, the Ice Bulls have added a developmental team to also represent the University of South Florida, in addition to our nationally ranked American Collegiate Hockey Association (ACHA) team.
With a season of hockey being very costly to our team, we need your support to help off-set the costs associated with our developmental team. With your help, we will be able to cover the costs of purchasing ice time for play and practice, expenses for away game travel, and training support to aid the athletic skills of our hockey players.
By supporting the Ice Bulls developmental team, you are enabling dreams to come true. Your investment will have a profound impact, enabling students to compete and share their school pride while representing USF on the ice. You are facilitating opportunities for game play at the collegiate level, both within and outside of our state.
Your Impact
Your investment in the Ice Bulls developmental team also makes our program appealing to potential recruits coming to USF. We want the best joining our highly ranked hockey program. With our developmental program getting more financial support from people like you, the University of South Florida can create a stronger pipeline of skilled athletes and grow in our national rankings amongst other collegiate hockey teams.
Hockey is an expensive sport – one that many desire to play and have the talent and skills to back their passion, but cannot afford as a college student. With your support, these students can share their talent and love for the sport of hockey and represent USF on ice throughout the United States.
Spread The Word
We are counting on your help! Make an even bigger impact by sharing your support of this campaign using the social media tools at the top of the page.
Thank you for supporting the Ice Bulls developmental team! Go Bulls!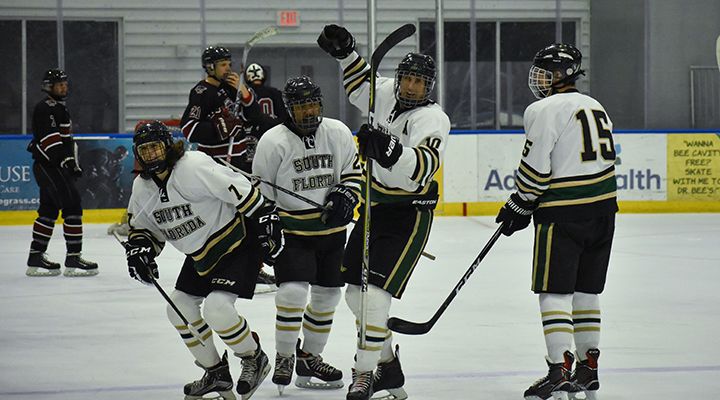 ---
Your gift of $25 can help with the cost of meals for road games and athletic tape needed during games.
---
Your gift of $50 can go towards the purchase of team jerseys for our Ice Bulls.
---
Your gift of $100 will aide the Ice Bulls with expansion costs as the sport of hockey grows at USF.
---
Your gift of $250 can help our team travel to games out of state.
---
Your gift of $500 will help offset ice time costs for games and practices.
---
Your gift of $1,000 will cover all costs and provide a student the opportunity to play for an entire season with the Ice Bulls.
---
Gifts of any size make an impact! Enter your custom gift amount.