The Project/Challenge
Due to multidimensional historical and social factors, there is limited diversity among leading researchers, undermining innovation. Very few academics are first-generation scholars, from low-income backgrounds, or underrepresented ethnic groups. Evidence suggests that a lack of diversity makes research careers less appealing to women and persons from disadvantaged backgrounds.
We have a world-class laboratory and learning center that trains students to conduct scientific studies to improve the health and wellness of families locally and around the country. Students use rigorous research and dissemination techniques to tackle the major challenges facing families and communities.
Who We Are
We are a state-of-the-art research laboratory and learning center that facilitates student-led scientific studies that help to improve public health and eliminate health disparities. Our diverse community includes undergraduate students, graduate students, and early career investigators. Our lab focuses on behavioral health including research on substance use and addiction.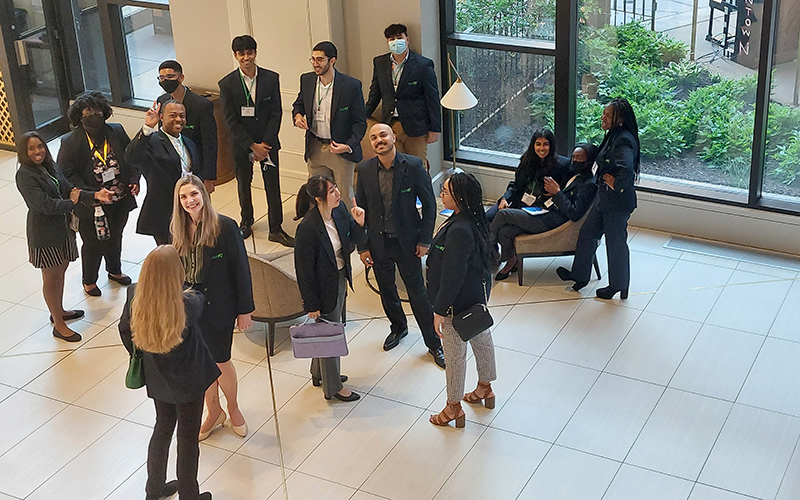 The Impact
Supporting diverse populations of research scientists increases creativity, innovation, treatment and intervention strategies in the research world, which will help us find better solutions. Understanding how to mitigate the risk of developing substance use disorders, and to treat people who have developed substance use disorders. Your donation will ensure our trainees have the resources needed to develop the skills to conduct this research.
What Your Gifts Will Do
Your gift will enable us to support underrepresented students and early career professionals in obtaining the skills necessary to become addictions research scientists, including lab equipment (computers, analytics software, data), research methods training, and linkages to distinguished scientists across the globe).
Thanks for Your Support!
The Johnson Lab is extremely appreciative of your generosity, as any gift you can provide
makes a difference. Together, we are supporting a spirit of research excellence, team
science, and positively impacting the lives of researchers who are destined to make a
difference in the areas of behavioral health, substance misuse research, intervention and
treatment. On behalf of our trainees from all over the globe, we say thank you!
Spread the Word!
Please consider helping us make an even bigger impact by simply sharing your support of this campaign on social media. Simply select the social media tools at the top of the page and insert the following message:
Be a part of #TheJohnsonResearchLab by making a gift of any size to the Future Scientists Operating Fund. Your gift will support an underrepresented future scientist in developing research skills in the Johnson Research Lab.
Thank you and #GoBulls!
***Feel free to tag us on Instagram- Johnsonresearchlab or our LinkedIn
---
A gift of $25 can support the Future Scientists lab in identifying and targeting student participants.
---
A gift of $50 can help support interaction with internationally renowned scholars through online education and discussion.
---
A gift of $100 can help to cover a year's worth of license for our statistical analysis software.
---
A gift of $250 fully supports a student trainee for 1-year.
---
A gift of $500 can cover one student researcher's registration costs to present at a prestigious conference.
---
A gift of $1,000 can help cover transportation costs for student presenters at conferences where they will meet experts in the field along with potential mentors.
---
Gifts of any size make an impact! Enter your custom gift amount.