ENGAGING THE COMMUNITY. EMPOWING OUR SCHOLARS.
The Black Leadership Network (BLN) is a partnership-based group focused on engaging the community and enhancing the educational and leadership opportunities for African-American scholars within the USF System.
WHAT CAN YOUR SUPPORT DO?
Your partnership funds student scholarships and programs that focus on life skills, professional development and mentoring. BLN membership also gives you access to students and the ability to watch the lives you impact grow and thrive into tomorrow's leaders.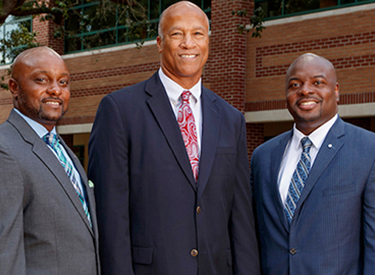 Left to right: Anddrikk, Bell & Narain


BLN was co-founded in 2017 by Jerry Bell, Anddrikk Frazier and Edwin Narain.
"The story I want to eliminate is that of a good student who just needed a thousand dollars to stay in school, but didn't have the money," says Bell. "We want to make sure those students don't fall by the wayside because they don't have the funds. We want to give them a fair chance."
If you would like to create your own BLN scholarship, contact us.
Steven Currall, President USF System
This university belongs to all of us.
Your Impact