Taking Stock of Their Future at USF St. Petersburg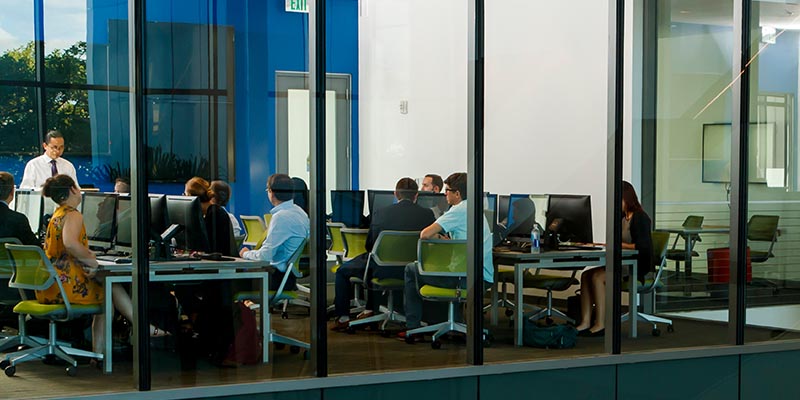 Students at the USF St. Petersburg Kate Tiedemann College of Business (KTCOB) are investing in their future these days by learning to invest in the stock market – thanks to a $500,000 gift from the Bank of America Charitable Foundation. The funds support KTCOB's cutting-edge Merrill Lynch Wealth Management Center, where students can analyze stocks, evaluate investment opportunities, and manage real money utilizing skills and knowledge learned in class. The center provides invaluable first-hand experience in a customized trading room, featuring computers with extended monitors that allow for crucial split-screen display, the Bloomberg Professional Services platform and an LED ticker constantly providing market updates.
But the real challenge involves putting to use actual dollars from the Student Managed Investment Fund – fueled by three iconic USFSP donors: Kate Tiedemann (whose landmark $10 million in 2014 named the USFSP College of Business); philanthropist Ellen Cotton (who contributed an additional $1 million for student scholarships and named the College's Ellen Cotton Atrium), and Lynn Pippenger, MBA '88 (whose $5 million gift led to the naming of Lynn Pippenger Hall). Tiedemann and Cotton seeded the student investment fund with $250,000 and Pippenger matched it with an additional $250,000.
Half of the Bank of America grant will go toward operating the Merrill Lynch Wealth Management Center, with the other half supporting financial literacy initiatives for high school students, collegians and members of the community. "Finance students need hands-on experience with investments while in school so they are fully prepared for the job market," says KTCOB dean Sridhar Sundaram. "This investment will allow us to operate a program that will do just that."