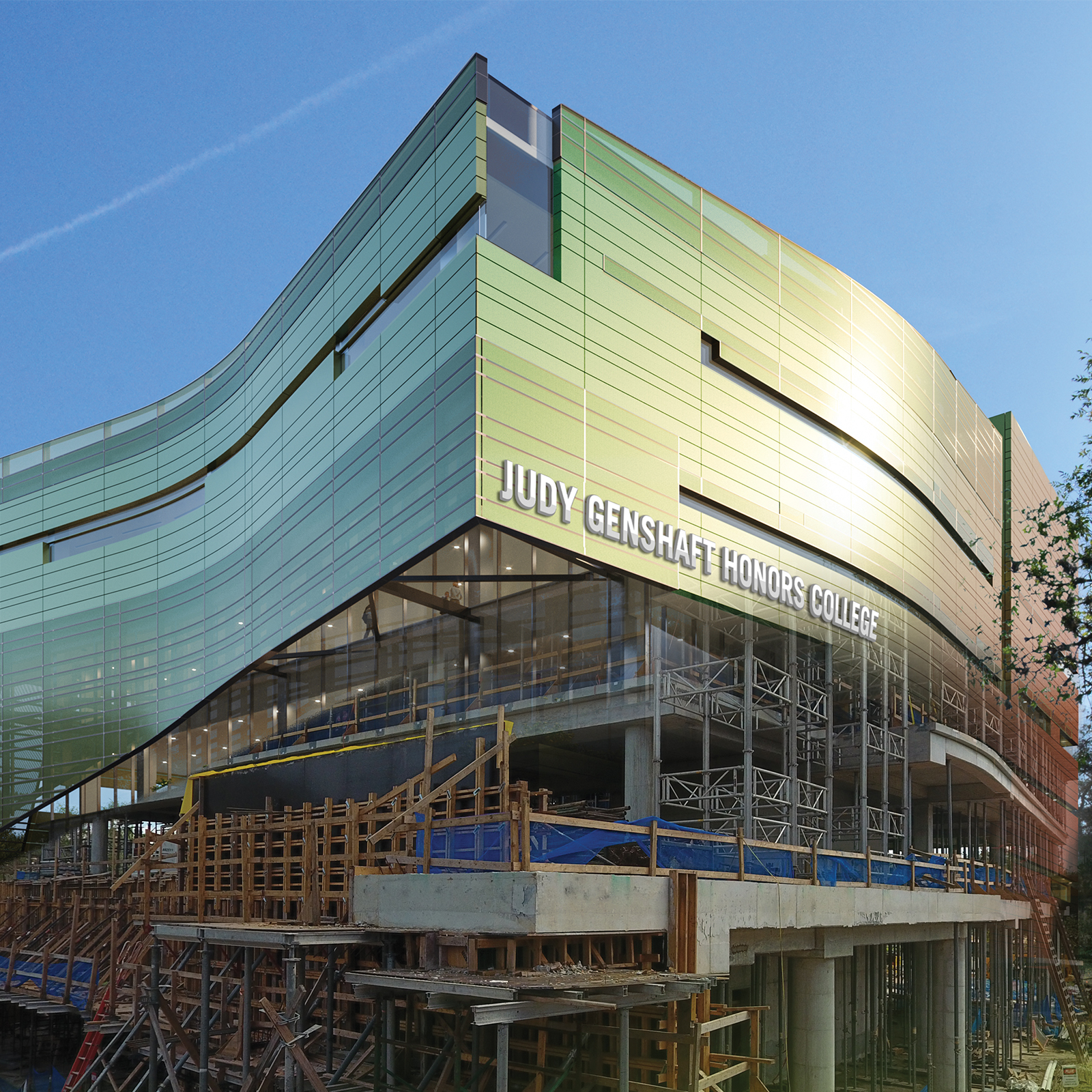 Nov. 18, 2021
Brick by brick, the Judy Genshaft Honors College (JGHC) is rising higher each day, forever transforming the USF Tampa campus skyline.
The highly anticipated, soon-to-be five-story building will serve as a learning and engagement hub and on-campus home for some of the best and brightest Bulls at the University of South Florida.
Inspired by the college's out-of-the-box teaching philosophy, the innovative 85,000 square foot glass-and-steel facility will feature many unique and flexible spaces for JGHC students to learn, collaborate and thrive.
"Having one of the most premier honors colleges in the nation is just one way USF will distinguish itself as one of the most elite and forward-thinking institutions in the world," said President Emerita and Professor Judy Genshaft at the groundbreaking on Dec. 1, 2020. "This stellar new home for our already excellent college will help attract top talent to USF, making an indelible impact on our community for years to come. We are delighted to see this dream become a reality."
Under her leadership, the existing USF "Honors Program" became an "Honors College" in 2002. Originally allocated a modest suite in the Student Services Building on the Tampa campus, the rapidly expanding college quickly outgrew that space and moved to larger quarters in the John and Grace Allen Building in 2011. Barely a decade later, the college is bursting at the seams again.
Moving to the new building will enable the college to grow from its current 2,400 students to a total of 3,000 students.
In 2019, outgoing President Judy Genshaft and her husband, Steve Greenbaum, made a historic $20 million gift to name the college and partially fund the $54 million cost of building a new home for the university's many world-changing students.
Additional generous gifts have been made by friends of the college, including an anonymous foundation which has provided a challenge gift matching any future gifts to the building, dollar-for-dollar.
The Judy Genshaft Honors College building will open its doors to students in spring 2023. After traveling the campus for 20 years, the college will finally have a permanent address: 12260 USF Genshaft Drive.