Give the Gift of Scholarship
While the Bulls have continued to shatter records on the field — a first ever 10-win season, a single-season touchdown mark, the first ever USF quarterback to throw for 2,000 yards and rush for 1,000 yards in the same year — the Bulls have been equally as impressive off the field.
In 2015-16, a program-record 38 football student-athletes earned conference all-academic honors making the third straight year USF Football has posted a record number of selections. USF Football's 2.9 team GPA among its 93 student-athletes enrolled in the spring semester was the highest term GPA in program history. As of November 2016, USF Football improved their Graduation Success Rate (GSR) score for the fourth straight year, logging a program-record 82%, well above the 74% national average for FBS football programs.
This holiday season we ask that you make a contribution to support the gift of scholarship. Doing so enhances the student-athlete experience by promoting the intersection of sport and higher education, and empowers our student-athletes to live out their dreams of playing and competing at the Division I level while earning a world-class education in the process.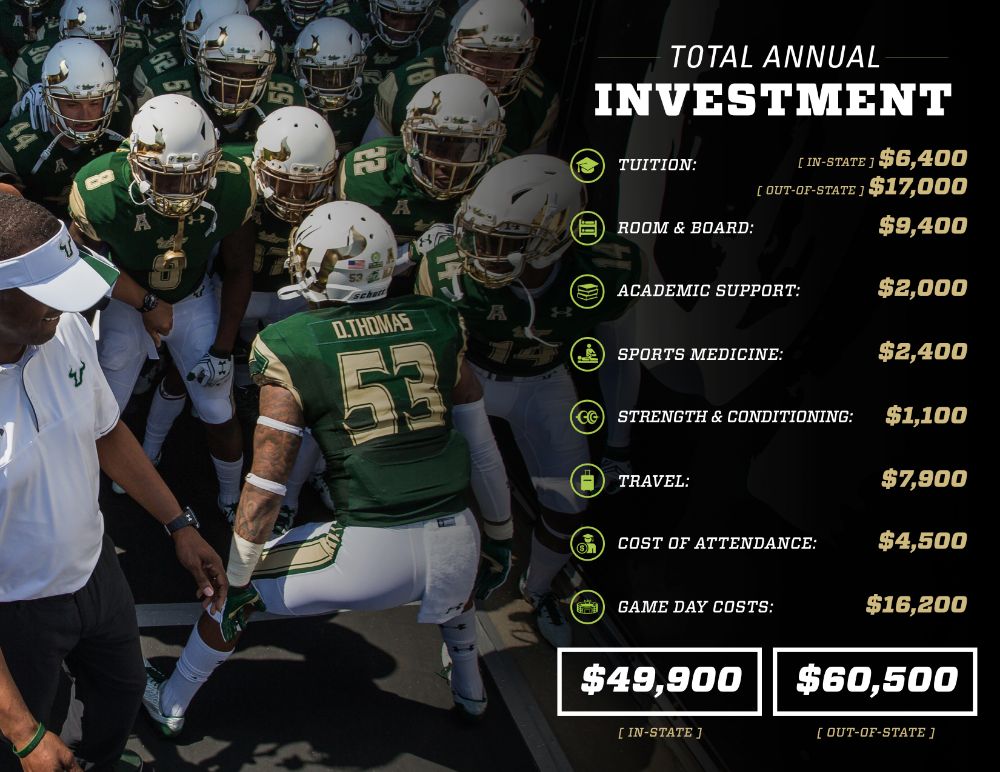 ---
With the Bulls first-ever 10-win season, help celebrate by giving $10 to support football scholarships.
---
At the crossroads of our past and our potential, join the team behind the team in our 20th Anniversary season.
---
Financing the total student-athlete experience costs roughly $50,000 annually per student-athlete.
---
Another year, another program-record Graduation Success Rate of 82%.
---
It's about "U." It's about "US." It's about "USF." Welcome to our Bulls Club family!
---
Gifts of any size make an impact! Enter your custom gift amount.