Gold Medal Games COMPETING CATEGORIES
CYCLE SPRINT
Awarded to the unit that is first to goal within their group.
HIGH JUMP
Awarded to the unit within each group who achieves the highest participation percentage within their group.
ARCHERY
Awarded to all units who hit their "target" goal last year and again this year.
POLE VAULT
Awarded to all units that reach at least 2% OVER their goal. Units who reach 100% will automatically achieve this.
EQUESTRIAN JUMP
Awarded to all units that "raise the bar" from last year to increase this year. Units at 100% automatically achieve this.
SOFTBALL
There will be four bi-monthly challenges throughout the year. Units who simply participate in all four challenges will be awarded "Softball Grand Slam Champions."
TRIATHLON
The triathlete award will be given to any unit that achieves three of the already mentioned competing categories.
---
COMPETING GROUPS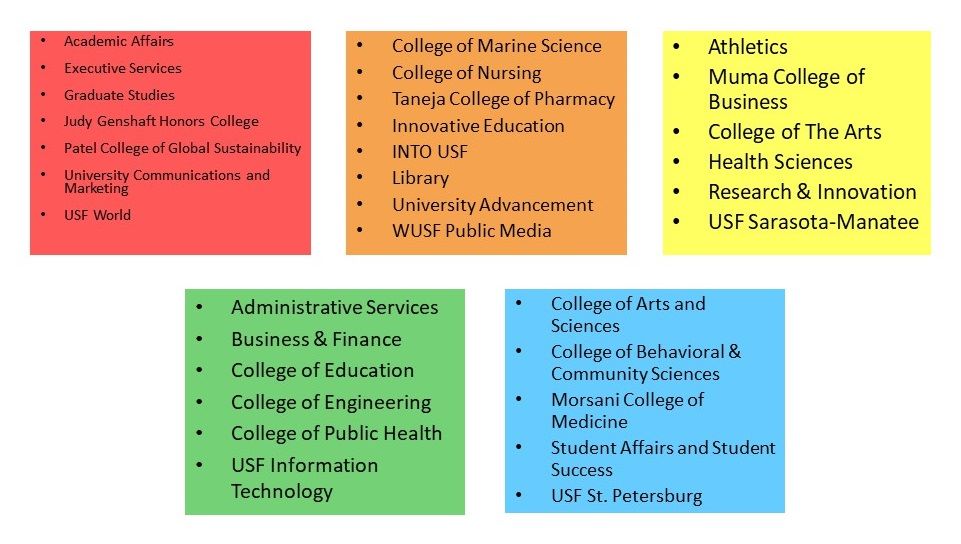 ---
Official Rules
Colleges and units have been split into five groups based on employee counts so that similar sized units are competing within their same group.
Units will strive to increase their participation percentage throughout the year to compete to win the Gold Medal Games categories. The unit to win each of the categories will be awarded at the spring closing event.
Please note each unit also has an individual unit participation goal to meet so that we are able to achieve our overall USF System goal. All units who meet their goal by the closing event will be recognized.
Steven Currall, President USF System
This university belongs to all of us.
Your Impact