Match This: Young Alumnae Establish Scholarship to Pay it Forward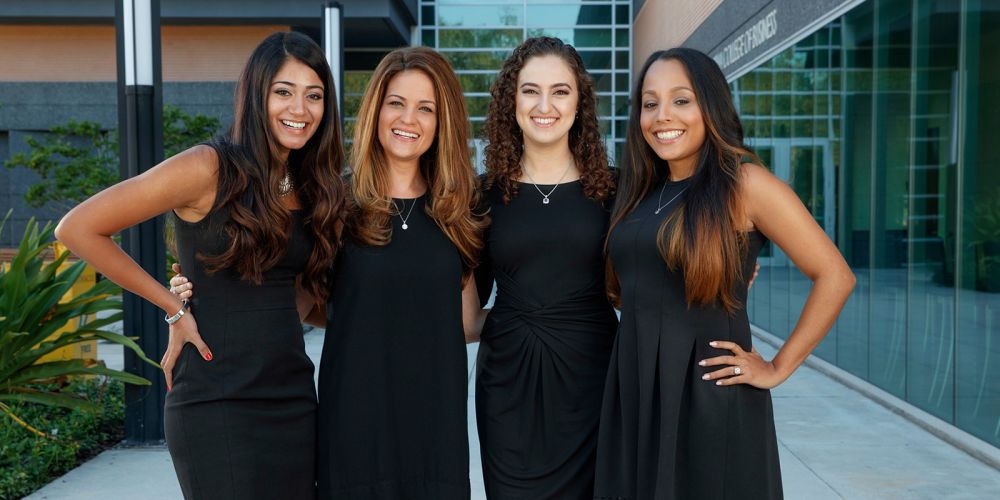 In 2012 Fadwa Hilili, an undergraduate student at the USF Muma College of Business, had a serious problem: The next semester was rapidly approaching, and she still owed a balance on her tuition. Although she usually took 15 to 18 credit hours a semester, an accelerated schedule that would enable her to graduate in less than three years, she was now considering dropping a class in order to afford her books and tuition.
"But then I got an email that changed everything," said Hilili. "I had been selected as a Barron Collier first-generation scholarship recipient! It was a rush of relief, knowing that I could pay for my classes and focus on my studies."
It was also the inspiration that sparked her desire to return to USF after graduation and do the same for another student.
Later that year, while participating in the Corporate Mentor Program, Hilili became fast friends with three fellow accounting students as they bonded over their shared class assignments, interest in professional development and self-improvement, and strong desire to give back to USF.
"While students, we were each very fortunate to receive scholarship assistance from the university and the Muma College of Business in one way or another," said Giselle Lara. "I remember attending a scholarship luncheon as a student and feeling so honored and privileged that through the graces of a donor, I was able to pay for my books and take out one less student loan. That day I set a goal to return to USF one day as a donor and pass the gift on to the next generation of business women."
Fast-forward to 2016, Hilili ('13, '15) and Lara ('11, '13), now two-time alumnae of the USF Lynn Pippenger School of Accountancy, and their friends and former classmates Anna Morra ('14) and Puja Patel ('12, '14), are returning to the annual scholarship luncheon as donors. After Hilili graduated with a master's degree in accounting, the group of friends decided to team up and establish their own scholarship at USF — the Forward Scholarship for Women of Excellence.
"I love this story because this is really the proof that our donors are inspiring our younger graduates to give back," said Moez Limayem, dean of the Muma College of Business. "These four women were grateful for the support that was provided to them, and like the donors that provided the scholarships that they received as students, these alumnae were determined to leave a legacy."
The scholarship specifically benefits women studying accounting with a financial need and proven academic merit. Recipients of the scholarship are encouraged to contribute back — once able — to the college and help another woman break into the field.
"Our vision for this scholarship is to continue the advancement of USF alumnae in business," said Lara. "We want to help grow a culture of giving at USF and hope that recipients of the award will pay it forward to other female Bulls in business one day. Given the challenges women face entering the business world, we feel it is especially important for successful women to reach back and empower the next generation."
Accounting major Rebecca Hatz, who will graduate in 2017, is the inaugural recipient of the scholarship. The four donors met Hatz in August at the college's annual scholarship luncheon. It reminded Hilili of the luncheon she attended as a student and the gratitude she felt when meeting her donor.
"Personally, if it weren't for the help of generous donors and mentors," said Hilili, "it would have taken me a lot longer to graduate, and I wouldn't have been able to make the best decisions for my career."
Each woman personally pledged to contribute $1,250 to the scholarship and some were able to take advantage of their employers' corporate matching programs, reducing their out-of-pocket donation to $625, and raising $5,000 for the scholarship overall.
"They are working together to reach back and give a gift to the next student in line," said Limayem. "That is impactful giving. That is what makes USF Unstoppable!"