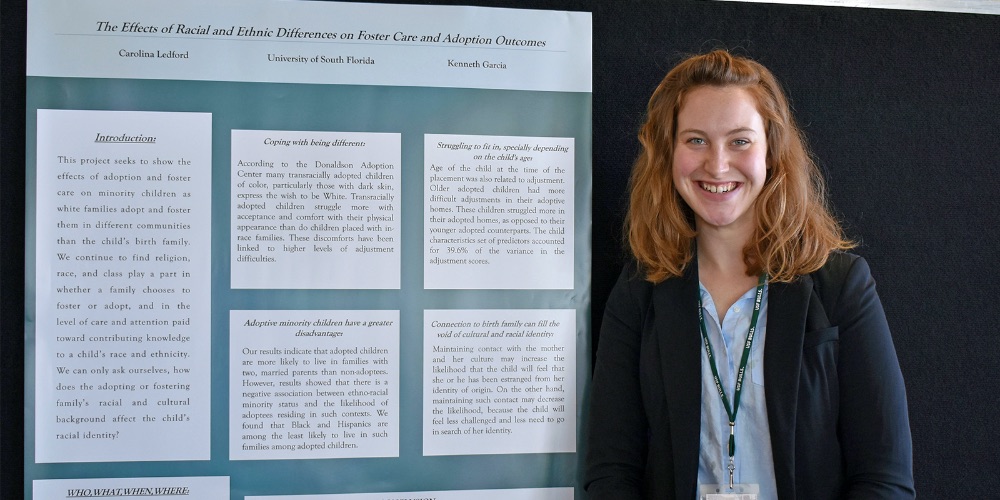 Dec. 8, 2020
The late Clara Cooper's passion was teaching the humanities of her native India and introducing students to a country many people in the U.S. didn't know much about.
"She was a wonderful teacher, and the students just loved her," said Sara Deats, a close friend and fellow University of South Florida professor (now retired).
Cooper was born in Secunderavad, India, in 1936. She came to the U.S. to attend graduate school at Florida State University, earning her doctorate in 1969 before joining the faculty at USF. Throughout her life, she remained close to her two sisters who also immigrated to Florida.
Cooper's scholarship was centered on the humanities of India, and she wrote the definitive study of Hindu mystic Swami Vivekananda.
"She loved writing that book, but mainly she was a teacher," said Deats.
Cooper always wore a sari when she taught, often accessorized with beautiful jewelry.
"With that sari and her lovely jewelry, she made the most glamourous impression," said Deats, adding that Cooper spoke "the most beautiful British English" as well as Gujarati and Hindi. "I'm sure the students were quite overwhelmed."
Deats said Cooper had a wonderful sense of humor, and though she was a "lady to her fingertips," she was not at all stuffy.
"She had quite an unladylike laugh," said Deats. "She could really have a guffaw if it was something she found humorous."
Her teaching specialties were Humanities of East and West and Humanities of India. Daniel Rutenberg, another friend and fellow USF faculty member (also now retired), said not only did Cooper have a good knowledge of Hindu philosophy and major Indian writings, but she understood movements, how the music, the visual arts and the philosophy were related to each other.
But as diversified and sometimes profound as her intellect was, Cooper was known more for kindness.
"If a student felt a little lost, a little ill at ease, Dr. Cooper was the person to see," said Rutenberg. "There was always a stream of students coming by her office. She was as good in her interpersonal relationships as she was in her classroom."
When planning her estate, Cooper wanted to leave a significant legacy for both her students and the university that had given her so much. When she passed away on Jan. 29, 2019, Cooper left the bulk of her estate — nearly $875,000 — to create the Clara Cooper Endowed Fund for the Humanities Institute at USF.
"It would be hard to overstate the importance of the humanities at this pivotal time in our society, where questions of how we should treat one another are paramount," said Eric Eisenberg, dean of the College of Arts and Sciences where the institute is housed.
The Humanities Institute was established in 2003 to help promote scholarship and educational engagement across the humanities disciplines. Eisenberg said the institute is the one unit in the university whose sole purpose is to explore questions of meaning and value in society.
"This extraordinary gift from Clara Cooper gives us the freedom and ability to dream bigger about how we might expand all of these critical conversations throughout the Tampa Bay region, and to bring the lessons of literature, poetry, philosophy and the like to inform and inspire as many people as possible," said Eisenberg.
Today, the Humanities Institute, led by director Liz Kicak, supports three program areas.
The first is organizing public events that bring outside experts and thought leaders to campus to share their knowledge with the USF and greater Tampa Bay communities.
For the fall semester, the institute hosted a series of virtual events, including a talk by anti-racist educator and political organizer Frank Leon Roberts, a reading by Pulitzer Prize–winning poet Jericho Brown, the annual Humanities & Hops: Home Brew Edition on "Finding your Calling," and two book groups to discuss Jaquira Diaz's Ordinary Girls and Claudia Rankine's Citizen: An American Lyric.
The other areas the Humanities Institute supports are promoting faculty scholarship and student research. Each year the institute provides summer research grants of up to $5,000 through the Office of Research to 10 faculty members.
Fittingly, Cooper's endowment will make the biggest impact on the institute's efforts to engage students in research at both the graduate and undergraduate level.
As soon as COVID-19 travel restrictions are lifted, Kicak said the institute will begin funding travel for graduate students who have had original research accepted at national or international conferences.
"That's a huge, critical piece of their educational experience and really important when they go out on the job market," said Kicak.
The endowment will also support an annual undergraduate humanities conference. Kicak said a pilot event last year attracted 25 students from 12 different departments, many of whom went on to apply to the larger undergraduate research symposium at USF or included the experience on their graduate school applications.
One participant is pictured above: Carolina Ledford presents "The Effects of Racial and Ethnic Differences on Foster Care and Adoption Outcomes," which she co-authored with Kenneth Garcia (not pictured), at the 2019 Humanities Institute Undergraduate Research Conference at the USF Tampa campus.
This year's virtual event is scheduled for Jan. 28–29, 2021.
Long-term, Kicak said she's most excited about sustaining a relationship with the college's various academic units that enhances student success and outcomes.
"If we are able to create a scenario where because of the institute's support, the academic units recruit a higher tier of graduate students, while at the same time we're coaching undergrads to their next level … I think that's phenomenal," said Kicak.
Though she never had a chance to meet Cooper in life, Kicak enjoyed meeting her friends and colleagues at her memorial, where she learned how deeply invested Cooper was in the success of her students.
"Her gift is going to continue something that was important to her and is important to us — forever," said Kicak. "To think that five years from now we will have hundreds of students that will have been touched by her gift is humbling and wonderful and just speaks to such vision and generosity."